Air Canada Should've Been Buffett's #1 Pick – Not America's "Big 4"
Last summer on June 28th, I wrote to you and identified Air Canada (ACDVF) as a tremendously undervalued stock.
Since then the rest of the market has caught onto the Air Canada story as the share price has subsequently risen more than 50 percent.
I'm thrilled with how this has played out for us…
But I don't think that the Air Canada story is done.
This stock is still BY FAR the best value in the airline sector, and today I want to crunch the numbers to show you why.
But first, a quick reminder why we were looking at airlines in the first place.
Warren Buffett is Incredibly Bullish on Airlines
Over the past several years, Warren Buffett has invested billions of dollars into the four main U.S. airline operators.
As of the last regulatory filing, Warren Buffett's company Berkshire Hathaway owns the following:
65.5 million shares of Delta Airlines (DAL) worth $3.3 billion
54.8 million shares of Southwest Airlines (LUV) worth $2.5 billion
21.9 million shares of United Continental (UAL) worth $1.8 billion
43.7 million shares of American Airlines (AAL) worth $1.4 billion
Combined, that is a $9.0 billion investment which even for Warren Buffett is enough money to show he is extremely bullish on the sector.
The interesting thing about Buffett moving into airlines is that for decades he hated the sector as an investment class with a passion. He once even called the industry a "death trap" for investors.1
So what changed to make Buffett warm up to airlines?
The answer is competition. Or more accurately, the lack of competition.
Buffett started investing in airlines in 2016 after U.S. Airways merged with American Airlines. The consummation of that merger marked the end of a decade-long period of constant airline consolidation which changed the competitive landscape of the industry.
Instead of 20 plus airlines competing relentlessly for passengers, by 2016 the industry had been reduced to mainly the Big 4. Out went an era of discount pricing and relentless competition and in came an era of sensible pricing and widening profit margins.
This industry is now what is called an oligopoly, folks. And while it isn't great for customers, it is fantastic for airline profits.
Mr. Buffett is Still Missing the Best Airline Bargain
When I wrote last June about airlines, I noted that Buffett should have been looking north of the border at Air Canada if he really wanted to own an airline with some upside.
Since then, I have not been proven wrong with Air Canada's share price vastly outperforming all of Buffett's four airline holdings.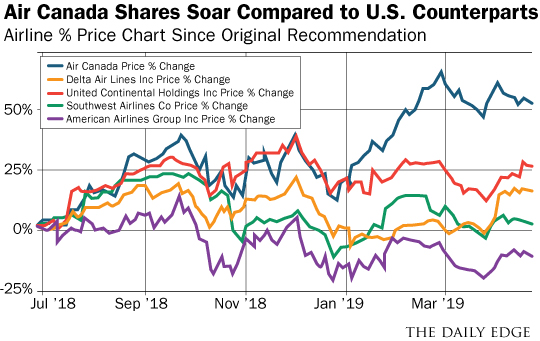 My opinion is that today it still isn't too late for Buffett to get invested in Air Canada. The stock still has plenty of room to run.
Buffett has invested in the four major U.S. airlines because the industry is now an oligopoly. In Canada there is even less competition with the market being essentially a duopoly consisting of just Air Canada (55 percent market share) and its main competitor WestJet (37 percent market share).
Further, Air Canada shares are still very inexpensively valued. Today, the major U.S. airlines still trade at twice the valuation that Air Canada trades at relative to EBITDA (earnings before interest, taxes, depreciation and amortization).
That means that relative to the U.S. carriers, Air Canada has both half the competition (only one main competitor) and half the valuation!
When it comes to those two factors, smaller is definitely better.
Additionally, I believe there is a significant catalyst coming that will continue to push Air Canada's share price higher…
Air Canada's Cash Flow is About to Soar
With the company now wrapping up a major period of capital investment in new planes, cash outflows are about to decrease significantly which means that the free cash flow the business generates is going to increase.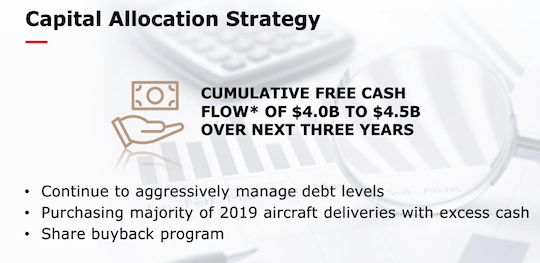 Source: Air Canada Corporate Presentation
Over the next three years, Air Canada's management believes that the company will generate $4.0 to $4.5 billion in free cash flow. That is cash flow that is available after paying all of the bills and making all capital expenditures.
If the company were to use all of that free cash flow to repurchase shares, it could retire half of the shares Air Canada has outstanding in just three years.
That's great news for the share price!
Bottom line: Warren Buffett is bullish on airlines for good reason — the profitability of the industry has seriously improved. However, the best way to play the action is north of the border — where Air Canada operates with less competition, a cheaper valuation, and with a cash flow catalyst just over the horizon.
Here's to looking through the windshield,
Jody Chudley
Financial Analyst, The Daily Edge
EdgeFeedback@AgoraFinancial.com
1 Buffett Decries Airline Investing Even Though at Worst He Broke Even, Forbes