Taking a Trip This Summer? Let Your Hotel Pay For It!
Here at The Daily Edge, we're all about finding market plays that can give you an advantage and make you more money.
But it's not just about the cash. Because it really is true that money can't buy happiness. It's what you DO with the money that really matters.
Of course, I'm talking about things like:
Affording the comfortable retirement you truly deserve.
Paying for a special adventure with loved ones.
Or even just buying a gift or a meal for your grandchildren.
These are the things that we're really after when we lock in our profits from the market. And today, I've got an opportunity for you to pay for a trip using the very same companies that usually take money from world travelers!
2019 is a Strong Year for Hotels
As the weather turns warm and my kids start looking forward to school ending, I've found myself thinking about making memories with the family this summer.
We're going to spend some time with the in-laws at the beach in June. And maybe after that I could take the kids on a sightseeing trip or to visit my sister in the Midwest. I've been checking hotel rates and figuring out which weeks all the kids will be available between camps, sports practices, and other activities.
It seems I'm not alone in thinking about traveling this summer.
This week as I was researching the different market opportunities I follow, I came across an interesting statistic for the hotel industry.
So far this year, hotel occupancy has been very high. In fact, the rate is several percentage points ahead of where it would normally be at this time of year.
It's especially encouraging to see this trend early in the year. Because as we head into the summer months, hotels typically start to fill up, peaking around 74% in the first half of August.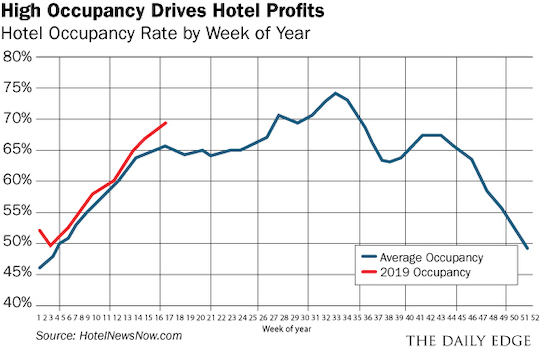 This is shaping up to be an excellent summer for traveling thanks to the strong economy we're experiencing in the U.S., as well as some encouraging signs from international markets!
In the U.S., the job market has been strong with hundreds of thousands of new jobs created each month and wages rising. This leaves workers with more money for traveling, and in many cases companies are offering more vacation time to attract quality workers!
In addition, although Chinese economic growth slowed last year, there are new signs pointing to a more stable environment in 2019. That could boost international travel which is also great news for large hotel operators.
With so much money available for traveling, and the statistics already showing us that travelers are hitting the road, now is a great time to invest in hotel stocks.
That way, when these companies report strong earnings during the spring and summer months, the stock prices should spike, handing you some extra cash to use on your next excursion!
Let's take a look at three hotel stocks that will profit from the surge in travel this year.
Three Hotel Plays to Pay for Your Next Trip
Marriott International (MAR) is in an exciting period of growth both in the U.S. and internationally. Last year, the company earned $5.38 per share which was a 40% jump from 2017. More importantly, the company added more than 80,000 rooms during the year which leaves Marriott with many more rooms to rent out during the busy season this year.1
Just this week, Marriott announced that the company will open about 1,000 new hotels in the Asia-Pacific region, helping the company to capitalize on stronger growth expectations for this emerging area of the world. The stock has been moving higher this year and I expect more gains for investors as travelers hit the road this year.
Hilton Worldwide Holdings (HLT) has made some major changes for investors over the past few quarters. The company separated into three distinct businesses: Hilton Worldwide Holdings manages the company's traditional hotels. Park Hotels & Resorts (PK) focuses more on the resort business. And Hilton Grand Vacations (HGV) is the company's timeshare division.
Now that the separation is complete, you can invest in HLT and profit just from the company's hotel business. Investors appear to prefer the ability to zero in on the lucrative hotel business, driving shares of HLT to a new all-time high this week. Investors expect HLT to grow earnings by 72% this year, and that's the sort of growth that should drive the stock sharply higher this summer!
Choice Hotels International (CHH) operates several well-known hotel brands including Comfort Inn, Clarion, Econo Lodge and Sleep Inn. The company has focused on offering more affordable rates, which allows Choice to capture a large amount of business from young families and budget-conscious travelers.
Choice has about 7,000 hotels representing 570,000 rooms spread across 40 different countries and territories.2 This wide assortment of locations will give Choice Hotels plenty of opportunity to profit from any number of different attractions and destinations. And with profits set to grow by 33% this year, investors should be richly rewarded.
Stay Tuned for this Off-Market Lodging Opportunity
While the hotel business continues to be a very profitable place to invest, many travelers are also considering a different lodging option.
I'm sure you've heard of Airbnb, the company that allows individuals to list and rent their homes on a short-term or medium-term basis.
My parents have used this service to rent out rooms in their home and have had enjoyed the experience (as well as the extra money from their guests). If you have extra space in your home, I would highly encourage you to check out Airbnb as a way to generate extra income this summer.
There will soon be another way to make money from Airbnb as the company is planning to offer shares to investors this year.
I wouldn't recommend buying shares immediately after the new stock hits the market. Hot new IPOs like Airbnb tend to trade high to start with and then sell off quickly as investors take profits.
But the business model is one that could generate big profits in the years ahead. And once the dust settles on Airbnb, the new stock could be a great opportunity to build your wealth from individuals renting out their own properties.
With so many ways to make money from a rush of travelers this year, make sure you're locking in your share of the profits!
Here's to growing and protecting your wealth!
Zach Scheidt
Editor, The Daily Edge
Twitter ❘ Facebook ❘ Email
1 Marriott International Reports Fourth Quarter Earnings Results
2 Choice Hotels International, Inc., Finviz.com