Wall Street's Lucrative "Tombstone" Strategy… Resurrected!
As the end of October approaches, I'm noticing tombstones popping up in a number of my neighbor's yards.
Of course, my kids are getting excited about Halloween and binging on as much sugar as possible over the next few weeks. But while the fake tombstones in my neighborhood have my kids excited about candy, I'm seeing a number of Wall Street tombstones popping up in my daily research.
And these tombstones are directly related to some great investment gains you can lock in this week.
If you're not familiar with Wall Street's tombstones — or how to make money from them — now is a great time to get up to speed.
Because as earnings season kicks off and the market rebounds from last week's pullback, this strategy is set to put thousands (if not tens of thousands — or even hundreds of thousands) of extra profits in your account.
Let's take a look…
The Most Lucrative Strategy on Wall Street
When I took my first investment job at a hedge fund in Atlanta, my boss walked into my room and dropped a thick stack of research on my desk. I didn't know it at the time, but the binder on top was known as a "tombstone."
A tombstone is simply a document prepared for a new stock or bond offering, which lists all the specific details for the deal. The nickname comes from the fact that the cover of each set of documents has a resemblance to the way the names and dates are laid out on a typical tombstone.
As I spent time on the research desk, I began to realize that these tombstones offered some very important information for investors. And the information wasn't just about the companies that were covered in the document.
If you knew where to look, these tombstones could tell you exactly what type of profits the big Wall Street firms were going to book.
Take a look at the tombstone below to see just what I'm talking about.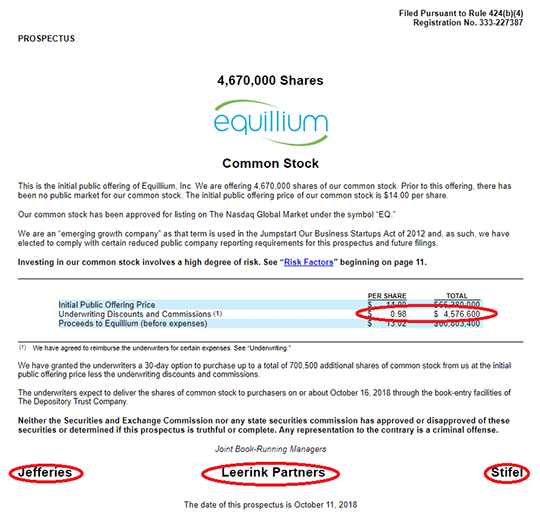 The picture above is the tombstone of a new IPO (or initial public offering) stock that was sold to the public this month. Every time a new stock is listed, the company is required to file a document like this with the SEC.
In this case, the stock was Equillium Inc. (EQ). And I want to be clear here, I am NOT recommending shares of EQ. Instead, I want to point your attention to the specific areas circled in red.
For this particular deal, EQ was sold to new investors at a price of $14 per share. But instead of all of this money going to the company, a material portion — $0.98 per share in this case — went to the underwriters.
The underwriters are the Wall Street companies who helped Equillium find new investors. And these underwriters booked a total of $4.60 million in fees from this particular deal.
As I'm sure you can see, these deals can be extremely lucrative for Wall Street firms. Because nearly all of these fees represent pure profit for the "underwriters." All the Wall Street companies have to do is find investors who want to buy a hot stock, and then put the shares in the investors' accounts!
Wall Street Deals Pick Up — And Bank Profits Soar
This week, earnings season moved into high gear with some big Wall Street firms reporting strong profits.
You may have seen that both Goldman Sachs (GS) and Morgan Stanley (MS) announced earnings that beat expectations and sent their stock prices higher. A large part of the earnings beat came from profitable deals that show up on thee tombstone filings.
More importantly, we're now entering a period where these deals are going to become more prevalent and more profitable.
The summer months can be slow when it comes to pricing new stocks. That's because institutional investors are often on vacation and no one wants to issue a high-profile IPO when the most important decision makers are off the desk.
But now that institutional investors are back in the office, these deals are picking back up.
Case in point: this week, news wires reported that Uber Technologies is reviewing proposals from big Wall Street firms who are offering to help with the company's IPO.
At this point, it looks like this new stock offering will value Uber at $120 billion. That puts Uber's size on par with International Business Machines (IBM) — a blue chip company that has been around for decades!
I can tell you that the big Wall Street firms like Goldman and Morgan Stanley are salivating over the profits that this type of offering will bring!
And Uber isn't the only big company considering an IPO transaction. Just over the next few weeks, I see a minimum of 10 new stocks set to launch.1
So today, as earnings season heats up and new deals hit the market, I expect big underwriters like GS and MS to continue to move higher. After all, investors are going to see these deals coming to market and they will connect the dots with higher Wall Street earnings.
At this point, most blue chip Wall Street stocks are trading at reasonable price points. But heading into the end of the year, I expect these stocks to move sharply higher. Now is a great time to take advantage of last week's pullback by adding shares of these investment banks to your investment account.
Here's to growing and protecting your wealth!
Zach Scheidt
Editor, The Daily Edge
Twitter ❘ Facebook ❘ Email