HOUSING ALERT: Florence's Impact On Real Estate
If your home were to be destroyed, where would you live?
That's the question that too many families are grappling with today following the devastation of Hurricane Florence.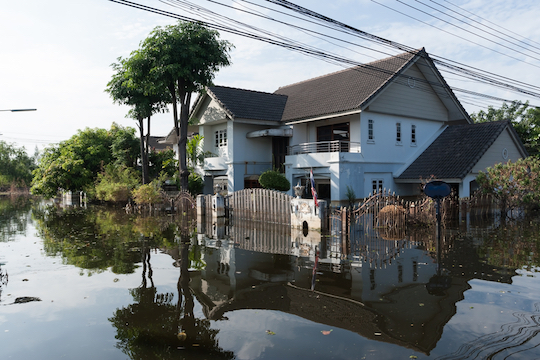 Homes in Wilmington, Columbia, Charleston and Myrtle Beach have been destroyed in the wake of the latest hurricane to hit the U.S. And today, there simply aren't enough homes for displaced families to move into.
Unfortunately, the homes that Florence destroyed simply adds insult to injury when it comes to the housing shortage in the U.S. For months here at The Daily Edge we've been talking about the sad state of the home building industry and how something has to change.
If there's a silver lining to the losses Florence brought, it's that something will finally be done about this housing crisis. And we have an opportunity to profit as America finally focuses on rebuilding the overall U.S. housing market…
The U.S. Home Shortage Was Already a Crisis
If you think that Florence created a housing crisis for families that need a place to live, you're only half right.
Because even before Florence hit, we already had a big problem.
Home building in the U.S. has been under siege, with banks tightening standards for mortgage lending and builders exercising extreme caution when developing new neighborhoods.
After the financial crisis, builders just stopped putting up new spec homes. And now that the millennial generation is finally able and willing to move into new homes, there just aren't enough homes available for buyers to purchase.
That's why we've seen home prices move sharply higher in recent months. Because there aren't enough homes available. And Economics 101 tells us that when supplies are low, prices must increase.
Some say housing costs have risen so fast, that homes are becoming unaffordable for buyers. But what are new families to do?
When my own son decided to "strike out on his own," he wound up moving into a basement apartment owned by another family nearby. He's paying rent, but couldn't find a full freestanding home for him and his roommates to rent.
With the housing market so tight, there just aren't enough choices available!
But now with Hurricane Florence destroying a large portion of homes on the east coast, the shortage is becoming even worse.
That's making the housing crisis worse. But it's also causing companies to finally focus on this crisis and do something about it!
Ready to Build, With Plenty of Buyers
Home construction companies operating in the U.S. now have absolutely no excuse to sit idly by.
After all, home prices have moved steadily higher. Demand is exceptionally strong. And now there are even more displaced families looking for places to live.
Construction companies with operations on the east coast should do particularly well, but the overall U.S. housing market is all fair game. Because the majority of major U.S. metropolitan cities — and the surrounding suburbs — are all facing supply shortages and significant demand.
Keep in mind, many families will likely move out of the affected Hurricane areas and into surrounding states. This will allow the families to rebuild more quickly instead of waiting for contractors and repair teams that will be swamped with demand in their hometowns.
That's great news for homebuilding stocks as profits should soar in the quarters ahead.
This area has been under pressure for several months as investors have worried that rising interest rates would curtail demand for new homes. But the opposite has been true as the wealth effect spreads across America, leaving buyers with more cash and higher incomes to spend on new homes.
Right now is a great time to take advantage of lower prices for homebuilder stocks. Some of the best names in the area include Pulte Homes (PHM), Lennar Corp. (LEN) and D.R. Horton (DHI).
I encourage you to consider these stocks as part of your balanced investment approach. And as you accumulate profits from these stocks, I'd also encourage you to donate some of your gains to help those who have been affected by this massive storm.
Here's to growing and protecting your wealth!
Zach Scheidt
Editor, The Daily Edge
Twitter ❘ Facebook ❘ Email