The Strongest Earnings Since When???
What were you doing in the fall of 2010?
At my house, we were getting used to the idea of having four kids in school AND 2-year-old twin girls that we were potty training.
Talk about a lot to keep track of!
Investors had a lot on their plates in 2010 as well, thanks to a surge in profits from companies that were rebounding from the great recession.
In the fourth quarter of 2010, companies were reporting an astounding 30% increase in earnings growth. That's the stuff bull markets are made of — and incidentally, we were in the very early stages of what has turned out to be one of the best markets for investors in generations!
I bring up this strong season of earnings growth because today we're actually in the same environment!
According to the latest data, this earnings season is turning out to be the strongest one since 2010, giving investors a great environment for building their wealth.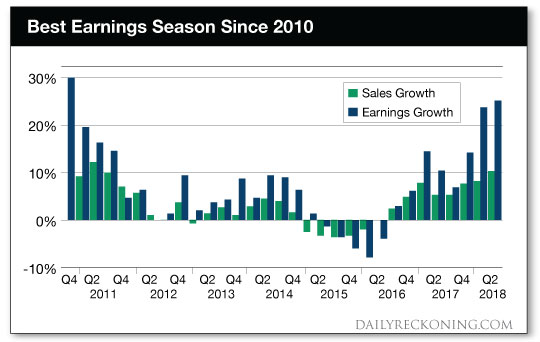 So what does that mean for us and our income investments?
Strong Earnings Lead to Buybacks and Dividend Hikes
As more and more companies report results for the second quarter, one thing is becoming very clear.
The strong economy is driving sales steadily higher. And tax cuts are allowing companies to grow their profits exponentially!
That's exactly what income investors want to see.
But the next question is what will companies do with these profits?
In many environments, I would argue that companies should look for ways to reinvest their profits into new growth opportunities. That way gains can continue to compound and future profits will also grow.
But we're in a bit of a unique period right now where growth is pretty much a given and companies can look at other options for cash they're pulling in.
This year, our income plays are doing two important things with extra cash:
They're paying larger dividends…
And they're buying back shares.
As an income investor, you know exactly what higher dividends mean for your cash flow. It means you personally have more to spend on your day-to-day expenses. (Or if you're reinvesting your dividends, you are now able to buy more new shares with the cash that comes into your account.)
But what about the share buybacks?
When a company buys back shares, it means they're essentially retiring the shares and leaving fewer shares available for investors. This is great news for us.
Because next quarter, there will be fewer shares for our companies to divide income between. So it means future earnings per share will be higher. And it means our companies will have even more cash to give to us in the form of dividends.
So this strong earnings season is a very big positive for our income investments.
Breaking out and Heading Higher
As I look at the stock market right now, I'm very encouraged to see the S&P 500 moving above the key 2,800 level.
You need to know that since the market started pulling back in February, the S&P has tried several times to rebound but has not been able to push definitively above this level.
But over the past week, that has changed.
The S&P has now pushed decisively above this level, and that action is giving investors more confidence to buy. This coincides perfectly with the strong earnings that companies are reporting right now, and it's only a matter of time until the market hits new highs.
So as you look at your portfolio of income investments, make sure that you're taking advantage of this special environment of higher earnings, higher dividends and higher stock prices.
Here's to growing and protecting your wealth!
Zach Scheidt
Editor, The Daily Edge
Twitter ❘ Facebook ❘ Email