Don't Bet IN Casinos… Bet ON Them!
As you read this Daily Edge alert, a handful of poker players are battling for their share of a $74 million prize pool, with the ultimate goal of grabbing the $8.8 million first place payout and a diamond-studded World Series of Poker bracelet.
This year's World Series of Poker (or WSOP) main event tournament features the second largest field in history.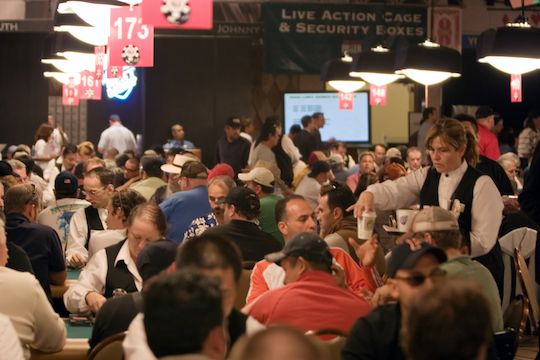 A total of 7,874 people were willing to pay $10,000 to enter the tournament. The tournament actually started on July 2nd, and by today there are only a few dozen players left in the running.
As an amateur poker player myself, I've had a good time watching a bit of the coverage from this year's tournament. Today, I wanted to point out a couple of important takeaways that apply to us as investors. So here goes!
The Scariest Three Words in Poker
"I'm all in."
As a poker player, whenever you hear these words, you know something big is about to happen.
The phrase "I'm all in" simply means that a player is betting all of his chips. And while this type of bet can put a lot of pressure on your opponents, it also carries a lot of risk.
It might surprise you to hear that the game of poker is very similar to our investment markets.
Just like the market, a typical poker game has a mix of amateurs and professionals.
Poker players and investors try to earn a good return while minimizing risk.
Basic math skills (statistics in particular) are important for investors as well as poker players.
Human emotions drive many investing and poker decisions. Those who set emotions aside do much better.
Risking too much on any one opportunity is foolish.
Over the weekend, I heard one famous player state that he had gone "all in" several times during the tournament so far.
The player was somewhat astonished that he didn't get knocked out. Because if he had lost on any one of those hands, his chips would have been gone, ending his run in this year's main event.
Hearing him talk about betting all of his chips reminded me of so many investors who get excited about a new investment opportunity and bet all of their capital on a single stock.
You might get away with this once or twice (as the player I listened to did), but any time you risk all of your capital in one play, you run the risk of getting knocked out of the investment game.
This is why I'm constantly encouraging you to take a balanced approach when it comes to investing.
There are so many great investment opportunities, that you don't have to put too much of your capital into any one opportunity. Instead, it's best to spread your investments across many different opportunities so that you have many chances to win, and no one loss will hurt you too bad.
Consumers Have Money to Burn!
Another takeaway from the WSOP event this week is the sheer dollar figures in play this year.
As I mentioned, this was the second largest field for the WSOP main event, and each player forked over a cool $10,000 to play.
Now keep in mind, most of these players are coming in from out of town, they're staying at a local hotel or resort, they're spending money on food and entertainment, and most are gambling at the Las Vegas casinos in between tournament sessions.
In other words, these consumers have money to burn, and they're living it up!
This scenario lines up perfectly with the retail theme that we've been talking about here at The Daily Edge.
Thanks to the strong job market — which continues to grow even faster than investors expect — consumers have money to spend. And these consumers are buying merchandise, going to restaurants, and checking "bucket list" experiences off their list (including playing in the WSOP main event).
This trend gives us plenty of opportunities to make money in the market by investing in consumer discretionary stocks.
I'm interested in casino stocks right now, not only because they fit into this consumer discretionary category, but also because many casino stocks have pulled back recently.
Concerns about gaming rules in China have caused some investors to question how fast big casino companies can grow. But the strong global economy should drive profits for these companies not only in the U.S., but also in exciting gaming destinations that international travelers will frequent.
So in addition to restaurant stocks, branded apparel, and home decor stocks, I suggest adding casino stocks to your watch list. Taking advantage of the wealth effect for consumers is a great way to consistently book investment wins.
Here's to growing and protecting your wealth!
Zach Scheidt
Editor, The Daily Edge
Twitter ❘ Facebook ❘ Email