The Cheapest $3,000 Stock You'll Ever Find
The supply of homes for sale in the United States is near record lows.
This is the hangover from the collapse of the greatest housing bubble in history.
The business cycle has prevailed and one extreme has led to another.
As intelligent investors, these opportunities are ours to exploit. So today, let's do just that…
Data now shows that the inventory of existing houses for sale has now declined for 36 consecutive months.1
The blue line in the chart below captures a true reflection of how tight the housing market in the U.S. has become. This line represents the number of months of housing supply that the U.S. market has left.
Today, that figure is at 3.5 months. That is the lowest it has been in at least one generation.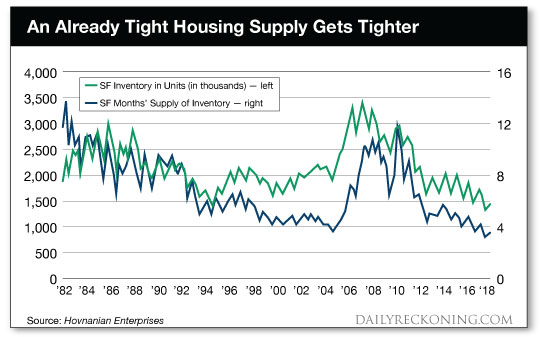 As you would expect, declining housing supplies is bullish for housing prices.
The environment is even more bullish for homebuilders who get the benefit of not just rising house prices, but also the need for an acceleration in the rate of home construction.
I Love NVR's Disciplined Use Of Free Cash Flow
NVR Inc. (NVR) is an American homebuilder that constructs and sells new homes under various trade names including NVHomes, Ryan Homes, and Heartland Homes.
Since the housing bubble popped, NVR has been a relentless acquirer of its own shares. I love that. As shrewd investors, NVR's leadership group identified this brutal downturn as an opportunity to be exploited.
This disciplined use of free cash flow is so much better than letting a CEO waste it on unnecessary expenditures or a senseless acquisition.
Over the past eight years, NVR has spent an incredible $3.8 billion repurchasing shares.2
What makes the dollar amount incredible is that this is a company with a market capitalization of just $11 billion. Those repurchases have reduced NVR's outstanding share count from 5.9 million to 3.7 million — a reduction of an astounding 38 percent!
By reducing the number of shares outstanding by almost forty percent, NVR has provided each remaining shareholder with a significantly larger interest in the cash flows that the business generates.
At this pace, if we give this team a couple more years they will have cut the company's share count in half.
To further appreciate what this share count reduction does for shareholders, let me crunch some numbers for you…
From 2010 to 2017, NVR's net income increased from $206 million to $537 million — an increase of 161 percent. That is a really nice improvement.
Now let's consider the increase in earnings per share, which is what really matters.
Because NVR's share count has decreased by almost 40 percent, earnings per share has increased at a much faster rate than net income did.
In 2010, earnings per share was $34. In 2017, earnings per share was $144. That is an increase of 323 percent which is more than double the 161 percent rate that net income increased.
NVR's relentless repurchasing of its own shares over a long stretch of time has resulted in a powerful boost to the value of each share of this company. Shareholders now have an interest in twice the earnings power than they otherwise would've had, specifically because of the share repurchases.
Knowing that you can count on NVR's management to continue allocating cash flow in this manner (in the best interests of shareholders), this homebuilder is a great one to own in order to profit from the historically tight U.S. housing market.
Here's to looking through the windshield,
Jody Chudley
Financial Analyst, The Daily Edge
EdgeFeedback@AgoraFinancial.com
1 U.S. house prices to rise at twice the speed of inflation and pay, Reuters
2 UNITED STATES SECURITIES AND EXCHANGE COMMISSION