Small Stocks Are Set For BIG Gains
Stocks are making another set of new highs this week much to the delight of investors across the country.
What's that? You thought the market was still in a correction?
You must be looking at the wrong chart…
Because today — and actually for more than two weeks — stocks have been making new all-time highs.
See for yourself!
The Small Stock Market That's Notching Big Gains
When investors hear about the "stock market" on a particular day, most think about the Dow Jones Industrial Average (or simply the "Dow"). The Dow is an average of 30 of the biggest U.S. stocks.
As you probably know, this measure of the market is full of flaws.
First of all, 30 stocks is a small sampling of the roughly 3,600 companies listed on U.S. stock exchanges at the end of last year. Plus, as a price-weighted index, the Dow gives an arbitrary heavy weighting to stocks with high prices.
In short, the Dow is a horrible way to measure how the market is doing. And it's not helpful to compare your own returns to the Dow's gain or loss.
A second index people compare returns to is the S&P 500 index.
This measure is a little better because the index covers a wider group of 500 different stocks. So the S&P 500 gives us a better picture of how the whole market is doing.
But there are still some problems.
Namely, the S&P 500 only looks at the biggest companies on U.S. exchanges. And the index is weighted based on the market cap. So big companies have much more influence on the market than smaller companies.
For instance, Apple Inc. (AAPL) with a $960 billion market cap, has more than 100 times more influence on the market than tiny Foot Locker (FL) which only has a $6.5 billion market cap.
I'm assuming you don't invest 100 times as much of your money in Apple as you do in shares of a smaller company.
Here's a stock market chart that may be different from the stock market chart you see on the nightly news: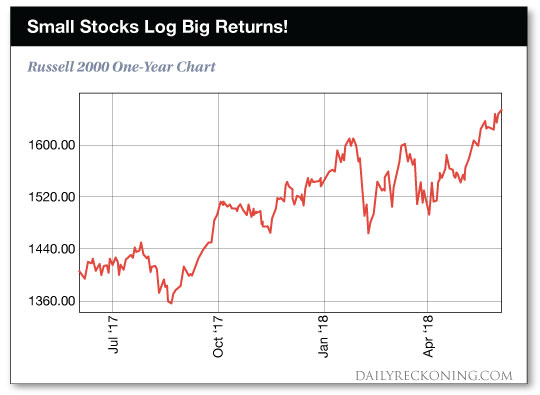 This is the Russell 2000 small cap index. It's an index made up of 2,000 smaller companies listed on the U.S. exchanges. And as you can see, this small-cap index hit a new high yesterday after recovering nicely from the volatility earlier this year.
The Best Shopping Mall for Growth
As an investor, I'm always looking for ways to grow the value of my account.
There are times when it makes sense to look at big companies with solid balance sheets and established businesses. That's because these companies typically have stable outlooks and can have less risk.
But smaller companies can have some tremendous advantages when it comes to growth opportunities.
For starters, small companies have more room to grow simply because of the fact that they're small!
Think about it for a second…
Apple Inc. had $247 billion in revenue over the last year. How likely is it that Apple will double its revenue in the next year? Or even in the next five years?
Apple has pretty much saturated the market for smartphones, computers and tablets. Sure, the company will continue to roll out new products to its customers. But you can't expect a huge percentage gain in sales because of the huge base Apple already has.
But a smaller company like Peabody Energy (BTU) is completely different.
This is just one example, but Peabody is a niche natural gas player in the U.S. With annual revenue of just $1.5 billion, it wouldn't be too hard for the company to drill some new wells or to realize higher prices on its natural gas production — and quickly double its revenue!
Small companies have more potential for growth simply because they haven't saturated their market yet.
And in the U.S., small-cap stocks have some other great advantages over their large-cap counterparts.
For instance, most large-cap stocks are currently facing the headwind of a strong dollar.
A strong U.S. dollar makes it harder for companies with international sales to compete. That's because it's more expensive for international clients to buy products with weaker euros, yen or other currencies.
But as a general rule, small-cap stocks do business here in the United States. And the strong U.S. economy and the strong U.S. dollar makes it easier for customers to purchase the products and services small-cap companies are offering.
That's why we're seeing such strength in the Russell 2000 index, even while the S&P 500 is struggling to get back to where it was trading before the February pullback.
That's why today, I'm spending a lot of time looking through the smaller stocks listed in the Russell 2000 index and finding some of our best opportunities in smaller names that are off the beaten path.
You can easily do a Google search to find small cap opportunities in specific sectors of the market. In particular, I've been looking for small retail companies with strong brand loyalty, technology companies with new ideas, and small cap banks that are benefiting from deregulation.
There are plenty of opportunities in today's market if you look beyond the headlines. So don't let the "weak" market or the media's fear tactics keep you from generating attractive profits.
Here's to growing and protecting your wealth!
Zach Scheidt
Editor, The Daily Edge
Twitter ❘ Facebook ❘ Email