The "Black Gold" Bull Market Is Just Beginning…
On Tuesday, President Trump delivered on his campaign promise and withdrew the United States from the Iran Nuclear Deal. With that withdrawal, President Trump vowed that the "highest level" of sanctions would be imposed on Iran.
This is very bullish news for oil.
But before I get to Iran specifically, I want to remind you what has been happening in the oil market over the past year. Oil inventory levels have been plummeting!
Without a doubt the oil glut that once sank prices below $40 per barrel is now gone. But there is more to the story than that…
For an oil glut to disappear, daily oil consumption must be exceeding daily oil supply.
Globally, I can tell you that oil inventory levels have declined by more 300 million barrels over the past year. That means that daily consumption has exceeded daily supply by almost one million barrels per day.
That is a lot.
Now the important part.
While global inventory levels have normalized, the daily consumption and supply situation has not changed. In other words, global inventory levels are still shrinking and they are shrinking fast. (By close to one million barrels per day.)
Normal inventory levels are quickly becoming below normal. From there we go to shortage.
And remember, this big inventory decrease was without Iran being impacted by President Trump's decision to withdraw from the Iran Nuclear Deal.
What New Sanctions On Iran Will Mean
At this point we don't have specific details on the sanctions that are coming for Iran. We just have President Trump's assurance that they will be of the "highest level."
To try and estimate what these sanctions might mean for the global oil market, we can look to what happened to Iran's production when the country was previously under sanctions.
For that three plus year period, Iranian production averaged 1 million barrels per day less than where the country has been running in recent months.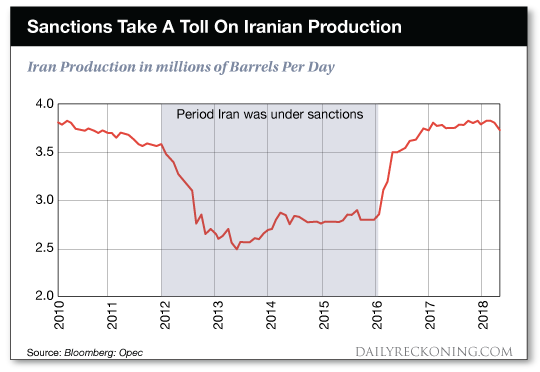 If this new round of sanctions has anything close to the same impact as the last round of sanctions, we could be talking about another 1 million barrel per day hit to global oil production.
Now the bullish picture for oil is becoming more clear — isn't it?
Global inventory levels have already been falling very quickly due to daily consumption exceeding supply and these Iranian sanctions are only going to exacerbate that situation.
The glut is gone and it looks like we have a supply crunch on our hands.
Here Is An Idea — Become A Permian Basin Landlord
Viper Energy Partners (VNOM) has legal title to land in the very best part of the Permian Basin, the core of the play where the economics of producing oil are the best in North America.
This is where the land is most valuable.
Viper is a royalty streaming MLP, meaning it literally earns a royalty on Permian Basin oil production. The higher the production on Viper's land, the more money Viper gets paid from the drillers operating on that land.
And in case you weren't aware, Permian production has been booming. (And even did through the oil crash.)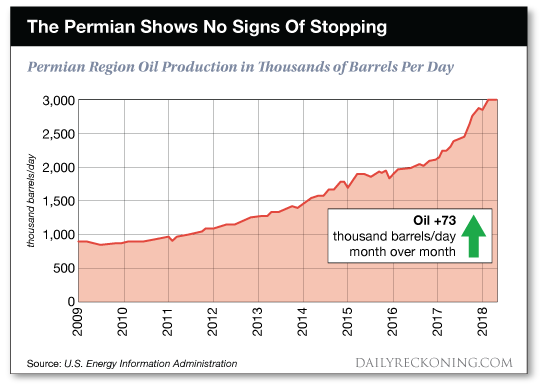 Rising oil prices are only going to help that Permian production growth continue and drive Viper's cash flows higher.
Viper's Permian mineral rights entitle the company to essentially a tax payment (a royalty) on any revenue generated from developing the natural resources located on Viper's title land.
That is the entire Viper business. It owns royalty rights and does nothing else. No capital expenditures, very few employees, minimal expenses and a clean balance sheet.
That makes this company a cash gushing machine — a cash machine that pays out to shareholders almost all of the cash that it takes in.
The current yield on Viper shares is 6.18%.
As oil prices and Permian production rise, the size of that dividend will also increase, making this company a terrific way to profit from rising oil prices.
Here's to looking through the windshield,
Jody Chudley
Financial Analsyt, The Daily Edge
EdgeFeedback@AgoraFinancial.com