America Is Back Online
Did you see my twitter feed this morning?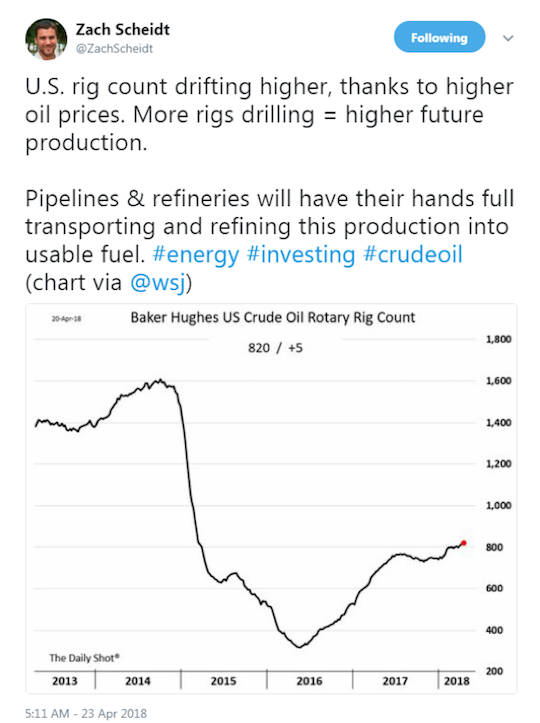 Once again, the Baker Hughes oil rig count is continuing to drift higher.
That's because higher oil prices are making "offline" rigs once again profitable to operate, which for us creates another valuable opportunity in today's energy market…
Simply put, these massive oil rigs cost A LOT to build and operate.
Equipment, legal fees, labor and leases — these costs add up! I'm talking about millions of dollars for land rigs and hundreds of millions of dollars for offshore rigs.
And because the revenue they generate is directly impacted by the price of oil, these companies rightfully took a hit when the price plummeted from over $100 per barrel to under $40 over the last few years.
But the tides in the oil market have once again turned…
The price of one barrel of WTI crude now sits just under $70 — up 11% year-to-date — which means that many of these rigs can once again be profitable.
This is great news for the big, vertically integrated oil companies like Royal Dutch Shell, ExxonMobil and Chevron who not only drill the more valuable oil, but who will also get paid more to refine and transport the growing quantities of U.S. production.
But you might be asking… if more rigs get back online and more oil is subsequently produced, shouldn't the price of oil start to fall again?
After all, Economics 101 tells us that higher supply does lead to lower prices.
However, right now that's just not the case.
That's because the economy is SO STRONG that we're actually using all the oil we can produce. And the trend should continue as the warmer summer months naturally lead to increased oil usage for driving and airline travel.
If you're looking to cash in on this opportunity, I recommend buying shares in the next two days. That's because on Thursday, Royal Dutch Shell reports earnings and on Friday, Chevron, Phillips 66 and ExxonMobil all report, which could sent their stock prices quickly higher.
Now let's get to the other most important stories of the day…
5 Must Knows For Monday, April 23rd
Major Earnings Reports On Deck — This week, some of The Daily Edge's favorite companies are expected to announce earnings, as well as some of the most popular stocks held by retail investors. On Tuesday, Caterpillar, United Technologies and Coca-Cola report. On Wednesday, Boeing, Ford, Facebook and Qualcomm report. And wrapping up the week, Amazon, GM, Microsoft and a host of energy companies report earnings.
Expect More Facebook Volatility — Cambridge Analytica is back in court this week, but this time it's not in regards to the 2016 election. This time, British lawmakers will be questioning the data company about its impacts on Brexit. Did Cambridge Analytica improperly use Facebook user data to impact the vote? And if so, what impact could they have possible had? Find out Tuesday when the researcher at the center of the scandal testifies.
Europe Visits D.C. — This week, Trump is set to meet with both French President Emmanuel Macron and German Chancellor Angela Merkel. These discussions are expected to focus on Trump's trade policies as well as global security. May 1st is the day Trump's short-term exemptions to EU countries on steel and aluminum are set to expire, and rising political tensions in the Middle East as well as a possible summit with North Korea are grounds for unity.
Trade Peace? — Treasury Secretary Steve Mnuchin said he's considering a trip to Beijing in order to bridge the differences over trade. In the statement, Mnuchin said he's "cautiously optimistic" that a deal can be reached. In addition, representatives from Mexico and Canada are set to meet in Washington this week in order to hammer out details over a new NAFTA agreement.
The Latest On North Korea — According to administration officials, Trump will urge North Korea to quickly dismantle its nuclear arsenal when he meets Kim Jong Un and will not grant them any sanctions relief in return for a freeze of the program. Kim had previously announced on Saturday that he will close North Korea's nuclear test site as well as halt any long-range missile tests.
Here's to growing and protecting your wealth!
Zach Scheidt
Editor, The Daily Edge
Twitter ❘ Facebook ❘ Email