Beware: The Next OPEC Just Emerged
For decades, OPEC has been able to hold over our heads the threat of cripplingly-high oil prices. With +30 million barrels per day of the world's oil production, OPEC's ability to manipulate the price of the commodity is undeniable.
This has led to a maddening amount of our foreign policy being dictated by the only product supplied by this Middle East cartel, thus giving OPEC nations a bizarre amount of global power relative to the influence these countries would have otherwise.
Thankfully, as I'm sure you are aware, the clock is ticking on the influence OPEC holds. That's because the transition to electric cars is now full speed ahead which should significantly lessen the world's oil demand.
Wonderful, right?
Not so fast.
The truth is, we may be trading in one essential commodity controlling cartel for another. Perhaps one that we like even less than OPEC…
The Absurdly Bullish Fundamentals Of Cobalt
For thousands of years cobalt has been used by humans as blue coloring in glass, pottery and ceramics. In recent years cobalt has found a whole new level of popularity as a key component in the lithium-ion batteries that are used in electric cars and in batteries that capture the energy produced by renewable sources.
When it comes to cobalt, what you need to understand (and you likely already do) is that at this point the electric car revolution is just getting started. The number of electric cars on the road today relative to the total cars on the road is still just a rounding error on a rounding error.
The number of batteries that are going to be required for those electric cars is going to increase exponentially from here. Thus, so too will the demand for cobalt. In fact, the trend has already started…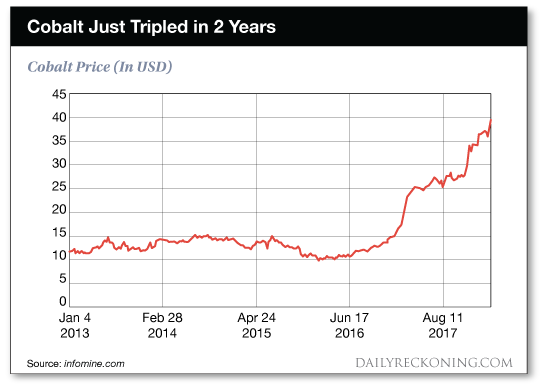 That is quite a move given that we haven't even scratched the surface on the amount of cobalt that is going to be required as this electric car transition ramps up.
But remember, this is just the beginning. We are going to need a lot more of it as electric car usage grows. Further, demand is going to come from our need to store energy generated by renewable sources such as wind and solar.
However, while the demand side is clear, the supply side is anything but…
You see, ninety-nine percent of the cobalt produced today is as a byproduct of nickel or copper production. That means that for those mines, a rising cobalt price is virtually irrelevant because it is such a small portion of the economics of the project.
This is important because it means that for almost all the current cobalt supply, a rising cobalt price isn't going to stimulate new production.
In addition, almost 70% of the cobalt currently produced comes from one just country —The Democratic Republic of Congo, a nation that makes the countries of OPEC look like relaxing vacation destinations…
In recent times, the Democratic Republic of Congo (DRC) has experienced civil war and widespread corruption. Life expectancy for the DRC's 79 million people is under 60 years.1
This not a country that you would want to hold the majority of this resource that is critical to the electric car revolution.
The Democratic Republic of Congo — Already Playing Their Strong Hand
In case you were thinking DRC leaders might be naïve to the powerful position the country is in when it comes to cobalt, don't worry. They aren't.
The DRC's President Joseph Kabila just signed into law a new mining code that will see royalties on revenue from cobalt production quintuple from 2% to 10%. That decision was made despite significant opposition (as you can imagine) from the global mining companies operating in the country — Glencore, China Molybdenum and Randgold.
Just to make sure that the world understands exactly why the DRC is pushing through such a big increase in royalties, Jean Nkunza, adviser to the President, released the following statement:
"We have to make sure for the next 20 years we make money from these minerals because demand is going to be so high. It's going to continue to grow and we are not going to stop raising the royalties on these minerals.".
Well, at least we don't have to read between the lines…
For a commodity that appears to be of critical importance going forward, the supply and demand fundamentals for cobalt are almost comically bullish. Demand growth is going to explode and our sources of new supply are limited. So stock up while you can.
Here's to looking through the windshield,
Jody Chudley
Financial Analyst, The Daily Edge
Facebook ❘ Email