How I Answered: "Does This Dress Make Me Look…?"
"Hey Dad, does this dress make me look…"
I had to cut her off mid-sentence.
"Beautiful? Yes, sweetheart it does!"
She rolled her eyes the way only a 16-year-old daughter can, and said "you're just saying that so we can quit shopping and go home."
It did seem like we had been shopping a long time. And at that point, all of the dresses were starting to look the same. But she genuinely did look beautiful in her new prom dress.
It's not always easy being the father of multiple teenage girls. But moments like these certainly make it all worthwhile.
I'm not the only one shelling out the dollars to buy dresses and more this season. As we walked through store after store, I saw plenty of other parents picking out dresses, shoes and accessories for their kids.
And today, I want to show you how you can cash in on the action, profiting from a sweeping wave of shopping Americans are doing this spring…
The Prime Season for Retail Apparel
I think I've said it before. But if you missed it, let me make one thing very clear — I hate shopping!!
While I may be a bit nostalgic about helping my daughter pick out her prom dress, just about all other shopping goes down as a necessary evil in my book.
Unfortunately, I've been doing a lot of shopping in preparation for spring.
From Avery's dress, to new swimsuits, shorts and tees ahead of spring break… Caleb needed new shoes last week, and I wore out my running shoes and needed to shop for a new pair myself. We've been picking out wedding clothes, play clothes, rainy day clothes and more.
The only thing worse than walking through the endless crowded aisles is balancing the checkbook afterwards!
To be sure, this is the season for buying clothes.
And retailers are taking full advantage… running through inventories, and upselling you on the next great fashion trends.
Of course, it's not unusual for consumers to update their wardrobe in the spring. This is a seasonal trend that investors can expect year in and year out.
But this year, there's a big twist to the shopping season. A twist that will put some big gains in your pocket if you know what to do.
Let's take a look…
An Affluent Spring for American Shoppers
What's different about springtime in 2018?
It has everything to do with the abundance of jobs in our economy today, and the extra money these jobs are putting in the pockets of consumers.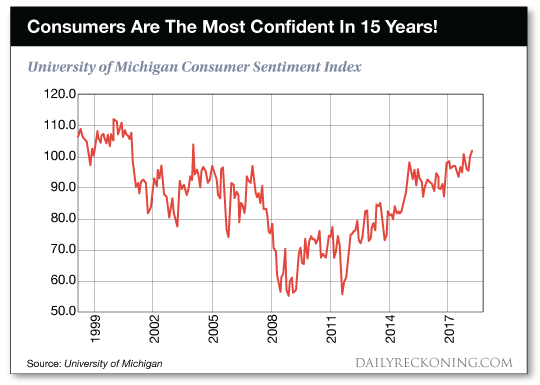 The chart above tracks consumer confidence over the past 20 years.
As you can see, consumers are now the most confident they've been since 2002. In other words, this is the best shopping season in more than 15 years!
With consumers in a spending mood and with plenty of cash in their pockets, this is shaping up to be a great season for apparel stocks in the U.S.
It's an added bonus that many of these stocks have traded lower thanks to investor fears of Amazon taking over the retail sector.
Yes, Amazon has been difficult to compete with.
But as retail companies are building their own e-commerce sites, cutting costs, and closing their least profitable stores, the remaining businesses are largely very profitable. We're now at a point where investor sentiment is shifting from negative and fearful to hopeful and greedy for profits.
One thing that apparel companies have going for them is that you can't "try on" items that you pick up on Amazon. At least not without the hassle of re-packing items you want to return and dropping them off for the mail carrier.
So apparel stores like Gap Inc. (GPS), Dillard's Inc. (DDS) and Under Armour Inc. (UAA) — among others — are rebounding from low stock prices and poised to give investors some very attractive profits this year.
I suggest adding an assortment of your favorite retail apparel stocks this spring, and holding on while these companies report strong earnings figures. Chances are, you'll be walking away from these trades with your own spending money in-hand.
Here's to growing and protecting your wealth!
Zach Scheidt
Editor, The Daily Edge
Twitter ❘ Facebook ❘ Email