Where Did 800,000 Invisible People Come From?
How do 800,000 Americans just "appear" out of thin air?
That's the question investors are asking themselves after last week's payroll report showed that the better part of a million new people joined the work force last month.
Where did these people come from?
And are there more "hidden" Americans that are going to show up in March, April or May?
Today, I want to explain to you how the 800,000 workers that no one is talking about in the mainstream media, will actually save the economy from the inflation pressures that so many investors are worried about.
The Hidden Gem in Friday's Payroll Report
If you were paying attention to the financial news Friday, you know that the employment report for February was very strong.
For the month, the U.S. economy added an extra 313,000 jobs. We haven't seen that many jobs added in one month since July of 2016.
Stocks moved sharply higher on the news. The Dow added more than 440 points. The Nasdaq was up more than 132 points. And the S&P 500 added 47.6 points. It was one of the strongest days the market has seen since first starting to pull back in February.
But wait a second… Why would stocks rally on a positive payroll report?
After all, last month this same report sent stocks into a tailspin after a strong boost in January employment. So what was different about this report that got investors excited?
The answer all boils down to wages.
In January, hourly wages grew by 2.9% sparking inflation fears. investors sold stocks and the market pulled back sharply because people were worried about inflation and the potential for higher interest rates. That's what sent the market sharply lower.
But in February, hourly wages only grew by 2.6%. That may seem like a small difference. But the fact that wage inflation didn't pick up gave investors a big sigh of relief!
And that's where the 800,000 new workers comes into play…
An Expanding Workforce Offsets Inflation Fears
One of the biggest inflation concerns is that there simply aren't enough workers available for the jobs that employers want to fill. And so investors worry that companies will have to pay higher and higher wages just to get employees to stay and fill those positions.
But the interesting twist from Friday's report is that 800,000 Americans entered the job market.
These are primarily workers that were discouraged after the great recession and simply weren't looking for a job. But now that the economy is doing better, the market is heading higher, and these workers are more optimistic about getting a job.
And so in February alone, an additional 800,000 workers entered the market, giving employers more options when hiring workers, and allowing these employers to hire without raising wages too much.
That's great news for the market, because it means inflation shouldn't pick up too quickly.
But if you're like me, you're probably wondering how many more workers are likely to enter the market in the months ahead. Will inflation continue to be kept at bay? Or is this a one-time thing?
Well, take a look at the chart below. It shows the percentage of the U.S. population that is actually in the work force. And as you can see, just about 63% of Americans are actually in the workforce.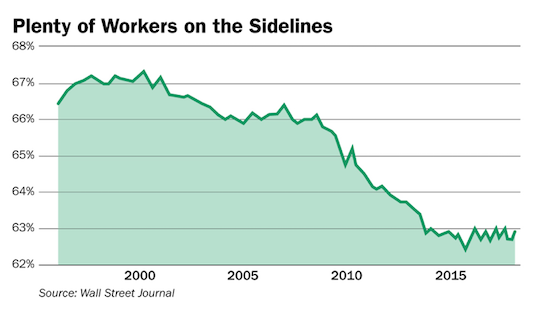 Note that last month, that additional 800,000 workers barely shows up as a blip higher on the chart.
In other words, there are literally millions of additional workers that can come into the market over the weeks ahead, helping to keep wages from rising too sharply. So the economy should be able to continue to grow, and the Fed can raise rates slowly since inflation is not too much of a problem.
All of this is great news for the market. And of course that's great news for you as an investor.
So for now, the plan is to continue to look for the best market opportunities, and to continue to keep a balanced approach to investing.
I'm excited about the current environment for us as investors, and I look forward to accumulating profits heading through the spring and into summer.
Now, let's switch gears and take a look at the top five things you need to know for this week…
5 Must Knows For Monday, March 12th
North Korean Peace Treaty — South Korean media is reporting North Korea wants to sign a peace treaty with the United States and start a diplomatic relations between the two countries. The United States, however, will not consider signing a peace treaty until North Korea has proven it has completely denuclearized the country. North Korea has agreed not to test any missiles, and the United States agreed not to infringe any more sanctions until they meet on the matter in May.
Inflation Week — On Tuesday the 13th, the Consumer Price Index (CPI) report will be released. Investors will be eyeing this number like a hawk… Since the CPI will dictate whether or not the FOMC will be more hawkish with raising rates this year. The year over year estimates are 2.2%, with month over month estimates at 0.2%. A higher than expected CPI will bolster the FOMC's argument to be more hawkish and raise rates.
The New Economic Advisor — After the departure of Gary Cohn as Trump's top economic advisor… The big question for Washington this week is who will be his replacement. Christopher Liddell is considered to be the front runner for the job. Liddell is another big time businessman coming from the c-suite of Microsoft and General Motors. Liddell is currently the White House's director of strategic initiatives.
Housing Market Pulse — Friday is a big day for the housing market. Figures for both building permits and housing starts are scheduled to be announced. This will give insights into the strength of some of The Daily Edge's favorite stocks — PulteGroup, D.R. Horton and Lennar. Over the last few years, increased demand and a low supply of homes has rocketed home prices higher. Let's see if the trend continues on Friday.
Retail's Big Week — Both earnings announcements from some major retailers and the Commerce Department's retail sales figures will be announced this week. This will give us a better sense of how the industry is competing with online competition, as well as how they fared during the all-important holiday season. This comes after last week when Target, Ross and Dollar Tree all fell after reporting.
Here's to growing and protecting your wealth!
Zach Scheidt
Editor, The Daily Edge
Twitter ❘ Facebook ❘ Email