The Death Of Passive Investing
Rest in peace, passive investors… I can't say I'm sad to see you leave.
For years, these investors have ruled the markets. They've pushed stocks of any type, any quality, any size, and any industry higher.
They've made a mockery out of our financial system. And they've championed the "average" and "mundane" while failing to put any effort into finding and rewarding the best businesses who truly deserve cash to help them grow.
Today, as we kick off another week of trading, I'm struck by how the investment world is changing.
And that's a very, VERY good thing for us!
The Tragedy of Passive Investing
"I'll just sock my money away into an index fund."
That's what one of my friends told me after asking my opinion on the market last month.
He literally asked me for my thoughts on where he should invest. And then when I told him about some ideas that I was tracking, he told me he was going to put his money into a mutual fund that tracked the broad market.
It's the exact same approach that both individual and professional investors have been taking for the last several years. And it's maddening!
When you invest in a broad "index" mutual fund, that fund puts a little bit of your money into all of the stocks in that particular index.
It doesn't matter whether the companies you're investing in have a sustainable business or not. It doesn't matter whether the industry is growing or contracting. It doesn't matter whether the stocks are in financial jeopardy or if they're ready to kick off a multi-year expansion phase.
Passive investing simply puts money into ALL stocks. And with so many investors taking this approach, the underlying market rises as more and more people indiscriminately buy shares.
The real tragedy is that many companies do not deserve the cash investors are plowing into their stocks. And if you or I took a look at those actual companies, we would never invest a penny in their business model. But passive investors support these unhealthy businesses.
On the other hand, strong companies with excellent growth prospects have less access to the money they need. That's because investors are giving the money that would have been invested into strong businesses into "all stocks" without any research or thought.
It's a mindless tragedy.
Things are Shifting — And That's a GOOD Thing
One of the major shifts that happened in February is that investors started paying closer attention to where their money was being invested.
Passive investors panicked when the market pulled back and took their money out of stocks.
Meanwhile, active investors — the people like us who think carefully about where they invest their money — picked up shares of the best companies at discount prices.
While I don't necessarily expect the market to pull back as sharply as it did at the beginning of February, I DO expect stocks to trade more on their own merits, and less on the trend of the overall market.
And that's a great thing for us…
Because as more investors buy stocks of quality companies — and sell stocks of companies that aren't performing well — our investments will naturally rise. This is simply because more investors will pay higher prices for the best stocks.
Hopefully you're not part of this passive investor crowd. It's unlikely you are if you're reading The Daily Edge. After all, we make it our mission to bring you the best active investment opportunities day in and day out.
If you're an active investor who researches your positions and finds the best stocks to invest in, then you're going to love this new market environment.
And of course, I look forward to bringing you the best opportunities on my radar as the U.S. economy continues to grow.
Now, let's shift gears and take a look at the five things you need to know this week…
5 Must Knows For Monday, March 5
Trump Tariffs — After plenty of backlash, this morning President Trump tweeted that he would rescind his tariffs on aluminum and steel if a "new and fair" NAFTA agreement is signed. This comes on the day ministers from the U.S., Canada and Mexico meet in Mexico City to wrap up the latest round of NAFTA talks. Here are Trump's exact words: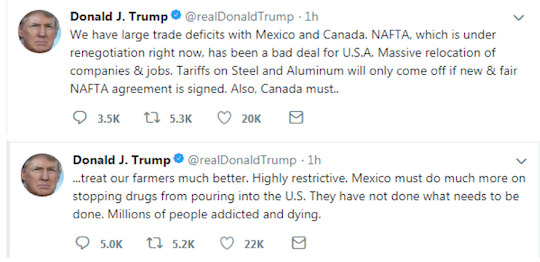 America Will Dominate Oil — According to a new report by the International Energy Agency this morning, American production will dominate the global oil market for at least the next five years. They estimate that U.S. crude production will reach 12.1 million barrels by 2023 (up two million from this year) which will make the U.S. the world's largest oil producer. Assisting in this rise are increased efficiency and rising prices that incentivize drillers.
Dinner In North Korea — Earlier today, North Korean leader Kim Jong-Un hosted a South Korean delegation for dinner in Pyongyang. This is the first known meeting between Kim and his South Korean rivals. According to the South Korean government, the purpose of the talk was to encourage the North to speak with Washington over atomic weapons while also improving North-South ties that showed promise during the Olympic Games last month.
Retail Earnings — Although the bulk of earnings have already been reported, we still have two weeks of big-name earnings reports. This week, at the top of the list are some big retailers. On Tuesday, Target and Ross Stores are schedules to announce. On Wednesday, Costco and Dollar Tree (which is largely thought to be "Amazon-proof") are scheduled to announce. And on Thursday, grocery giant Kroger is scheduled to announce earnings.
This Week In Economics — All eyes are on the jobs reports this week. Economists are currently expecting another 200,000 jobs added in January with the overall unemployment rate falling to 4.0%. Something to watch here is wage growth. This time last month, higher than expected wage growth spurred inflation fears which was the initial cause of the volatility. Keep your eyes peeled for 8:30 a.m. Friday morning for the report.
Here's to growing and protecting your wealth!
Zach Scheidt
Editor, The Daily Edge
Twitter ❘ Facebook ❘ Email