New Buy Alert: Index Fund Orphans
Lonely, neglected and forgotten.
Nobody wants them — even though there's absolutely nothing wrong with them.
The only problem is that they are not fortunate enough to be in the popular club. They are stuck on the outside looking in.
I'm referring to the publicly traded companies that are not included as part of the major stock indices, in particular the S&P 500.
The surge in passive investing over the past decade has meant huge sums of cash being poured into shares of companies listed in the S&P 500.
The chart below shows the 12-year-long exodus away from actively managed funds in favor of passive investments, resulting in hundreds of billions of dollars bidding up the exact same index fund stocks.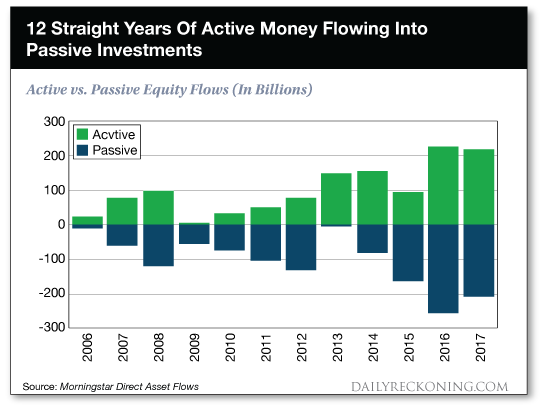 None of this money chasing passive investments has been used to purchase companies that aren't listed in the major indices. In fact, as money gets redeemed from active fund managers (the blue portion of the bar graph), shares of companies not included in the major indices have actually come under selling pressure.
Unwanted by the popular passive investing crowd and facing forced selling by active managers, a generation of index fund orphans has been born.
Now it's time for you to do your part to help fix this problem…
An Adoption Program Fit For Your Portfolio
This is so very simple.
For more than a decade, massive amounts of investor cash has chased the same S&P 500 stocks. The obvious result is that these stocks as a group are now expensive.
This has led to the S&P 500's cyclically adjusted P/E ratio — or Shiller P/E, as it's known — to reach its second highest level ever behind the Dot Com Bubble in 2000.
This is why I'm suggesting that as investors, we should stop buying these S&P 500 stocks that passive money has inflated and instead look for bargains where no money is being allocated.
Yes, we should be looking for opportunities amongst our index fund orphans.
With that in mind, let me introduce you to Diamond Hill Investment Group (DHIL), an attractively priced active asset manager.
Diamond Hill manages a portfolio of investment funds focused on finding stocks that trade for less than their intrinsic value. Not only is Diamond Hill an overlooked stock itself, but it focuses its fund management on investing in other index fund orphans.
The firm's long-term investment track record is excellent. And when the current passive investment phase passes and active managers like Diamond Hill come back into fashion, that long-term performance will get even better.
Attractively Priced, Shareholder Aligned And A Great Business
I can make my case for Diamond Hill in three points:
Point #1 — The Shares Are Very Attractively Priced — On all valuation metrics, Diamond Hill's shares are currently very attractively priced relative to their historical norms.
Diamond Hill currently trades at 14 times earnings which is a significant discount to the overall market and very inexpensive for a company that has grown operating income at an annualized rate of 21% over the past five years.
Historically, whenever Diamond Hill has traded this inexpensively, the company's stock price has subsequently significantly outperformed.
In addition, I must also mention that Diamond Hill currently yields a very delightful 3.35%.
Point #2 — Diamond Hill Insiders Feast On Their Own Cooking — The older I get the more I believe in the importance of having the proper incentives in place. At Diamond Hill, all employees have incentives that are aligned directly with shareholders, not just upper management.
In total, insiders own 23% of the company which adds up to $150 million worth of shares.
Further, employees have another $135 million invested in the funds that Diamond Hill Capital manages — meaning employees of Diamond Hill have more of their compensation tied to the performance of Diamond Hill than they do their actual salaries.
If Diamond Hill makes money, employees and shareholders make money.
I love that.
Point #3 — This Is An Incredibly Successful Business — For just 14 times earnings, investors can buy a company that has generated 21% annualized operating income growth over the past five years despite having the passive investment wind in its face.
And when active fund management comes back into favor, these growth rates are only going to increase. Usually I would expect a company growing income at a rate of +20% to have a price-to-earnings ratio of at least 20x, not the 14x where Diamond Hill trades.
Also important to note is that as an investment manager this is an incredibly capital light business model that generates lots of free cash flow.  As earnings grow so too will Diamond Hill's dividend since that cash does not need to be reinvested in the business.
That's all from me this week. As always, I'll be back at the same time next Thursday with another investment opportunity.
Here's to looking through the windshield,
Jody Chudley
Financial Analyst, The Daily Edge
Facebook ❘ Email