Since When Is $44 Billion For American Patriots A Shame, WSJ?
Earlier this week, I saw a politically motivated quote in the paper that just about made me lose my cool.
Not only was it incredibly misleading, but it also disparaged one of the programs that I've been encouraging retirees to take advantage of for years now!
Now, when it comes to politics and the different opinions that everyone is entitled to, I try to be understanding. Even when I disagree with a person's position, I usually just smile and nod. It's not my nature to get mad about stuff like this.
So it's a pretty big deal that this one riled me up. It's so far off the mark, I feel compelled to set the record straight about the billions of dollars flowing into the country right now.
You don't have to agree with me, or anyone else when it comes to politics. But please don't let political persuasions get in the way of you understanding the truth!
A $44 Billion Payday for American Patriots
This was a great week for retirees who are signed up to receive what I call "Cash for Patriots" payments. These are the dividend payments that American investors are receiving from U.S. corporations — dividends that are quickly expanding thanks to windfalls from the new tax bill.
On Wednesday afternoon, Cisco Systems (CSCO) reported quarterly earnings that beat investor expectations.
Much more importantly, as I noted in a tweet yesterday, Cisco will bring $67 billion in overseas cash back to the United States this quarter.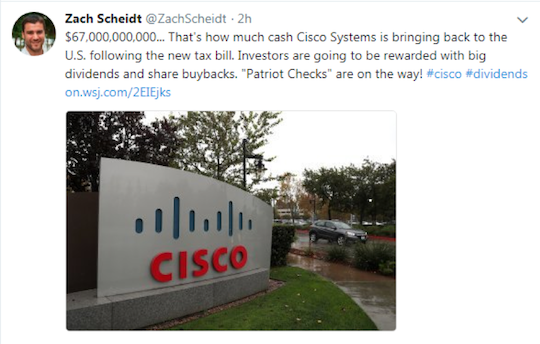 Of that cash, $44 billion will go to shareholders through larger dividends and share buybacks. Exactly the type of "Cash for Patriots" that we've been expecting from this new tax bill.
I was thrilled when I read the news.
And then I saw the following quote, which made my blood boil…
"…increases in share repurchases and dividends show money saved from the [tax] law is going to shareholders instead of being invested in new U.S. jobs, infrastructure, research and development and related areas."1
Wait just a second. So just because the cash is being paid to investors — the literal OWNERS of the company, many of whom are American patriots who need this cash for day-to-day life expenses — the company isn't adding jobs, infrastructure or other benefits?
That's absolute bullshit! (Pardon my French.)
I'm sorry… That's not how I usually talk.
But this line of reasoning is so biased… so ignorant… and so inaccurate that I can hardly stand it!
And it really worries me that so many Americans will see this type of "logic" in print and accept it at face value. When in fact, this $44 billion is being put to work in a way that will benefit American patriots — and grow our economy in a very effective way.
What's Wrong With Good Old Fashioned Cash Payments?
The way the media is treating this $44 billion in payments to investors is preposterous.
They want us to believe that if Cisco returns this money to you as a shareholder, the money will somehow be unproductive (or less productive than investing in their preferred areas).
So let me ask you… If you're an investor in CSCO, do you resent having your own money returned to you? Furthermore, are you going to stuff this cash under a mattress and let it rot?
Of course not!
For many U.S. investors who will be receiving this cash from CSCO (or seeing their retirement accounts increase from share buybacks and rising stock prices), the money will be well spent in the good old United States.
You'll probably spend some of the money on food and clothing — which helps our local retail stores.
Maybe you'll remodel your kitchen or basement, hiring a small business to help with the project.
Of course, many investors like to travel. And trips help support local economies around the country (and around the world). Think about the jobs that will be created in the hotel, restaurant and other tourism areas.
If you don't need the money right now, maybe you'll invest the cash into new opportunities. Perhaps into companies that have better growth prospects and are on the cutting edge of new medical or technological discoveries.
My point is that when CSCO repays $44 billion to you as a shareholder, that money does in fact go into the economy. It produces jobs. It helps to pay for infrastructure projects. It funds research and development…
Free markets are designed to funnel capital into areas where it is most needed and where the best growth opportunities are. So don't let anyone make you feel guilty for collecting "evil corporate profits" from your investments and using that money to pay for things that bring balance to your life and help to grow our economy.
More Growth — and Takeover Opportunities — on the Way!
Just because Cisco is allocating $44 billion for investors doesn't mean the company is neglecting its own growth opportunities.
Cisco is currently sitting on more than $73 billion in cash, and the company is actively looking for ways it can use it to grow the underlying business.
One of the ways CSCO can put this cash to work is by acquiring smaller companies that have key technologies that CSCO can market to its global base of customers.
Think about what happens if CSCO buys a niche tech company with a product being sold in a small part of the economy… and then rolls that technology out to a much wider customer base! In instances like this, CSCO can typically buy a target company for an attractive price, then get much more value by expanding the reach of new technology purchased.
In fact, on Wednesday, the company's Chief Financial Officer Kelly Kramer outright said "acquisitions are a critical part" of the company's future growth.
That's an exciting statement because there are so many small companies that could be in the crosshairs for Cisco to take over. And identifying those stocks before Cisco pulls the trigger can be very lucrative.
I'll be doing some heavy research over the next few weeks to identify some of the most likely targets. And, of course, I'll fill you in on what I find.
So, just a reminder as we head into the weekend… Please don't listen to the misinformed statements about how the tax cuts are only benefiting "evil corporations." As the recent news from Cisco clearly shows, proceeds from the U.S. tax cuts are leading directly to billions of dollars being given to American citizens, and that money is naturally flowing back into our growing economy.
Here's to growing and protecting your wealth!
Zach Scheidt
Editor, The Daily Edge
Twitter ❘ Facebook ❘ Email