Introducing "Trumpfrastructure"
Did you watch Trump's State of the Union Address? The whole thing??
I don't blame you if you skipped out early. Because according to one commentator, this was the third longest speech of its kind in American history!
But if you did turn off the TV to call it a night early, you may have missed the latest information on Trump's $1.5 trillion plan. And as an investor, you do NOT want to miss out on the opportunities behind this spending plan.
So today, we're going to take a look at the President's newest priority, and zero in on the best ways you can use "Trumpfrastructure" to build your wealth…
One Win Down, On to the Next One!
Like him or hate him, you have to admit Trump has kept his promise of shaking things up in Washington.
And despite all of the theatrics, Trump is actually getting things done!
"We booked a huge win with our tax cuts. Now it's time to move on to our next challenge!"
That was the basic message Trump conveyed in Tuesday night's address.
It took a full year in office for the new administration to get a major victory on the board. But as we've talked about here at The Daily Edge, Trump's corporate tax cut is great news for Americans — many of whom are already receiving real cash payments in the forms of bonuses, raises, dividends, and higher stock prices.
But back to the State of the Union Address…
While the majority of Democrats in attendance chose to abstain from applauding for most of Trump's speech, this "next challenge" is one that has the potential to earn support from both Republican and Democratic lawmakers.
That's because Trump's next challenge is to pass a bill that will trigger $1.5 trillion in spending on America's aging infrastructure.
A Badly Neglected Issue
To say that America's key infrastructure has been neglected would be an understatement.
Take a look at the chart below which shows how spending on infrastructure projects has been steadily declining for a half century — and much more rapidly over the last 10 years!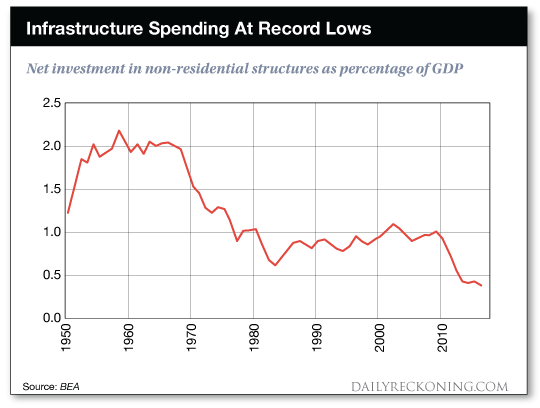 If you've spent any time driving across the country, you know that roads and bridges in the U.S. need a lot of work. According to the American Road and Transportation Builders Association (ARTBA), there are more than 55,000 U.S. bridges found to be deficient.1
And that doesn't cover all of the other infrastructure areas that need work — such as dams and other waterworks, the nation's power grid, pipelines, tunnels, railroads and more.
With so much work needed, a comprehensive infrastructure bill could be touted as a win for both political parties. It's just a matter of hashing out the details and figuring out the funding.
Speaking of funding, I like Trump's idea of supplementing local and state governments with additional Federal funds. This way the projects can be initiated in specific areas where they are really needed and where they will do the most good for the country.
The Feds will need to spend a significant amount of money for sure. But if Trump's deal works as planned, most of the funding for these projects will come from state and local governments, and from the private sector. That's good news for U.S. taxpayers who won't be required to foot the entire bill.
"So What's In It For Me?"
Of course as investors, we're always looking for the best way to profit from major economic developments. And a $1.5 trillion dollar spending bill certainly qualifies as a major development.
This year, I expect big returns for investors who own shares of the companies that are closely tied to infrastructure spending.
In particular, I'm looking at the miners who produce iron ore (which is used for steel) and copper (which is used in nearly all new building projects). Two companies you should have on your radar are Freeport McMoRan (FCX) and BHP Billiton (BHP).
Both stocks have spent the last 2 years trending higher thanks to expectations for higher infrastructure spending. Both stocks have also paused a bit over the last few weeks as investors wait to see more details on Trump's infrastructure plan.
Another area that will benefit from infrastructure spending is the steel industry. Two steel names for your watch list include ArcelorMittal (MT) and U.S. Steel (X).
Both stocks are already growing earnings thanks to infrastructure projects that are being implemented around the world. But as the U.S. gets into the game with its $1.5 trillion spending plan, I expect that momentum to continue.
So this year, as you lock in profits from our successful tax cut opportunities, I encourage you to take some of that cash and reinvest it in infrastructure plays. It's a great way to parlay our 2017 gains into major wealth building in 2018.
Here's to growing and protecting your wealth!
Zach Scheidt
Editor, The Daily Edge
Twitter ❘ Facebook ❘ Email
1 More than 55,000 U.S. bridges are in need of repair or replacement, Washington Post