Fake News!
I'm getting sick and tired of the fake news popping up just about everywhere.
Personally, I feel manipulated every time I read a story on what's happening in Washington. It happens on both the left and the right sides of the spectrum.
No one is reporting the actual political story. Instead, it seems like every journalist is writing with the express intent to sway me towards their opinion of what is going on. It's so frustrating!
It's sad, but I've grown to expect this from Washington correspondents. These days, I'm madder at the Wall Street reporters who have also let bias slip into their work. Their personal beefs with certain industries color their coverage.
This means that most investors get mixed messages or even flat-out wrong information as reporters spin the facts out of Wall Street to their liking.
But the good news is that if you look past the headlines and find out what is really going on, you can invest with good information and take advantage of some excellent opportunities.
Today, I want to talk about one of those hidden opportunities and show you how to profit from Wall Street's manipulation of the information…
A Weak Month for Housing… REALLY?
Last week, investors got a couple of "disappointing" reports on the U.S. housing market.
On Wednesday, the National Association of Realtors reported existing home sales of 5.57 million for the month of December.1 This was below the 5.7 million economists were expecting, and the reports I read called this a "disappointing" reading.
The very next day, the U.S. Census Bureau reported new home sales of 625,000.2 Once again, this number came in below expectations as economists thought there would have been 675,000 new homes sold.
If you've been following our coverage of the housing market here at The Daily Edge, you might have been disappointed with the "weak" numbers. After all, I've been telling you for months that this is a great market for investing in real estate, and specifically in stocks of companies that build new homes.
If fewer homes are being sold, that means the market is weak, right?
Not exactly.
You see, the actual details behind this data are much more positive than the headlines. But it takes a shrewd investor to understand why lower sales data actually leads to better profits from our home builder opportunities.
Let me explain…
It's All About Supply and Demand
Let's think about why there may have been fewer home sales than expected.
Is it because fewer buyers are willing to sign a mortgage and purchase their dream home? Or is it something else?
If you look at the data, you'll realize that the actual "problem" with the housing market right now is not that buyers are getting cold feet.
Instead, the problem is that there simply aren't enough homes for buyers to choose from!
According to the National Association of Realtors, the number of homes listed for sale has plummeted to the lowest level in decades!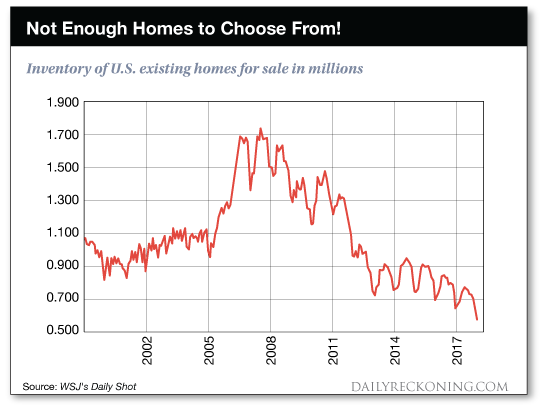 Here's the problem… With buyers snapping up all of the houses for sale on the market, there are fewer and fewer choices available. So it's no wonder fewer homes sold during December.
But that's not "bad news."
In fact, calling this data "bad news" is actually fake news!
For homebuilders — and for anyone who is investing in residential real estate — the low level of homes for sale is actually great news!
Any time you have a low supply of something, and you have buyers that really want to purchase, prices will naturally rise.
And that's great news for homebuilders who are building houses and then selling them into a market starved for new choices.
With higher prices, homebuilders will lock in some exciting profits this year. And investors will be richly rewarded. That's why I continue to pound the table when it comes to homebuilder stocks. Many of these stocks have moved higher over the past year, but they still should have plenty of room to run.
Basically, we won't see home prices start to drop until inventories move higher, or until the number of buyers start to decline. And neither of those are expected to happen in 2018 thanks to a strong and growing economy.
So make sure you're invested in homebuilder stocks.
And please, when you read the news out of Washington, Wall Street or Main Street, make sure you're actually thinking about the details and not just reading misleading headlines.
Now, let's shift gears and take a look at our five things for this week…
5 Must Knows for Monday, Jan. 29
Trump vs. Intel? — Over the weekend, reports surfaced about the federal government possibly nationalizing 5G technology. According to Axios, this move comes primarily to guard against China, who "has achieved a dominant position in the manufacture and operation of network infrastructure" and is "the dominant malicious actor in the Information Domain." To accomplish this, there are currently two options — first, the government builds out the entire network and rents space to carriers. And second, the carriers build out the network and compete with one another.
State of the Union — At 9 p.m. ET Tuesday, President Trump will wrap up his first year as president with his first State of the Union address. The theme of his address is reported to be "building a safe, strong and proud America," while touching on the five main policy areas — economics, infrastructure, immigration, trade and national security. As always, the speech will be broadcasted on all major news networks.
Stick With Gold — I've said it before and I'll say it again, gold has plenty of tailwinds in today's market… Geopolitical risks, worries over a potential market correction and the falling dollar are all pushing the price higher. As of today, the price sits just above $1,340 — the highest level in 3 years.
Earnings Week 4 — Another week of earnings season rolls on. On Tuesday, expect to hear reports from Pfizer, McDonald's and AMD. On Wednesday, watch out for Boeing, Microsoft and Facebook to report. On Thursday, Apple, Amazon, Alphabet and Alibaba report. And finishing up with Friday, oil giants ExxonMobil and Chevron are scheduled to report.
On the Economic Calendar — On Monday, the U.S. Commerce Department releases personal income, spending and inflation figures for the end of 2017. On Tuesday, GDP figures for the European Union will be announced followed by inflation and unemployment statistics on Wednesday. Together, these two days could combine to put even more downward pressure on the dollar. And on Friday, U.S. unemployment data will be announced for January. Currently the unemployment rate sits at 4.1%.
Here's to growing and protecting your wealth!
Zach Scheidt
Editor, The Daily Edge
Twitter ❘ Facebook ❘ Email
1 Wall Street Journal Daily Shot
2 Wall Street Journal Daily Shot