January 25th: Today's Single Best Place To Invest
Today, I want to give you the single best place to invest in the stock market.
But don't give me all the credit.
Because I'm stealing this directly from an investing legend.
His name is Joel Greenblatt. And in his classic 1997 book, You Too Can Be A Stock Market Genius, he made one thing perfectly clear…
"The facts are overwhelming… stocks of spinoff companies significantly and consistently outperform the market averages."
Which leads me to today's pick…
Who is Joel Greenblatt?
First things first. Why should we care what Joel Greenblatt thinks?
That's a fair question.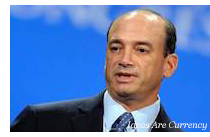 And the answer is simple.
Greenblatt has put together one of the best investing track records in recent memory.
In 1985, Greenblatt founded his hedge fund Gotham Capital with just $7 million. And over the next 21 years, his Gotham Capital compounded money at an annualized rate of 40 percent.
That isn't just good, it is ridiculous.
I'm not aware of anyone outside of Warren Buffett in the 1950s who has had a comparable streak investing in equities.
And just as you'd expect, investing in spinoffs played a big part in Greenblatt's investment success…
What Is A Spinoff And Why Does It Outperform?
There is solid reasoning behind why spinoffs outperform.
A spinoff takes place when a parent company "spins off" a subsidiary or business unit into a stand-alone public company. The underlying business reason for doing the spinoff is usually to rid the parent of a non-core business so that it can focus on what it does best.
When the spinoff occurs, the shareholders of the parent company receive shares of this newly spun-off entity.
What often happens is that the investors who receive the shares of the spun-off business don't want them.
After all, these investors bought shares in the parent company, not this smaller subsidiary. Institutional investors in particular aren't interested in owning a much smaller company that they know little about.
The result is a massive wave of selling.
Which is where our opportunity presents itself…
Any time widespread selling of a company's shares takes place due to something other than underlying business performance, there is potential for those shares to be significantly undervalued.
In Greenblatt's book, he referred to a Penn State study that showed that spinoff stocks beat the overall market by ten percent over a period from 1964 to 1988. And from 2000-2017, the study was confirmed with an eight percent annualized outperformance rate.1
Remember, most professional fund managers fail to even match the market. So I hope you can appreciate how exceptional that outperformance is.
Now Let's Get To Our Pick…
This past summer, U.S. insurance giant MetLife spun-off its retail subsidiary Brighthouse Financial (BHF).
The reason for doing the spinoff was regulatory in nature — by shedding Brighthouse, the new smaller MetLife no longer met the size of what the government defines as "systemically important." That is a good thing since it means lower compliance and reporting costs going forward.
After the spinoff, shares of Brighthouse did what shares of spun-off companies often do — they fell — which presents a buying opportunity for us…
You see, although Brighthouse's primary insurance business is not exciting, their current valuation certainly is.
Thanks to the spinoff effect, Brighthouse shares are dirt cheap.
At the current share price, Brighthouse trades for just 56 percent of book value — whereas most insurance companies usually trade at book value or at a slight premium to it.
And at just 6.5 times expected 2018 earnings per share, Brighthouse also looks very cheap against the amount of money it makes.
But there's more…
Brighthouse will do very well as interest rates rise.
That's because a big chunk of the earnings this kind of company generates comes from investing the cash received from selling policies. And since those investments are mainly fixed income in nature, as rates rise, so too does the revenue that Brighthouse generates from its investment portfolio.
Here's to looking through the windshield,
Jody Chudley
Contract Analyst, The Daily Edge
Facebook ❘ Email
1 Spin Gold From Spinoffs: A Portfolio Of 5 Castoffs Trounces The S&P 500, Forbes