How My 4-Year-Old Found Wealth in My Basement
Every day, more and more regular Americans are finding vast sums of wealth buried beneath their homes. In some cases, the wealth shows up in attics or even overlooked bathroom spaces.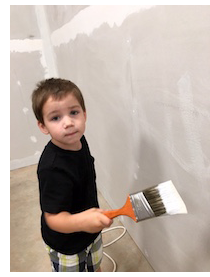 Last year, I started the process for myself… in the cold, unfinished basement below my house. As you can see, I even got my youngest son to help me.
So what is this phenomenon sweeping across America?
It's a giant wave of remodeling projects… And these projects give homeowners some of the best investment returns possible.
Today, I want to tune you in to a market growing at the fastest rate in more than 10 years. One that will drive $340 billion in spending this year.
And don't worry… You don't have to get your hands dirty to participate in this trend. Unless of course you want to!
The Home Value Equation: More Space = More Wealth!
It's no secret that the housing market has been growing steadily for several years now. We've been talking about it often here at The Daily Edge. Hopefully you've got some nice profits built up in homebuilding stocks that have been marching steadily higher.
The housing market continues to be strong, but as we're likely to see when figures are released later this morning, the total number of monthly home sales is starting to pull back.
Is this a warning sign?
Hardly!
The reason home sales aren't expanding is simply because there aren't enough homes to meet demand. Even though builders have backlogs of orders, they simply can't build homes fast enough to keep up with all of the buyers.
That's great news for you if you own a home. Because with so much demand — and limited supply — home prices are moving steadily higher!
As a homeowner, I want to make the most of this trend and grow my wealth as effectively as possible. Plus, as a father of seven kids, I can use all the space in my home that I can get. Especially my OWN space to research investment opportunities.
Which is why last year, I decided to personally remodel a room in my basement for a home office.
This summer, I plan to remodel the rest of our basement. And this time, I'll be hiring some professionals to help me (instead of making my youngest son work to earn his keep).
No, I don't plan to move anytime soon.
But like so many other homeowners, I know that the value of my home will grow much more quickly with a remodeled basement.
You can be sure I won't be alone this year when it comes to making improvements to my house.
The Fastest Growth in a Decade
I follow a lot of statistics and indicators to help me find the best investment opportunities for you.
Last week, I came across a chart showing how the LIRA is now growing at the fastest pace since 2007.1
What is the LIRA you ask?
It's short for the Leading Indicator of Remodeling Activity. In other words, homeowners are now plowing money into remodeling projects at a faster rate than we've seen in 10 years!
The $340 billion in remodeling projects will cover not only basements, but also new kitchens, flooring upgrades, bathroom remodels and more.
It makes sense when you think about it.
With home prices moving higher in nearly every major U.S. market, homeowners have a great opportunity to grow their wealth!
Remodeling a basement has been proven to give homeowners a high return on investment.
The average cost of a basement remodel is $61,000 (although you can get a project done more cheaply if you put some work in yourself). And the cash put into a remodel project should immediately boost the value of your home, not to mention the long-term profits as your total home value continues to increase.
So if you're currently a homeowner and you have some rooms that could use a touch up, this is a great time to consider a remodel project. Just make sure you consider how much a project will cost you, and research prices for similar homes with upgrades in your area.
Of course, you don't have to start a construction project to tap into this growing trend…
Home Remodel Stocks Are Soaring!
As investors, we can tap into just about any trend in the market, simply by picking out the best stocks in the area.
For remodeling projects, the obvious choices are Home Depot (HD) and Lowe's (LOW). Both stocks have moved sharply higher over the past year, with growth actually accelerating in 2018.
I love these companies and the stocks deserve a long-term home in your portfolio. But I'm not sure I'd buy the stocks today simply because they are so extended. I'd rather you wait for a pullback and buy them at a bit of a discount to today's levels.
But while you're waiting, here are a couple of other remodel plays that you should consider:
Restoration Hardware (RH) — This retail store offers unique hardware (go figure!) as well as decorative furniture for that home remodel project. The company has been working hard to establish a strong online presence, helping it to compete against Amazon.
The plan seems to be working as RH is expected to grow profits by more than 400% when it reports annual profits. (RH has a January 31 year end). The stock has been moving higher since RH's last earnings announcement and I expect good things from the company this year.
Williams Sonoma (WSM) — Another furnishing and home decor company, WSM should benefit from all of the remodel projects being done this year. (After all, my wife tells me it is impossible to remodel a room and not buy new furniture for said room!)
Similar to Restoration Hardware, WSM operates with a January 31 year end. For this year, investors expect profits to grow 521% to $3.54 per share. That's impressive! And with the stock trading near $55 today, investors are getting a good value for that growth.
I'm sure we'll have more to say about the remodel wave this year. This $340 billion wave of spending is definitely going to have a big impact on related stocks. For now, make sure you're watching these four stocks as excellent plays on this vibrant market.
Here's to growing and protecting your wealth!
Zach Scheidt
Editor, The Daily Edge
Twitter ❘ Facebook ❘ Email
1 Get ready: home remodeling is set to surge at the fastest pace in more than a decade, MarketWatch