Ford Says Buy Intel
Where does Ford go from here?
Your Editor Zach Scheidt and I have talked plenty about the company's tailwinds over the last few months.
The booming economy has spawned a wealth effect
Recent hurricanes destroyed countless cars in Texas and Florida
Ford is "all in" on self-driving and electric vehicles
But the stock is now back above $12 — up 15% since August.
Which begs the question… now what?
To get the answer, I attended Ford Motor Company CEO Jim Hackett's keynote speech at the Consumer Electronics Show (CES) last week.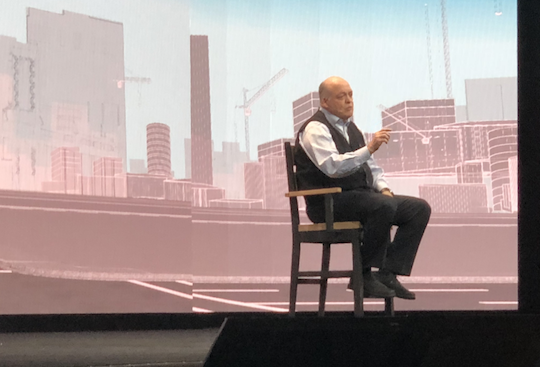 I sat front row in the Palazzo Ballroom for the event expecting to be blown away with progress updates on their electric vehicle and self-driving car technology.
But unfortunately that didn't happen.
Instead, I left the presentation with a completely different investment in mind. In my head was a company that you may think is completely unrelated. But in fact, this other company is now in direct competition with Ford.
I'm referring to the semiconductor giant Intel.
Ford Build Cars… Intel Will Build Cities
You see, there's an important trend going on in today's automotive industry.
Cars are becoming more connected than ever. And I'm not just talking about self-driving cars.
"Connected cars" are just as important in today's industry. These include vehicles that have the capability to access the internet and emergency call services, connect to diagnostic services and even navigate through traffic in the most efficient way possible.
Hackett talked at length about Ford's ambitions to integrate this technology into cities across the U.S. — creating what he called "smart cities."
These smart cities will include all of the vehicle capabilities above, as well as connections to adjacent businesses that can coordinate convenient pickups while remotely processing payments, and other methods of transportation like the subway and bike stands that can get you to your destination as quickly as possible.
In short, think of your car like another version of your smartphone but with more useful real-time data.
But Ford won't be the company to cash in on this trend… Intel will.
One Thing You Need To Know About CES
Much of the time, the Consumer Electronics Show is just that — a show.
The vast majority of the products and services on display in Las Vegas every year will never actually be commercially available. And I believe Ford's smart city fits firmly into this category.
I refuse to believe that the world's third largest automaker will pivot away from creating vehicles in favor of the ecosystem that supports them.1 And I also refuse to believe they would even think about convincing their shareholders of this.
But that doesn't mean that smart cities will never become a reality. Far from it.
Intel is already aiming to create smart cities and already produces the senor-chips, processing chips and even cloud computing software that will make it a reality.
In addition, Intel is currently an industry leader in 5G technology that will be required for technologies like self-driving cars. That's because 5G is faster, more reliable and can handle more users than the current 4G standard.
And when lives are on the line, simply put, this will make or break the entire industry.
Here's How To Play The Action
Intel's stock price has dipped recently due to the vulnerability discovered in some of its chips.
However, CEO Brian Krzanich personally stated at CES that 90% of the affected chips will be updated within the week, and that this will not be a long-term issue.
And at $44 per share today, buy the dip for long-term gains.
Here's to keeping your edge,
Davis Ruzicka
Managing Editor, The Daily Edge
Facebook ❘ Email