$128 For Hawaii's Most Expensive Real Estate
Nearly every traditional valuation measure says the S&P 500 is currently expensive.
Which means if you're a value investor trying to make money in today's market, you'll need to try harder.
To do that, you need to start looking in areas where most of the investment world isn't.
Here's my idea…
Howard Hughes Corporation – Underfollowed and Undervalued
Howard Hughes (HHC) has a unique business model for a publicly traded company.
This company isn't a REIT.
This company isn't a homebuilder.
And this company isn't a land developer.
Instead it's all three of these things.
And as a result, it doesn't fit into any of Wall Street's existing boxes.
You see, Wall Street has analysts assigned to each individual sector but no analysts assigned to cover all three. Which means that there are currently only a handful of analysts covering HHC.
Which today offers an extremely compelling value proposition…
Developing World Class Real Estate Assets
Howard Hughes focuses on Master Planned Communities (MPCs) where the company takes a very long term view to construct massive "communities" consisting of usually homes, offices and retail spaces.
Although these projects take decades to build out, the company currently has five main existing MPCs that are located in and around Houston, Las Vegas and Maryland which cover over 80,000 acres and have almost 350,000 people living within them.

The MPC development segment of the business involves building and selling projects involving massive dollar amounts.
In the company's operating assets segment (properties retained by Howard Hughes), the company rents these homes, offices and retail spaces out to tenants which earns additional revenue.
And the best part, these operating properties are all situated within the MPCs so as new structures are built, the influx of residents and workers create demand for the other operating properties.
In total, the operating portfolio includes approximately 7 million square feet of retail/office space, 1,118 wholly-owned multi-family units and 985 combined keys at hospitality properties.
When Long-Term Planning Turns Into Cash Flow
In addition to the five existing MPCs, Howard Hughes also has two very significant MPCs in their infancy in Hawaii (Ward Village) and New York City (South Street Seaport).
These are huge developments that are on the verge of contributing significantly to the company's financial results — Ward Village and South Street Seaport.
One of these is Ward Village which is located in Honolulu, Hawaii. It is an amazing ocean front parcel of property within walking distance of Waikiki Beach and adjacent to Ala Moana Beach Park.
The jaw-dropping view below is from the window of a unit of the Waiea condo tower within Ward Village.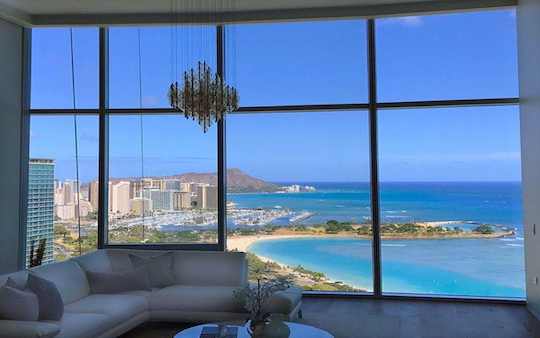 Source: Hawaii Life
The first condo tower (Ala Moana) sold out all 206 units in 23 hours with people camping out at the sales center. While the next seven towers are in the planning stage with most units already sold.
Over time these properties will add up to 4,000 residential units and 1.9 million square feet of retail and office space — all on 60 acres of the most valuable ocean front property on the planet.
The other development is South Street Seaport located in New York City.
Here, Howard Hughes is redeveloping Pier 17. Again, this is an incredibly valuable piece of real estate with Phase 1 of the project having just gone live in Q4.
To date, both of these assets have basically been dormant on Howard Hughes balance sheet. They've been in the development stage not contributing much to the company's income statement.
That is about to change and I believe will be a powerful catalyst for Howard Hughes share price over the next several years as the company's net operating income ramps up.
At the current share price of $128, I believe that investors are currently essentially paying only for the value the five existing MPCs. That means that no value is currently baked into the share price for Ward Village, South Street Seaport and 37 million square feet of additional other future development projects.
That sounds like a pretty good deal to me.
Here's to looking through the windshield,
Jody Chudley
Credit Analyst, The Daily Edge
Facebook ❘ Email