Macy's Gets Its Groove Back
This weekend, my favorite college team won the SEC Championship and secured a slot in the National Championship playoffs. Congratulations to my University of Georgia fans out there (and condolences to those of you pulling for Auburn).
One of the ways any successful football team claims victory is by anticipating where the play is going to be, and heading towards where the ball is going to be (for defensive players) or running to where the open spot is going to be (for offensive players)..
As investors, our success rides on our ability to anticipate where the market is headed instead of simply investing in what's been working for the last few months.
With that in mind, I've got a brand new investment area that will make you a lot of money this holiday season. But I'll warn you, just like an aggressive football player, success in this market takes a lot of guts and foresight.
Do you have the guts to take advantage of this opportunity? Let's see…
Hell Hath No Fury Like a Classic Short Squeeze
If you've never been caught in a classic short squeeze, count yourself lucky!
A short squeeze is typically set up when too many investors sell a stock short (or make bets that a stock will trade lower). In this scenario, the investors make money when the specific stock falls. And they lose money when the stock rises.
This kind of trade can work very well in bearish environments.
But if the stock in question — or an entire group of bearish stocks — reverses course and moves higher, investors who are short get "squeezed." There's theoretically no limit for how bad their losses can be. The higher a stock trades, the more losses accumulate. With a big enough bet, investors could lose everything!
Stocks that are experiencing a short squeeze can rip higher at a blistering pace.
That's because in order to close a short position, investors have to buy shares of stock. If too many investors are short a certain stock (or a group of stocks), the frantic buying pressure can lead to a rapid move higher.
I'm sure you can see where this leads…
As the stock trades higher, more short sellers lose money. These short sellers are forced to buy to protect against further losses, and the stock continues to move higher. It's a vicious circle that can cause some of the most unloved stocks to rally at a pace no one expected.
Of course, if you can anticipate a short squeeze beginning to take place, you can lock in some very big profits.
And that's exactly the type of opportunity we're looking at today.
A Short Squeeze in the Making
Can you think of an area in today's market that has been particularly bearish?
I can… It's brick-and-mortar retail stocks.
Competition from Amazon has made it difficult for many retailers to generate profits. And bearish investors have capitalized on this trend, shorting retail stocks and enjoying some nice profits.
Take a look at the action in a few key retail stocks over the last two years: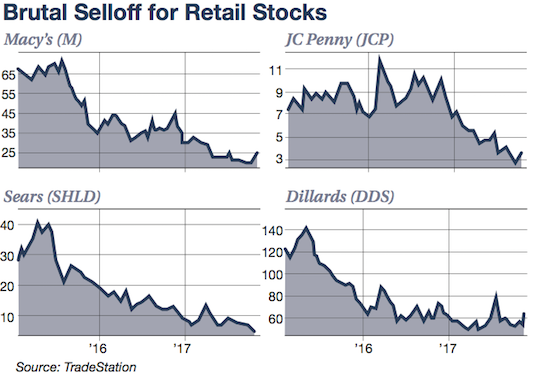 With the unrelenting declines for months and months, these stocks have been excellent profit areas for short-sellers. But that trend is starting to change…
This week, beaten-down retail stocks have started to trade higher. Strong retail sales and some positive data from malls across the country have caused a shift in perception for retail stocks.
Trading volumes for retail stocks have picked up as short sellers have started to sense the heat and bail out of their positions. And given the length of time these stocks have been hated, the remaining short positions are still massive.
It's going to take weeks (if not months) for short sellers to close their bearish retail positions. And all of that buying pressure is likely to ignite one of the most vicious short squeezes seen in a long time.
This is an opportunity that is too good for us to pass up.
That's why today, I recommend buying shares of profitable, but beaten down retail stocks. I'm talking about the quality "babies" who have been thrown out with the retail bathwater. These are the stocks that have the best shot of trading sharply higher.
My Income on Demand trading service will be focusing on these opportunities for the next few weeks. Using our perpetual income strategy, we'll be collecting instant cash payments from these stocks at just the right time.
This strategy is my favorite way to collect income from the stock market. And of course this time of year we could all use a little more income to cover holiday expenses. So take a look at our Income on Demand approach here and start claiming your own payments as the retail stock short squeeze picks up momentum.
Here's to growing and protecting your wealth!
Zach Scheidt
Editor, The Daily Edge
Twitter ❘ Facebook ❘ Email
5 Must Knows For Monday Dec. 4th
Taxes Pass: In the early hours of Saturday morning, Senate Republicans narrowly passed their version of the tax bill. Now that both the House and Senate have passed different versions of tax reform, the next step is likely that leaders from both houses will form a joint committee to settle on one version. Critics currently point to the "blinding speed" at which this bill came together, but ask yourself, isn't that why Trump got elected in the first place?
Healthcare Takeover: On Sunday, CVS Health Corp. offered to buy Aetna Inc. for $69 billion — about a $10 billion premium over where the company traded last week. This is a first-of-its kind deal as insurers look to lower health costs while retailers look to fend off increased competition from online competitors. The real test will come when antitrust agencies start looking the deal over.
Short Bitcoin: On Monday, December 4th, the Chicago Board Options Exchange (CBOE) announced that it is launching Bitcoin futures trading on December 10th. This may be the biggest nod to the legitimacy of cryptocurrencies yet. On the year, Bitcoin is up over $10,600 — a percentage gain of 1400%.
Jobs, Jobs, Jobs: It's the beginning of the month which means one thing — a new jobs report is due out. On Friday, December 8th, the Labor Department is expected to release its November nonfarm payroll figures. This figure has boomed higher since Trump took office with the hurricane season as the only exception. As of now, economists expect 191,500 jobs to be added with no change in the unemployment rate.
Gold Holds Strong: Although stocks keep roaring higher and tax reform is on the brink of getting passed, gold prices have stayed steady over the last few weeks — signaling that investors are not overlooking the uncertainties in today's market. Is tax reform a "sell the news" event? And what does the future hold for North Korean tensions? There's only one way to protect yourself — stay allocated.