Restoration Hardware — The Furniture Beast Awakens
Happy Black Friday!
I hope you were able to enjoy Thanksgiving with special loved ones this year.
Yesterday, I took our crew over to the in-laws house and met up with extended family. We wound up with 14 kids and just 10 adults at the house. So as you can imagine, there was a bit of chaos involved. But everyone had a great time.
Speaking of chaos, today is traditionally the biggest and craziest retail day of the year.
Stores across America are offering door-buster deals and opening early to accommodate crowds of shoppers. Not to be outdone, online retail locations are also offering great deals to get customers to browse their e-commerce offerings.
As an investor, this holiday season offers a tremendous opportunity to profit from eager shoppers…
2017: A Great Year for Shoppers
This holiday season is shaping up to be a merry occasion for gift givers (and shoppers in general).
A strong job market along with an increasing portion of the population moving back into the workforce has left more shoppers with discretionary spending money.
It also helps that interest rates are still exceptionally low (making it easier for consumers to finance big ticket items, leaving room in the budget for holiday spending). And for consumers who also own their own homes, a strong real estate market has pushed home values higher, making it easier to refinance and pull cash from home equity.
All of these items are working together to create a great shopping environment for 2017.
According to a study by PricewaterhouseCoopers LLC, consumers will likely spend six percent more this year — adding up to an expected $1,189 in holiday spending per person.1
Of course a larger portion of this spending will be done online this year. But it may surprise you to know that 72% of shoppers still expect to spend money at department stores this year.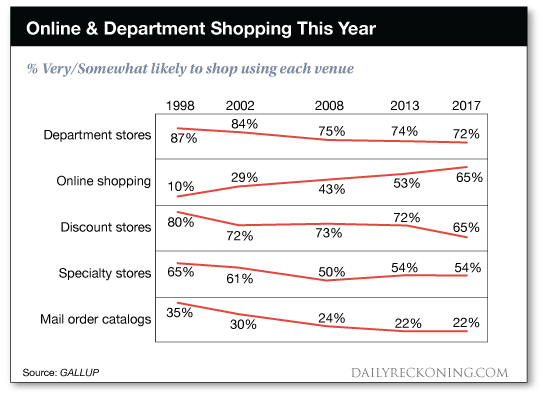 The big question for us as investors, is which stocks will most benefit from the rise in holiday spending?
Two Black Friday Plays for Your Portfolio
This year, I've got my eye on two exciting retail plays that you should consider for your holiday portfolio.
On one hand, the online shopping war is heating up between Amazon.com (NASDAQ:AMZN) and Walmart Stores (NYSE:WMT).
As you probably know, I'm not a big fan of Amazon stock. Shares are just too expensive relative to the company's earnings. And at some point, Amazon's anticompetitive practices are going to catch up with the company and cause regulators to start taking action.
In short, Amazon is a risky play for investors.
But Walmart has made giant strides toward boosting its online presence. The company is finally starting to compete head-to-head with Amazon. And investors are noticing!
Shares have moved sharply higher this year, and yet the stock is trading at a reasonable 22 times expected earnings for next year. With this reasonable price and a 2.1% dividend yield, I expect shares of WMT to trade higher throughout this holiday season.
When it comes to brick and mortar stores, I've been watching Restoration Hardware (NYSE:RH).  The stock has jumped higher this year thanks to strong company guidance for earnings growth.
RH offers unique furniture and fixtures for both homeowners and renters.
I'm excited about RH because of the robust housing market. As more Americans buy and furnish new homes, demand for RH's merchandise continues to grow.
This holiday season, many shoppers will be looking for housewarming gifts for loved ones who just moved into a new house. So expect Restoration Hardware to post strong holiday sales, leading to more profits for RH investors.
You could also keep a close eye on other home furnishing and home decor stocks which will similarly benefit from holiday spending for new home buyers.
That's it for today. I hope your holiday season is off to a great start. Have a great weekend!
Here's to growing and protecting your wealth!
Zach Scheidt
Editor, The Daily Edge
Twitter ❘ Facebook ❘ Email
1 Shoppers expected to boost holiday spending this year, buying online and in stores, The Mercury News