WARNING — Cracks Appearing In Housing Market Foundation
"I could really use that $200,000 right now" my friend Brad told me over dinner.
Brad and I have been friends for 3 or 4 years, and a while back he asked me about one of his profitable stock positions. Brad had accumulated a huge profit in one particular stock. But he didn't want to sell his shares and trigger a tax liability.
After listening to my advice to take some profits off the table, Brad decided not to protect his gains.
As you probably guessed, Brad watched in frustration as the stock price quickly started heading lower…
He didn't wind up having to pay much in taxes, but he lost over $200,000 in gains that would have helped fund his new business venture.
The moral of the story — don't be like Brad!!
A Profitable Position Meets a New Challenge
For several months now, I've been pounding the table on the U.S. housing market. Home prices have been trending higher thanks to strong demand for new homes.
Low interest rates, a strong job market, and a shortage of new homes built has led to a great opportunity for investors. Shares of home construction companies have soared this year. Just take a look at the iShares US Home Construction (BATS:ITB) fund below: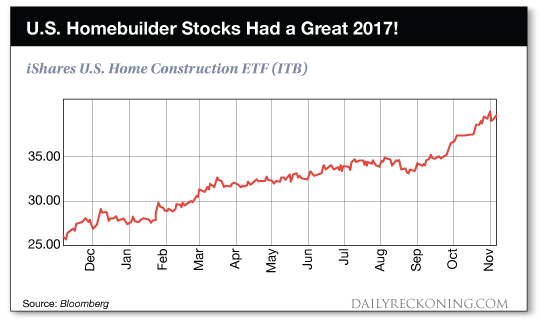 Hopefully you've been able to accumulate some excellent gains in this sector. After all, we've been talking about homebuilder stocks in The Daily Edge frequently this year.
If you are holding a handful of these profitable stocks, it is important for you to pay close attention to today's alert. That's because a few specific stocks in this group look vulnerable to a pullback.
Since you're likely sitting on some nice profits with these stocks, now is a good time to consider selling some of these specific shares to lock in gains and protect your wealth.
Here's what is happening…
The new Republican tax bill has a specific section that reduces the amount of mortgage interest homeowners can deduct from their pre-tax income.1
In the past, homeowners have been able to deduct mortgage interest payments for loans up to $1 million in value. But the new tax bill will cut the mortgage cap to $500,000.
This means that affluent home buyers who purchase luxury homes will not be able to deduct as much interest, and will have to pay higher taxes. This makes investing in a large house a bit less attractive for new luxury home buyers.
As a result, shares of luxury homebuilders started to pull back after the Republican tax proposal was released. And unless this portion of the bill is changed, there is a big risk that these stocks will continue to move lower.
The Homebuilder Market is Split
It's important to understand that this new tax package does not affect all homebuilder stocks equally.
Like we talked about last week on our Facebook page, some home construction companies such as Toll Brothers (NYSE:TOL) focus specifically on luxury homes. These companies typically sell new homes priced well above the $500,000 level at which the new tax plan kicks in.
So as investors do their research on the new tax bill and start to sort out which companies will prosper and which companies will be challenged, I expect to see these luxury homebuilder stocks lag.
On the other hand, homebuilder stocks such as Lennar (NYSE:LEN) and D.R. Horton (NYSE:DHI) that focus on first time home buyers are likely to do much better.
That's because customers for these homes will still be able to take advantage of mortgage interest deductions. Plus, these customers will likely benefit from a stronger job market, lower personal taxes, and a growing economy — all benefits from other portions of the new tax bill.
Keep in mind, interest rates are still very low compared to other historical periods. Unemployment is the lowest in a decade. And the real estate industry is still facing a supply shortage.
That's good news for entry-level home builder stocks because these companies will be able to take advantage of rising home prices thanks to strong supply / demand dynamics.
So the bottom line is that the homebuilder rally is still very strong, but you just need to be more selective with which homebuilder stocks you own.
Watch for a Bounce To Sell Luxury Home Builder Stocks
Despite the long-term tax challenges for companies who build luxury homes, there could be a significant bounce in these stocks between now and when the new tax bill is passed.
The tax bill is expected to grandfather in homeowners who already have mortgages that are between $500,000 and $1 million. So as long as the homes were purchased before the new tax bill goes into effect, homeowners with mortgages of up to $1 million should still be able to deduct the full amount of interest on their tax returns going forward.
This creates a natural incentive to buy a luxury home before the tax bill is passed.
That way, homebuyers are grandfathered in before the new rules come into effect.
So I expect to see a rush of demand for luxury homes in the $1 million range between now and the end of the year. And as this data shows up in economic reports and in luxury home builder stock's quarterly reports, shares of these companies could temporarily spike higher
If you own shares of luxury homebuilders, this coming spike in stock prices should give you an excellent opportunity to lock in profits and protect your wealth by selling shares.
Of course I'll be keeping an eye on any changes to this tax bill, and any developments for housing stocks and keep you posted.
Here's to growing and protecting your wealth!
Zach Scheidt
Editor, The Daily Edge
Twitter ❘ Facebook ❘ Email
P.S. If you've been able to take advantage of these homebuilder stocks this year, I'd love to hear from you!
Would you please send me an email and let me know how you've done with these stocks? I'd appreciate any information you could send me — specifically, which shares you own, and how much money you've made on these opportunities. Please shoot me an email at EdgeFeedback@AgoraFinancial.com. Thanks!
1 Tax Plan Seen Boosting U.S. Growth a Bit While Denting Housing, Bloomberg, Steve Matthews