URGENT: 4:01pm EST Announcement
One of my favorite stocks is on the move this week, hitting an all-time high ahead of its earnings announcement. See if you can guess the company based just on its stock chart: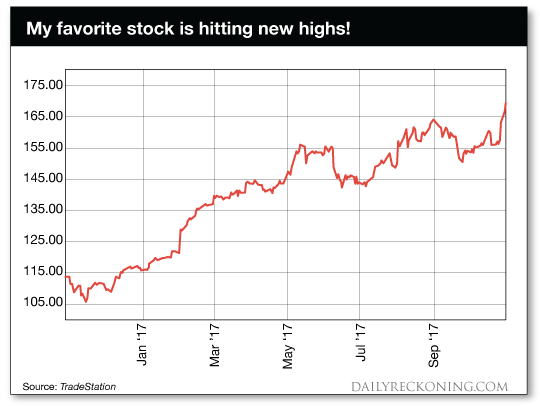 I'm sure you guessed it.
The chart is for Apple Corp. (NASDAQ:AAPL). And the sharp move over the last three days is only the beginning!
If you're already invested in Apple, you're in good shape right now. I've been pounding the table on this company and the many reasons to own shares of AAPL. Hopefully you're currently sitting on a nice profit.
On the other hand, if you haven't yet bought your shares of AAPL, there's still time left — but not much…
Apple Announces Earnings Tomorrow…
Tomorrow after the market closes, Apple will release its third quarter earnings report. Following the release, there will be a conference call starting at 5:00 PM (EST).
This is perhaps the most important earnings announcement of the entire year — for the entire U.S. stock market.
That's because Apple has a market cap (the value of all AAPL shares) north of $874 billion dollars. And as shares trade higher or lower following tomorrow's announcement, the action will trigger major moves for the entire U.S. stock market.
I've spent a lot of time researching Apple this year. The stock is one of my very favorite investment ideas. And I'm excited to see this company creating so much wealth for my readers.
As we prepare for tomorrow's earnings announcement, I'm very bullish on the stock. Here are three reasons why I think shares will continue to trade higher — reasons why you should own shares of AAPL today before the company's earnings report hits the news wires and before the conference call is aired.
Apple Advantage #1: New iPhone Sales
A big part of Apple's surge over the last few days has been due to strong sales reports for Apple's new iPhone X and iPhone 8 models.
The iPhone X model went on sale at 12:01 AM on Friday, October 27th. Some analysts were concerned that demand for the new model would be weak as Apple already released its iPhone 8 model. Keep in mind, the iPhone X model carries a stiff $1,000 price tag that could cut into demand.
It seems those fears were completely baseless.
According to research firm Cascend Securities, the iPhone X sold out in 100 of the biggest markets in a matter of hours.
"In every case, iPhone X was sold out for pre-order online home delivery by 5 AM" ~Eric Ross, Chief Investment Strategist1
While these sales technically took place during the fourth quarter, you can bet that strong demand for the iPhone X will be a hot topic during Apple's conference call on Thursday.
If Apple's management team confirms that customers are falling over each other to get their hands on an iPhone X, you can bet that the stock will continue to move higher. This is a great preview to not just a positive tone in the company's conference call, but also to strong earnings projections for the fourth quarter.
Apple Advantage #2: Bigger Cash Balance
Last quarter, Apple announced that the company was sitting on a cash balance of $261.5 billion. This represented growth of 13% over a year's time, which is certainly an impressive feat.
Strong sales for Apple should continue to push the company's cash balance higher. So look for Apple's cash hoard to expand.
There's a decent chance that Apple's management team will discuss the company's plans for what to do with this cash. In particular, I'll be listening for what Apple has to say about its $246 billion sitting in overseas accounts.
Apple is the poster child for Trump's plan to bring overseas cash back to the U.S.
Today, roughly 94% of Apple's cash is held overseas and cannot be brought back to the U.S. without being taxed at the company's highest tax bracket. But Republicans are expected to include a special tax holiday for companies like Apple. This holiday will allow Apple to bring cash back to the U.S. at a lower tax bracket, freeing up the cash to be paid out to investors through dividends and share repurchases.
If Apple begins to aggressively boost its dividend, shares should move higher. Investors are hungry for income, and a higher dividend from Apple would make the stock much more attractive.
At the same time, if Apple uses part of its cash hoard to buy back shares, it will also drive the stock higher. Demand for AAPL in the open market will push the stock price higher. And of course with fewer shares "in float" future earnings per share will move even higher.
Any announcement from Apple regarding action with its cash balance will be met with celebration from investors.
Apple Advantage #3: New Innovation
Last week, I shared an article with you from my colleague Ray Blanco. Ray is one of the best technology analysts that I know, and his research on Apple has uncovered some exciting new possibilities!
According to Ray, Apple's top secret "Project Titan" is about to revolutionize the driverless car market. Apple recently received a permit from California which allowed the company to test driverless cars on public roads.
This tells me that the driverless car technology is not just a concept that Apple is toying with, but a marketable service that could be rolled out to consumers in the relatively near future.
Imagine the possibilities!
I can't tell you whether Apple will discuss this technology in their conference call tomorrow.
But I can tell you that if the subject is brought up, it will lead to a major boost in the share price for Apple. Because if Apple start selling driverless car technology, it will naturally add hundreds of billions to the cash pile Apple has already accumulated.
As I said earlier this fall, "Look Out Tesla, Apple's On Your Six!"
Add these three advantages together and I'm sure you can see why I'm so excited about our investment in Apple.
I hope you're already sitting on some very profitable shares of AAPL in your account. But if not, make sure you get invested before tomorrow's earnings report!
Here's to growing and protecting your wealth!
Zach Scheidt
Editor, The Daily Edge
Twitter ❘ Facebook ❘ Email
1 Apple's stock surges after analyst survey suggests healthy demand for iPhone X, MarketWatch, Tomi Kilgore