Ain't That Precious – OPEC Now Wants To Be Friends!
Earlier this month, when discussing the fact that global oil inventories remain well above the five year historical average, OPEC's General Secretary Mohammed Barkindo said this…
"We urge our friends in the shale basins of North America to take this shared responsibility with all seriousness it deserves."
Seriously? He thinks we are friends?
If that is what Mr. Barkindo and his OPEC colleagues believe then they have a very strange way of showing it.
Remember, it wasn't all that long ago that OPEC was acting in a manner that would suggest they viewed the U.S. shale industry more as enemies instead of friends.
In fact, it seemed pretty clear from its actions that OPEC's intent was to drive the shale industry right out of business…
A Little Refresher – OPEC's Intended Death Blow
Let me circle back for a moment so we can all be completely clear on what transpired.
For decades, OPEC (Saudi Arabia mainly) has always been willing to act as the balancing instrument for global oil prices.
Should oil prices get too low, we could count on OPEC to scale back production a help maintain a reasonable price for oil. When prices went too high, OPEC opened up their production to maximize their revenues which curbed demand.
That strategy made perfect sense, and was what the market learned to expect.
But then U.S. shale entered the picture…
In 2014, with shale production soaring and oil prices falling, OPEC convened for a meeting on Thanksgiving weekend. The market expected that as per usual, the Saudis would once again act to stabilize the market.
They didn't.
In fact, they did the opposite. OPEC didn't just decide not cut production, they subsequently increased their production by almost 3 million barrels per day into a falling oil price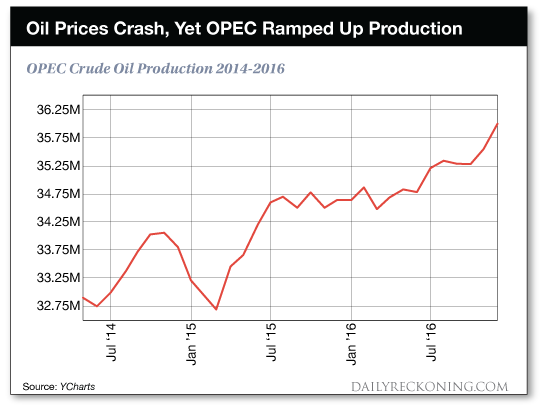 Why would the Saudis have OPEC abandon a strategy that had worked perfectly well for decades?
There was one reason. This was a move aimed at destroying rapidly growing U.S. shale production. Why else would they choose to keep increasing production driving already low oil prices even lower?
The Saudis and OPEC clearly believed that low oil prices was the best cure for this shale nuisance, so they looked to deliver a death blow.
You Can Kill Companies, But You Can't Make Oil Deposits Disappear
OPEC sought to destroy U.S. shale, and you can't dispute the fact that they created some serious carnage.
At least 200 different oil and gas producers and service companies have filed for bankruptcy since 2014 OPEC Thanksgiving surprise.1
Thousands of people lost jobs and plenty of shareholders lost significant portions of their investments…
But getting back to the cause — Did it actually work? Did OPEC kill U.S. shale?
Not a chance. They didn't even come close.
The entire logic of the OPEC plan was flawed. Yes, you can destroy individual companies with really low oil prices, but you can't make the oil in the ground disappear.
In fact, OPEC only exacerbated their shale headache by creating three unintended consequences…
Unintended Consequence #1: Low prices forced shale producers to make massive leaps forward in their drilling and completion techniques. Now shale producers can earn a better return drilling for oil at $55 WTI pricing than they could at $90 WTI just a few years ago.
Necessity is the mother of invention. OPEC's aggressive plan forced the shale producers to get better.
Unintended Consequence #2: By forcing the weakest companies into bankruptcy, the best shale assets have now found their way into the hands of the very best operators. OPEC's aggressive plan served to cull only the worst operators from the shale herd.
Unintended Consequence #3: The crash led to a complete recapitalization of the shale industry. New money has come in, balance sheets have been cleaned up, and as a whole the finances of the shale industry are better than ever.
OPEC won't be bankrupting hundreds of U.S. companies again.
You Can't Spit In My Face And Then Ask To Be Friends!
OPEC's attack on the U.S. shale industry has made it leaner, meaner and better than ever.
Case in point is the fact that U.S. production has been surging in 2017, despite oil prices never straying far from $50 per barrel.
The latest Drilling Productivity Report from the Energy Information Administration projects shale production to rise by 80,000 barrels per day in November over October levels.2
That is an annualized rate of growth of almost 1 million barrels per day!
The 800 pound gorilla of U.S. shale continues to be the Permian Basin which the EIA expects to increase production by 50,000 barrels per day in November.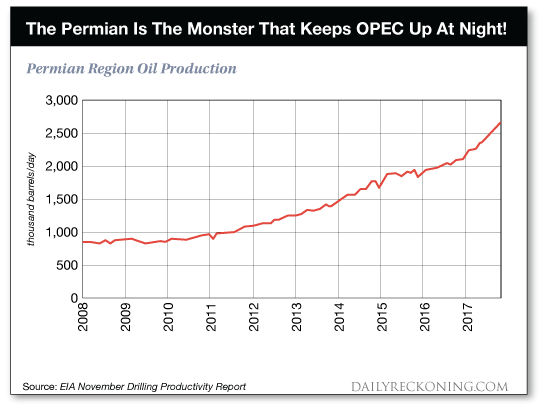 Given how fast U.S. shale is once again growing despite pretty modest oil prices, you can see why OPEC is once again concerned.
Last time around OPEC tried unsuccessfully to kill the shale monster.
This time around OPEC wants to be friends who work together. You can imagine what the U.S. shale industry's response is likely to be…
Here's to looking through the windshield,
Jody Chudley
Credit Analyst, The Daily Edge
Facebook ❘ Email
1 Three more U.S. oil companies plan bankruptcy filings, FuelFix, Collin Eaton
2 Drilling Productivity Report, U.S. EIA, 10/16/2017