A Fraud At The Top Of Tesla?
Is Elon Musk, CEO of Tesla Inc. (TSLA) a fraud?
Or is he just terribly misinformed?
That's one of the many questions investors are asking this week after Tesla released sales figures for the third quarter.
Two months ago, Tesla announced that the company would manufacture 1,500 of its new low-priced Model 3 sedans during the third quarter. By the end of the fourth quarter, Tesla expects to be producing 5,000 cars a week.
So how many of the 1,500 Model 3 cars were actually made during the last quarter?
Just 260.
That's not a "miss." That's a whiff of epic proportions!
Tesla is Building a Reputation… On and Off the Road
Quite frankly, I would love to have a Tesla parked in my garage.
Tesla has built a reputation for quality, luxury, and innovation that no other car manufacturer has been able to match… (yet).
I'm intrigued by the company's progress with autonomous driving, and it's exciting to think about how much reading I could get done while heading to the airport if I didn't have to actually be driving my car.
So Tesla's reputation when it comes to the quality and technology in its vehicles is quite amazing. That seems to be the vision and drive behind just about everything that Elon Musk does.
He's a man on the edge of the curve, always trying new things, always pushing the boundaries, always producing high quality with maximum functionality.
In addition to its reputation for quality and innovation, Tesla is building another reputation.
The company's reputation on Wall Street is anything but quality. In fact, analysts are now taking everything that the company says with a grain of salt.
Take for example, Tesla's prediction of 1,500 Model 3 cars manufactured last quarter. Even though this was the stated goal, Wall Street analysts didn't believe the company would meet this level.
The average Wall Street analyst surveyed already expected Tesla to miss the target by 15%. They were right about the miss… But just didn't fully grasp the magnitude of how far Tesla would fall short of guidance.
This isn't the first (or second) time Tesla has disappointed investors. The company has a long history of setting grandiose expectations, and then failing to meet its own time lines for fulfilling its promises.
Just last quarter, shares of TSLA sank sharply after the company missed delivery expectations for its existing models that were already supposed to be in full production mode.
An Investor's Worst Nightmare
True believers in Tesla and its stock will point to the strong returns investors have received over the past five years.
To be fair, the stock has risen from $33.87 at the end of 2012, to a current price near $335 as we enter the last quarter of 2017. That's an 889% gain for investors who held their shares through the entire period, or just over a 58% annualized return over five years. Not bad.
But take a look at the roller coaster ride you would have had to sit through to enjoy this return: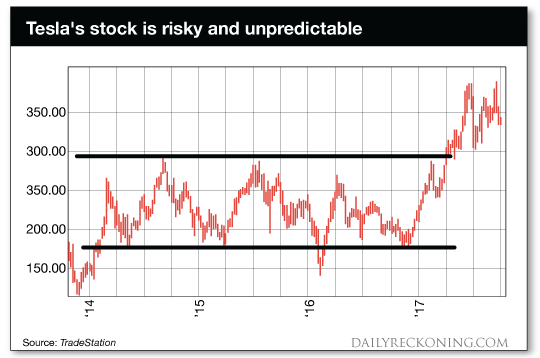 As you can see in this chart, Tesla went essentially nowhere for a three year period (while giving investors ulcers because of the turbulent back and forth trading).
Three different times during this period, shareholders endured large declines. Between 2014 and 2015, the stock dropped 38%. The fall between 2015 and 2016 was a gut-wrenching 51%. And then after rebounding in early 2016, the stock turned around and fell another 34%.
Would you really have had the resolve to hold TSLA through all of that turbulence? All the while knowing that Tesla was not turning a profit, burning through cash and may still be years away from actually becoming profitable?
Call me crazy, but I'd rather own a stable dividend paying company like Ford Motor (NYSE:F) or General Motors (NYSE:GM), than a dream stock like TSLA that may or may not turn out to be a viable business…
"Do You Think I'm An Idiot?"
I'm currently reading a biography on Tesla's CEO Elon Musk by Ashlee Vance. (Actually I'm listening to the audio book while I run, bike, or when I'm in my car).
In the opening chapter, the author talks about having a long dinner with Elon in which the entrepreneur shared details on his many dreams including space travel, inhabiting other planets, and other "ahead of their time" ideas.
As the conversation wound to a close, Elon looked at Ashlee and asked point blank: "Do you think I'm an idiot?"
The question is worth considering…
No, I don't really think Elon is an idiot. The man is clearly a genius and has an amazing mind. But I do wonder if he is out of touch with the reality of what it takes to actually run a sustainable profitable business.
According to many, Tesla is just a company Elon started to help generate cash for his rocket program. And so far, there's no cash actually being generated (except for the inflated price that investors are paying for their shares of TSLA).
I'm curious what you think…
Do you own shares of Tesla? Would you buy them at a certain price? Do you think this company is a wise investment?
Maybe you think I'm the idiot. After all, I've been steering you away from this company and telling you that the stock is too risky.
I'd love to hear your thoughts on Tesla, Elon Musk, our ideas here at The Daily Edge, or anything else that's on your mind.
Please send your thoughts to EdgeFeedback@AgoraFinancial.com.
I look forward to hearing from you!
Here's to growing and protecting your wealth!
Zach Scheidt
Editor, The Daily Edge
Twitter ❘ Facebook ❘ Email