A Viper Is More Than Just FANGs
It's funny how certain things get absolutely burned into your memory.
Seventeen years ago this fall, I was living in Bermuda providing back-office accounting services to hedge fund clients.
My job was to be a number cruncher for some of the best investors in the business.
The location made it a sweet gig for me to be sure. Pink sand beaches, crystal clear ocean and a wonderful year-round climate.
The job was cool too, as I got witness first-hand how these hedge funds operate. One particular experience really left an impression on me…
In 2000, the technology bubble popped and the market crashed. I will never forget watching how one of our clients not only avoided the carnage but continued to post amazing returns through it.
I was involved in doing the weekly accounting for this particular client. That meant that I had a front-row seat to observe exactly how well they performed every week. Each Thursday I raced to work to see how the fund had performed over the past seven days.
These guys were knocking it out of the park.
It was exciting feel like I was a part of what was going on. In 2001 alone, these guys posted a 72 percent return while the S&P declined by 12 percent, with most tech stocks losing multiples of that.
The beauty of what this hedge fund did was that their strategy was totally uncomplicated.
In fact, I'd go as far as to say that most investors could have done the exact same thing.
After all, there was just one characteristic that set them apart — discipline.
The discipline to stick to doing what you know is right even when the entire world is telling you that you are wrong.
Which is exactly something I think investors should be doing today.
I'm Worried About The Market Today – And I Think You Should Be Too
The stock market today is expensive.
Look, don't shoot the messenger. It just is, and I can show you plenty of evidence to support that fact.
For example, take a look at the analysis below from Pure Value Capital. Pure Value compared the valuation of 20 different stock markets around the world against the historical norm for each of those markets.
This was analysis without bias, and what Pure Value found is alarming.
The table shows the valuation percentile for each market as a measure of relative cheapness or expensiveness against historical experience. The 100th percentile being the most expensive ever, and zero being the least expensive ever.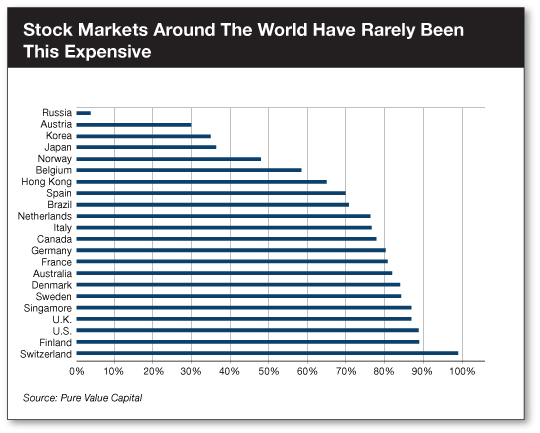 Almost every market in the world looks very expensive, with the United States falling in the 89th percentile. The only screaming bargain appears to be Russia and I'm not sure you or I want to be taking on the risks involved with investing there…
I want to be very clear that I haven't cherry picked this particular analysis from Pure Value to support my opinion. Virtually every data-point I come across from many different sources confirms that the U.S. market is extremely expensive relative to anything we have ever seen.
For example, Nobel Prize winning economist Robert Shiller recently noted that on a cyclically adjusted price-to earnings ratio, the S&P 500 has only been more expensive than today twice in its entire history.
Those dates?
Disturbingly, they are 1929 and 2000 which were points in time immediately prior to major market collapses…
The Cause Of The Expensive S&P 500 Valuation Is No Mystery
The market today reminds me very much of 2000.
In 2000, the S&P 500 was also very expensive, but the outrageous valuations were mainly in one group of stocks. At that time, technology and telecom stocks had been bid up to absurd prices relative to the earnings that they could (or would ever) generate.
While those technology and telecom stocks were dangerously expensive in 2000, boring old brick and mortar type businesses became extremely cheap. Great bargains actually.
That is how my hedge fund client put up a 72 percent return in 2001. They sold absurdly expensive technology stocks and bought dirt-cheap, boring brick and mortar businesses.
They remained disciplined through the tech bubble, and actually used it to take advantage of bargains elsewhere, as investor obsession with the tech sector led to many other companies being forgotten.
Today, the S&P 500 is also very expensive. This time the cause of the frothy valuation isn't investors going wild for a particular sector of stocks…
This time the S&P 500 has gotten extremely expensive because investors have become obsessed with a particular style of investing — passive investing.
Hundreds of billions of dollars of cash have been pouring into passive investment vehicles (index funds and ETFs) over the past several years. These passive investment vehicles are intended to do one thing and one thing only — buy the companies of the index that they are designed to mimic.
For the most part that is the S&P 500.
These passive vehicles give no thought to the price that they are paying for the stocks they buy.  They are just as willing to pay 100 times earnings for Facebook as they are willing to pay 5 times earnings.
If that doesn't sound like something that has potential to distort valuations, I don't know what does.
The chart below shows the massive amount of cash (in billions of dollars) that has flooded into these passive investments. The result of this has been ever-expanding valuation multiples for the stocks that they continue buying.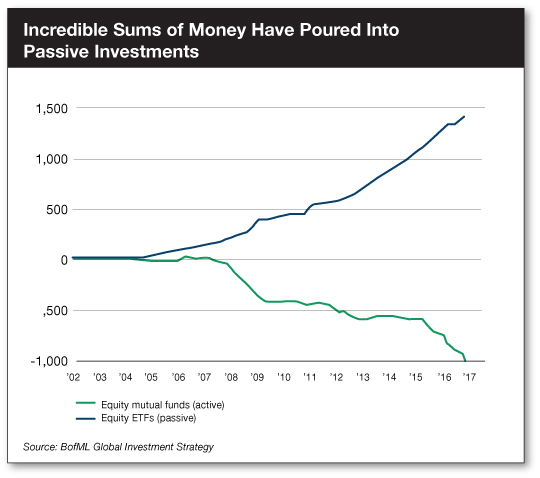 While all of that cash is flowing into passive investments, it is simultaneously coming out of actively managed funds.
As cash is withdrawn from active funds, those managers are forced to sell the stocks that they own which creates forced selling of many non-S&P 500 index stocks.
So not only do the non-S&P 500 index stocks have a lack of buyers since most cash going into S&P 500 focused passive vehicles, they also have steady selling as active managers face redemption.
Are you starting to hear an opportunity knocking?
This Is What You Should Be Doing…
Huge sums of money are chasing S&P 500 stocks.
Virtually no money is chasing stocks outside the index, in fact many active managers are being forced to sell these companies.
Drawing from the lesson that I learned in 2000, I would say that investors should be looking outside of the S&P 500 companies for opportunity today. I believe this is particularly true of the larger most popular names (Facebook, Amazon and others) which are really expensive.
Further, I would suggest that investors should consider not purchasing S&P 500 index funds at current valuations either. Remember, Robert Shiller pointed out that the market overall has only been more expensive than this twice in history.
Instead, investors should be focusing on companies that aren't being bid up by the massive wave of cash that has flooded into passive investments tied to the S&P 500.
Common sense is all you need to know that there is a far greater chance to find attractively valued stocks here today.
One such company is Viper Energy Partners (VNOM). Viper is a royalty streaming company that owns the mineral rights to land in the best parts of the Permian Basin.
A royalty streaming business means that Permian oil producers pay Viper a royalty on any production that they generate on Viper's land.  And let me tell you, production in this part of the Permian is booming. It is by far the best shale oil play in the country.
That royalty is on average 20 percent of the revenue that producers receive for selling the oil they produce.
Viper's royalty business model is far superior to that of exploration and production companies.
Viper is debt free, has no capital spending requirements and few employees. This business generates vast amounts of cash flow which the companies uses to pay a generous dividend.
Viper can create free cash flow and continue to pay a dividend with oil at $30 per barrel. If oil moves higher both cash flow and the dividend increases.
At current oil prices Viper yields 7.4 percent and represents an undiscovered bargain. The kind of bargain you find when everyone else is investing their money elsewhere.
Here's to looking through the windshield,
Jody Chudley
Chief Credit Analyst, The Daily Edge
Facebook ❘ Email
---
Sources
[1] Orbis Investment Management Ltd.
[2] Robert Shiller urges caution on the market: 'We're at a high level, and it's concerning', CNBC, Michelle Fox