140 Miles, Heat Exhaustion, And A Lesson For Investors
Greetings from Chattanooga, Tennessee!
As this Monday morning alert hits your inbox, I'm moving very slowly with a bit of pain and stiffness. You see, yesterday I completed my first Ironman triathlon.
The Ironman is designed to push both amateur and professional athletes to the limits with a 2.4 mile swim, a 112 mile bike course, and a 26.2 mile run — for a total of 140.6 miles covered in a maximum time limit of 17 hours.
(This particular race in Chattanooga added an extra 4 miles to the bike course, since the downriver swim was a bit "easier.")
But what an experience!
From laughing out loud on the swim course when my hand smacked a 3-foot fish swimming alongside the athletes, to seeing my family's smiling faces as I crossed the finish line, I'll remember these moments as long as I live.
And as cliché as it may sound, the entire process leading up to yesterday's race reminded me a lot of the journey that most investors make as they learn to build and grow their wealth…
Following A Guide Who Has Been There Before
This spring, I participated in a half Ironman race as a precursor to preparing for the full Ironman.
Even though the half distance was much shorter, I still struggled to complete the race. It was during this event that I realized I needed help to build more endurance.
When I got home, I called my friend Adam who is a triathlon coach. We had lunch the next week and Adam laid out a plan for me to follow throughout the summer.
The plan wound up being very different from what I expected. It turns out that I'm NOT an expert when it comes to this sport, and having a coach teach me what I needed to be working on helped tremendously!
Plus, having the accountability of someone checking in to make sure I did my workouts made me more motivated to keep up with my routine throughout the summer.
If it weren't for Coach Adam, there's no way I would have been able to complete the full Ironman course. Of course I had to be the one putting in the hard work. But I needed someone to show me the way so I could succeed.
Ironically, this athletic journey has been a lot like my journey in the investment world. (Maybe you've had a similar experience).
I started investing as a young adult and fell in love with markets. I enjoyed doing my own research and finding great opportunities. But I still needed help to become a successful investor.
Thankfully, I landed a job at a boutique hedge fund shop, and had the opportunity to study under a master trader. Bill — my boss at the time — took me under his wing and taught me everything he could about investing, trading, the markets, and special strategies he used to build his wealth.
After spending years learning from Bill, I was able to replicate some of his strategies in my own account, and eventually in the accounts of our customers. Thanks to Bill, I'm now able to teach you the strategies that I've learned along the way, and help you build your wealth.
It is my hope that I'll be able to "pay it forward," and help you build your wealth.
That's the idea behind what we do here at The Daily Edge. I want to "coach" or "mentor" you by giving you strategies, stock opportunities, and the information you need to succeed in markets.
Good Days and Bad Days
This was a challenging summer for building endurance.
One day in particular stands out in my mind. I traveled to Chattanooga a few months ago to "preview" the bike course for the race. After making the long drive and meeting up with some fellow athletes, I was excited to ride the same route that we would take for the Ironman.
But the day didn't turn out quite how I expected…
That Saturday, the temperature spiked into the mid 90's. According to one of my friends, the temperature coming off the pavement was 112 degrees.
The heat slowly sapped my energy. I was supposed to ride about 110 miles that day. But by mile 76, I was dehydrated, exhausted and having trouble focusing on the road in front of me.
As much as it hurt my pride, I had to call it quits. I loaded my bike on the back of a friend's car and he drove me back to our parking spot. It was a demoralizing experience.
Fortunately, I learned some things that day. My coach gave me some tips for keeping my core body temperature lower, I learned how important it is to conserve energy in the heat, and I switched up my hydration and nutrition a bit to be able to manage heat more effectively.
Later in the summer, I was able to handle the heat (and the miles) much more effectively.
Of course, as investors we have good days and bad days in the market too.
On a day-to-day basis, stock prices fluctuate. And it's not abnormal to buy a stock and have it trade a bit lower before the long-term trend gives you a profit. And in some cases, we even take losses on our positions — similar to the way I tapped out on the bike a few months ago.
But even in these instances, there is an opportunity to learn from mistakes or just challenging environments. And those lessons make us better investors and more able to enjoy the good days when things are working well and our wealth is growing…
It's Not Just About the Finish Line
Reaching the finish line yesterday was a fulfilling and exciting experience. I'm so thankful for the opportunity to be able to accomplish this goal.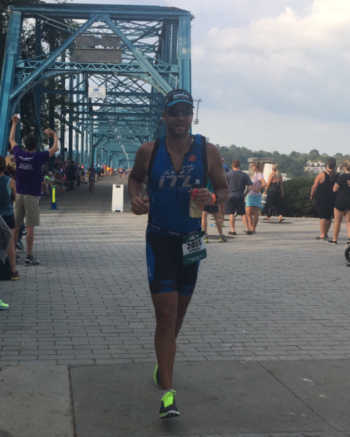 But while this experience was certainly memorable, the finish line is just one piece of a much bigger picture.
This summer I made new friends while training. I learned a lot about myself and what I can do to push through challenges. I had time to think through life (and think through some great investment ideas) while I was out on the trail training.
In short, I made a lot of great memories.
So the process of preparing for the Ironman was every bit as rewarding as crossing the finish line.
As an investor, our process is even more meaningful.
That's because when it comes to retirement, there really is no finish line. Instead, you can continue to build and protect your wealth as you move towards — and through — your retirement. And hopefully, you're making some great memories along the way.
After all, that's what building wealth is really about.
It's not about simply having more in your bank account.
It's about enjoying the experiences that your wealth can give you. It's about contributing to the causes that you care about. And it's about being able to spend quality time with the ones you care about.
Thanks for letting me re-live a few memories, and share some of my more personal thoughts with you today.
Now, here are our five things you need to know as we kick off a brand new week in the markets!
5 Must Knows For Monday, Sept. 25
Trump Drama- On Sunday, September 24th, President Trump upped the ante on his international travel ban. New countries added to the list include North Korea, Chad and Venezuela. The new rules differ by country and range from complete travel bans to lesser restrictions that allow temporary migration for school. Nothing investable from an investment standpoint yet, but as always, I'll be keeping tabs on the situation.
Apple Disappointments Continue- Investors are clearly disappointed in Apple's newest gadgets. Since announcing their newest lineup on September 12th, Apple (NASDAQ:AAPL) stock is down 7%, and some of their major suppliers are down even more — for example, Taiwanese-based Hon Hai is down 10%. So how should you play this drop?
BUY MORE. That's right. Consumers will still buy millions of iPhones over the next few months and that number is sure to spike when the iPhone X starts shipping in early November. And on top of this is Trump's tax plan. Apple has over $260 billion just waiting to be repatriated, which for you means dividend increases and buybacks.
The Great GOP Divide- Republican Senators scrambled to revise a new version of an ObamaCare replacement bill on Sunday, September 24th in a last-ditch effort to sway holdouts. However, as of now, the chances of this bill passing are slim as Senators John McCain, Rand Paul and Susan Collins have already expressed their opposition. From an investment standpoint, this type of back and forth adds volatility to the health care sector, while increasing doubt on any of Trump's pro-business policies.
German Election "Nightmare"- Over the weekend, Angela Merkel's center-right Christian Democrats prevailed in defeating the center-left Social Democrats in Germany's federal election. However, this election confirmed the new trend emerging in European politics — established parties are slowly dwindling in favor of more extreme groups on both sides of the spectrum. The two leading parties only received 54% of the total votes, which is the lowest total since pre-WWII. The major long-term implications on your portfolio stemming from this result could be from a higher USD/Euro ratio. Remember, the weaker dollar helps corporations who sell products overseas.
Economic Calendar- Looking ahead to this week, Janet Yellen is expected to speak to the National Association for Business Economics on Tuesday, September, 26th. As always, investors will be watching closely for any clues to upcoming monetary policy. And later in the week, the Commerce Department will release its third estimate of second quarter GDP and the August personal income report.
Here's to growing and protecting your wealth!
Zach Scheidt
Editor, The Daily Edge
Twitter ❘ Facebook ❘ Email
P.S. Do you run? Bike? Swim? Or any other life journey's you'd like to share?
Maybe you volunteer your time with a local organization? Or build birdhouses with your spare time…who knows!
Point is…
As much as I love writing to you and telling you about my life, investment goals…and insights… I'd LOVE to hear your story…
What motivates you? What gives you that "edge" to life?
Drop me a line at EdgeFeedback@AgoraFinancial.com