Saudi's Response to the Oil Crisis: Buy Ford!
"Ford Opens Its Largest Dealership Ever — In Saudi Arabia!"
So reads a headline from PetrolHead Arabia, a popular online car magazine in the Middle East.1
The article goes on to highlight how the new "Al Jazirah Vehicles" dealership covers 23,000 square meters (about 250,000 square feet), and is expected to create many jobs for Saudi youth.
Jacques Brent, President of Ford Middle East and Africa is quoted as saying "…our partnership with Al Jazirah Vehicles is absolutely integral to our success."
You may be surprised to learn that Saudi Arabian sheiks are now driving around town in American-made F-350's and Lincoln SUVs. But what's even more surprising is the real reason U.S. cars are so popular in overseas markets today…
Oil Crisis Gives Way to U.S. Dollar Demise
Three years ago, Saudi Arabia made what can only be characterized as an economic mistake of epic proportions.
The Middle Eastern country decided to keep oil production levels high, in an overt attempt to drive prices lower. The country's end-game was to drive U.S. shale producers out of business and allow the Kingdom to keep a stranglehold on the global oil market.
As you know, that strategy backfired.
Sure, oil prices dropped. And some U.S. oil producers went out of business.
But the last laugh was given to surviving U.S. shale companies who used technology to drive down their cost for producing oil. Today, these companies are profitable even with oil trading near $50 per barrel. And the U.S. is capturing a bigger piece of the global oil market — allowing our country to be energy independent for the first time in decades (if not centuries).
Nice move Saudi Arabia!
Today, the oil crisis has largely subsided. After hitting a low near $40 per barrel in early 2016, oil has rallied and now sits about 25% above that trough. Energy companies are generating profits, and the global oil market has adjusted to oil trading near $50 (give or take $5 or $10 per barrel).
In the place of the 2014/2015 oil crisis, we're now entering the dollar crisis of 2017.
No, you may not have heard about this crisis from the financial media (yet). But if you look at a chart of the U.S. dollar versus other world currencies, you'll see exactly what I'm talking about.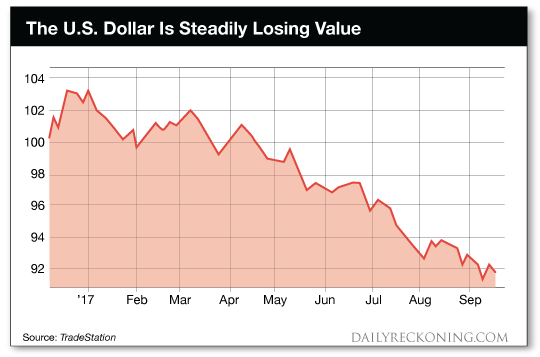 Just like the oil crisis had some surprising unintended consequences for Saudi Arabia, the dollar crisis that we're already in is setting up some surprising wrinkles in the global economy.
Risk Meets Opportunity
When it comes the falling U.S. dollar, there's both good news and bad news.
The bad news is pretty obvious. As the dollar declines in value, your nest egg is shrinking. Sure, you may have the same number of dollars in your account. But the value of those dollars — or how much you can actually buy with those dollars — is trending lower.
If you simply sit on cash, or collect a small amount of interest from a savings account, your nest egg is extremely vulnerable.
This is bad news indeed!
Fortunately, there's good news too…
You see, a weak U.S. dollar makes goods produced in the United States even more attractive to overseas buyers. And that trend is behind Ford's popularity in Saudi Arabia along with many other international countries.
Even as the U.S. dollar falls, U.S. auto exports are near a record high.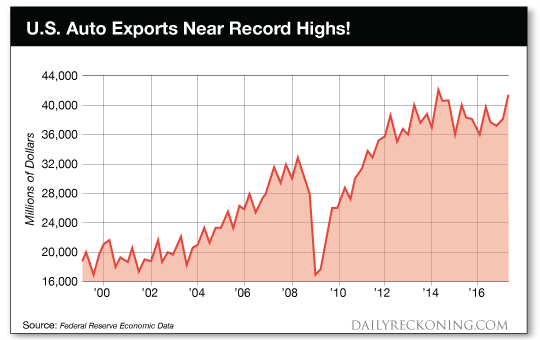 You see, a weaker U.S. dollar means that other currencies (like euros, Japanese yen or British pounds) are becoming stronger in comparison. That means international buyers can purchase U.S. goods at a cheaper price using their own currency. And that cheaper price drives overseas demand for U.S. goods.
So while your retirement savings are certainly at risk from a lower U.S. dollar, one of the best ways to fight back is to own shares of U.S. companies that are selling products in overseas markets.
Ford and General Motors are Excellent Opportunities
Two of my favorite investment opportunities today are Ford Motor (NYSE:F) and General Motors (NYSE:GM).
If you're a long-time reader of The Daily Edge, this shouldn't come as a surprise to you. We've talked about these two stocks in the past and I've recommended you invest in both to collect lucrative dividend payments and to profit from a rally in the share prices.
Part of the tailwind behind these stocks is due to strong dynamics in the U.S. — a healthy job market and low interest rates should make it easy for American consumers to buy new cars.
But Ford and GM stand to gain even more strength from international markets. And the international demand is largely tied to the building crisis for the U.S. dollar.
So today, I think you're right to be concerned about the decline in value for the dollar, and what that will do to your retirement account. But rather than worry and wonder about what will happen to your savings, take matters into your own hands.
Pick up some shares of these two automakers today. And start collecting your share of profits as consumers from Saudi Arabia to Europe to Japan (and everywhere in between) buy U.S. cars and trucks.
Here's to growing and protecting your wealth!
Zach Scheidt
Editor, The Daily Edge
Twitter ❘ Facebook ❘ Email
1 FORD OPENS IT'S LARGEST DEALERSHIP EVER – IN SAUDI ARABIA!, Petrolhead Arabia, Alex