Nerds HATE Bitcoin
Zach's Note: This article was contributed by Agora researcher Alex McKinley. Enjoy!
---
My name's Alex McKinley. I'm a researcher and friend of Zach Scheidt.
He asked me to write this letter to you because I have a unique take on bitcoin and cryptocurrencies:
I'm a self-proclaimed nerd…  AND I HATE BITCOIN!
Why? After all, the cryptocurrency markets have been on fire recently. The market cap (currently at $170 Billion) seems to set a new record every day – over 850% growth this year so far.
And sure… If you had been holding the likes of Bitcoin, Ethereum, and one of the hundreds of other currencies this year, you'd be sitting pretty right now.
If you were, good on you. Enjoy your early retirement.
I on the other hand, never owned any cryptocurrencies.
In fact, I hadn't paid much attention to this "bitcoin bull market" until recently – when bitcoin ruined my plans…
To build a gaming PC (yep, I'm THAT kind of nerd).
You see, the mad dash into cryptocurrencies hasn't been limited to speculative investors.
There's another way to get your hands on bitcoin and other cryptocurrencies besides buying them. And other nerds, techies, and even companies have piled in:
I'm talking about "mining" for cryptocurrency.
Here's why bitcoin gets my hate… and why YOU could line your pockets without ever touching a single cryptocurrency.
Cryptocurrency Mining Causes Certain Prices to Skyrocket
For many investors, the ins-and-outs of cryptocurrency, the technology behind it (called blockchain), and mining are still shrouded in mystery… But that knowledge gap in this market can be your profit.
Let me fill you in with the very basics…
What cryptocurrency "miners" are really doing is categorizing and archiving cryptographed transactions stored on a secure network. It's a decentralized way of recording and storing this data.1
Or think of it this way…
When you mine gold you need a lot of equipment. For a small operation you may need a pick axe, a shovel and a pan…
Or for bigger operations you need HUGE machinery like drill rigs, excavators and processing plants.
Well, in that sense mining bitcoin is relatable.
To mine bitcoin you need computing power – and a lot of it.
That computing power is provided by the miners – you use your own computer to mine bitcoin. And in return for this work, miners are rewarded in cryptocurrency.
As the price of cryptocurrency has risen, so has the interest – and competition – in the crypto mining sector.
This means that not any old computer will do anymore. In order to be profitable, miners now need very high-end computer technology. Specifically, Graphic Processing Units (GPUs).
Want To Mine Bitcoin? Get In Line For One Of these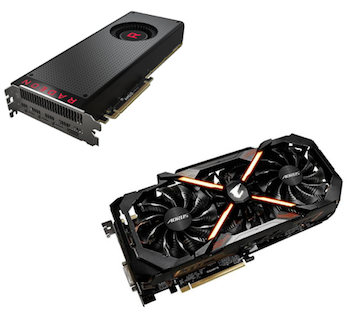 GPU = Graphic Processing Unit
(Good Luck, They're Going Fast!)
And if you're at all familiar with gaming, like me, graphics are the most important part.
And that's what brings us back to my story…
You see, naturally I was looking to buy a high-end GPU for my "do it yourself" gaming computer.
The problem is, the rush into crypto mining has caused the prices of GPUs to SKYROCKET 30% in the last month alone.2
In some cases stores are completely sold out. Or you have to go on backorder for months!
In a recent example, one GPU maker, named AMD rolled out a new graphics card (in August) – and was promptly sold out just minutes after.3
As one of my go-to PC news sources reports: "There's never been a worse time to buy a new graphics card (GPU)."
Well, that stinks for me.
But, while my plans to build a PC are on hold for now, this starving market could be a HUGE bull market for investors.
Picks and shovels for bitcoin are a "buy" – but nerds hate it.
Sincerely,
Alex McKinley
Research Analyst, Agora Financial
Zach's Note: If you've ever bought, or even thought about buying Bitcoin, or any other cryptocurrency…
Please pay close attention to this message.
In this exclusive presentation, my goal is to show thousands of readers how to execute this simple transaction…
To effectively "mine" up to thousands of dollars thanks to this "Bitcoin bull market" we're seeing today.
And the best part… This maneuver takes just a computer with internet and about 2 minutes to pull it off…
Without ever actually touching a single cryptocurrency!
Click here for the full story.