[Passport Required] — The Most Attractive Asset Class In Today's Stock Market Is…
The evidence is pretty clear to me.
The most attractive value in the stock market today can be found in emerging market equities.
In their second quarter letter, the legendary investment firm GMO (Grantham, Mayo & Van Otterloo) confirmed as much.
In fact, GMO believes that they have never seen a single asset class that is more attractive relative to other opportunities than emerging market equities are today…
Those are strong words from a legendary investment shop that was established in 1977, manages $77 billion, and has built its success on weighting its portfolios around asset class valuations.1
GMO's exact words on this matter in their Q2 letter were:
"But, on a measure that really matters to us for portfolio construction, emerging value today is the best asset we have ever seen."
"That measure is its margin of superiority – the amount by which it is better than the next best asset on our forecasts."
In the chart below, GMO captures this margin of superiority.
The firm believes that emerging market equities are likely to outperform the next best asset class by 6 percent over the next 12 months.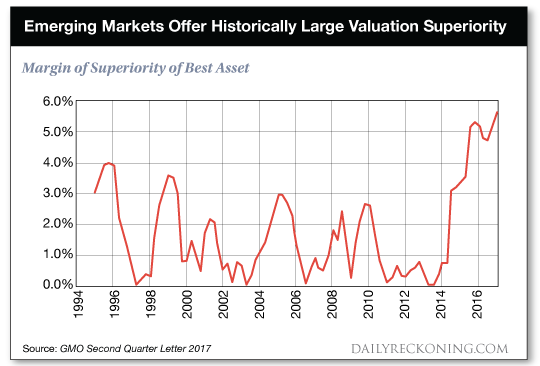 To be clear, this historical chart depicts the amount by which GMO believes the most attractive asset class exceeds the next best opportunity at various points in time. The asset classes that GMO compares value between include U.S. stocks (large and small cap), international stocks (large and small cap), emerging markets stocks, U.S. bonds, International bonds, cash and so on.
Most of the time, the asset class that GMO identifies as the best is only slightly better than the next best. Today, the best asset class is emerging markets and the amount by which the asset class is superior to the next best choice is unprecedented.
And GMO isn't the only respected investor pounding the emerging markets drum…
More Confirmation Of Emerging Market Attractiveness – Jeff Gundlach
I spend a lot of time listening to what the best investors in the world are doing and saying.
That's because I've got this crazy idea that the best investors find the best investment ideas.
Over the years, I've learned that when more than one of these top investors are saying the same thing — it is especially well worth paying attention.
Such is the case for emerging markets today.
At this year's Ira Sohn investment conference, Doubleline Capital's Jeff Gundlach made a very compelling case for emerging market equities.2
Similar to GMO's conclusions, Gundlach's view is based objectively on the valuations available today.
The first piece of evidence that he provided involved comparing the S&P 500 Index and the MSCI Emerging Markets Index on a cyclically adjusted price-to-earnings ratio (or CAPE if you prefer).
On that basis, the MSCI Emerging Markets Index today is half as expensive as the S&P 500.  Emerging Markets stocks would have to double just to be valued in line with U.S. equities.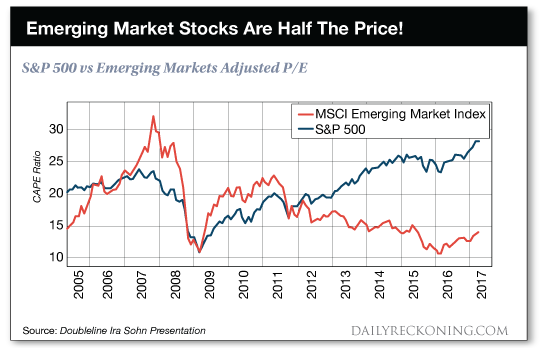 That is quite a valuation difference, and not one that I would expect to last.
If you examine the chart, you will notice that from 2005 through 2011 emerging markets stocks actually traded at a premium to the S&P 500 valuation. That makes sense to me given that emerging markets companies have much faster growth rates.
I would also point out that at less than 15 times cyclically adjusted earnings, emerging markets stocks are basically as cheap as they were at the depths of the financial crisis…
I've Done Some Digging – This Is A Great Way To Exploit This Opportunity
I went looking for a way to exploit the valuation superiority that emerging markets equities offer today. I wanted to find something that ticked the following boxes:
Offers wide diversification across companies and emerging countries
Offers sufficient liquidity for trading
Focuses on the most attractively valued companies
What I found was FlexShares Morningstar Emerging Markets Factor Tilt Index Fund (NYSE:TLTE).
The TLTE provides broad exposure to emerging markets equities with increased exposure to the small-capitalization value stocks that GMO believes offer exceptional value today.
The "Tilt" is a tilt towards value stocks.
As of August 18, 2017, the TLTE holds 2,308 different companies so it is widely diversified and creates very little exposure to any one specific company.
With an expense ratio of just 0.59% the TLTE offers a sensible way to take advantage of the favorable valuations that emerging markets are offering today.
Here's to looking through the windshield,
Jody Chudley
Chief Credit Analyst, The Daily Edge
Twitter ❘ Facebook ❘ Email
1 Grantham, Mayo & Van Otterloo Website
2 Jeff Gundlach's Complete Ira Sohn Presentation, Zerohedge, Tyler Durden