TREND CONFIRMED: 3 New Ways To Play Gold
As I write to you today, the remnants of Hurricane Harvey continues to cause torrential rains and flooding in Texas. My thoughts and prayers go out to the many people who have lost their homes due to this devastating storm.
At the same time that rescue and cleanup efforts are underway, U.S. armed forces are evaluating what to do with North Korea. Just two days ago, the trouble-making country launched yet another missile… This time over the airspace of our Japanese allies.
With so much damage and uncertainty, no one can blame investors for pulling some capital out of the stock market. That's why we've seen more volatility and some key stocks pulling back this week. And if the situation in North Korea escalates, we could see a much bigger pullback in the market.
But there's one area of the market that is NOT pulling back.
In fact, prices have been trading sharply higher — and should continue to give investors massive gains.
You guessed it, I'm talking about precious metals! In particular, gold has followed through on its recent breakout, easily clearing the $1,300 per ounce level.
Today, I want to share three great ways for you to play this breakout in gold — before the trend moves any higher…
Gold's Breakout is Now Confirmed
You may remember at the beginning of last week, I showed you that gold was making a historic breakout… One that could make you rich if you acted right away.
Well hopefully you took action after last week's alert and invested in precious metal opportunities like gold and silver. Because if you did, you're already starting to accumulate profits.
That's because this week, gold added more gains to its recent breakout.
It makes sense when you think about it…
During times of stress and uncertainty, gold is one of the best ways to not only protect your wealth, but also grow the true value of that wealth. It almost seems unfair to watch your net worth accumulate while most traditional investors are taking on losses in the stock market.
If you followed my advice last week and bought gold, silver, or shares of mining companies that produce these precious metals, I'd love to hear from you. Could you please send me an email (EdgeFeedback@AgoraFinancial.com) and let me know how you did? I would really appreciate the chance to hear how our research at The Daily Edge has helped you and your family.
And if you haven't yet followed my advice and invested in gold, let me encourage you to get started right away! The longer you wait, the higher the price you'll have to pay for your investment. And while you'll still be able to capture some profits, your higher price will cut into the profits you could have made if you acted sooner.
If you're unsure of exactly how to get started, today's alert is for you. Because I'm going to show you three gold mining stocks you can get started with today. You can buy shares of these miners with just about any normal brokerage account or IRA. And by investing in these shares, you'll be taking a big step in protecting your wealth from the rising tide of risk in the market.
Gold Opportunity #1: Newmont Mining (NYSE:NEM)
Newmont is a blue chip gold mining company producing nearly 5 million ounces of gold a year.
While the company has a diverse portfolio of mines that it operates, much of the company's production comes from very stable political environments. That is a big deal for us as investors because we can focus on the profits that NEM can make from higher gold prices, instead of worrying about government restrictions that could cut into those profits.
This week, shares of NEM have moved higher thanks to the breakout in gold prices.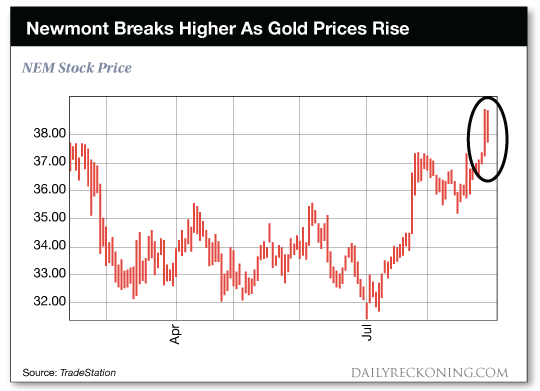 The higher gold trades, the larger Newmont's future profits should be. Plus, with reserves of 68.5 million ounces, Newmont should be able to continue producing gold at a profit for years and years to come.
Gold Opportunity #2: Barrick Gold (NYSE:ABX)
Barrick is known as the world's largest gold miner as the company has historically produced more than 5 million ounces per year.
The stock moved lower earlier this year after the company announced a temporary dip in production. But this pullback actually works to our advantage as we can buy shares at a cheaper price. Long-term, Barrick will continue to harvest gold from its portfolio of mines, and with gold prices moving higher, that gold will generate stronger profits.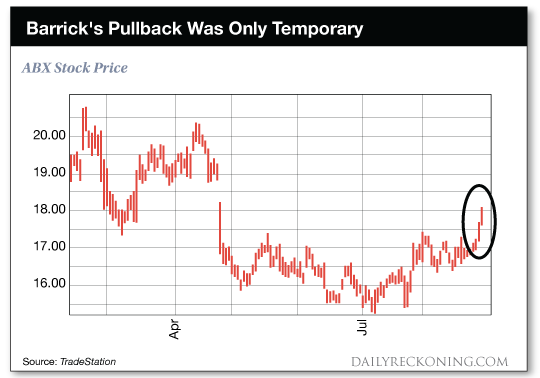 Your chance to buy shares of Barrick at a discount are almost over. Now that gold has broken higher, investors are coming back to this stock, sending shares higher. Now would be a great time to buy shares of ABX before the April pullback is fully reversed…
Gold Opportunity #3: Agnico Eagle Mines (NYSE:AEM)
Agnico Eagle is our third gold miner and one I've been following for some time. AEM focuses on growing gold production in politically stable areas of the world which gives investors confidence in the company's future profits.
In its most recent quarter, AEM produced nearly 428,000 ounces of gold at a total cost of $556 per ounce. With the price of gold now eclipsing $1,300 per ounce, that leaves AEM with some very wide profit margins. I expect those margins to get even better as the price of gold continues to increase.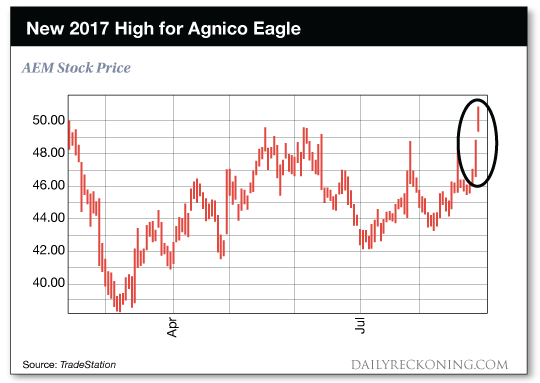 Thanks to higher gold prices, shares of AEM hit a new 2017 high this week. But even though shares are higher than earlier this month, I still think AEM is a great buy. After all, gold is on the verge of a multi-year run, and AEM is positioned to profit from steadily higher gold prices.
So there you have it… Three great gold miners to buy today before the price of gold moves any higher.
This week's confirmation for gold prices makes me even more confident in the precious metal opportunities we've been following.
Please remember… If you've already started accumulating your gold profits, I'd love to hear your story. Send your emails to EdgeFeedback@AgoraFinancial.com.
And if you've missed the boat on these opportunities, do yourself a favor: Pick up some shares of today's gold miners before it's too late!
Here's to growing and protecting your wealth!
Zach Scheidt
Editor, The Daily Edge
EdgeFeedback@AgoraFinancial.com
Twitter: @ZachScheidt
Facebook: @TheDailyEdgeUSA