Now Introducing: Autonomous Driving
The autonomous driving revolution is imminent.
And according to Intel, the market will be much more lucrative than previously expected —  approximately $80 billion by 2025, $800 billion by 2035 and $7 trillion by 2050.
Which explains why so many high-caliber companies have jumped head first into the market.
Competing in the space right now are tech giants like Google, Intel, Tesla and Uber as well as manufacturing heavyweights like Ford, GM, Fiat Chrysler and BMW.
This is a long-term trend that is sure to create plenty of investment opportunities. Which is why I packed my bags and headed to Detroit for the 2017 Autonomous Vehicles conference!
This week, I'll be getting the inside information straight from the heavyweights themselves.
Some of the speakers represent companies like Intel, General Motors, Ford, Hyperloop One, J.D. Power and more.
Stay tuned in the next few days to get the inside scoop on the highlights of AV17 Detroit. But for now, let's make sure you're "up to speed."
One of the laggards in this space right now is Apple. But I don't expect them to stay behind for long. Take a look at my bold prediction below and see just how I expect Apple to start competing in the soon-to-be $7 trillion market…
When Apple Buys Ford
Silicon Valley is notorious for breaking into outdated markets, streamlining efficiencies and putting the dinosaurs in the industry out of business. And they are damn good at it.
The next big frontier that the major players have their eyes set on is the autonomous car market.
That's too bad for Detroit, right?
You would think!
But as a matter of fact, Detroit is actually LEADING the autonomous tech field, according to new research. Take a look at this infographic from Navient. Both GM and Ford are leading tech giants Alphabet (which owns Waymo), Tesla, and Uber.1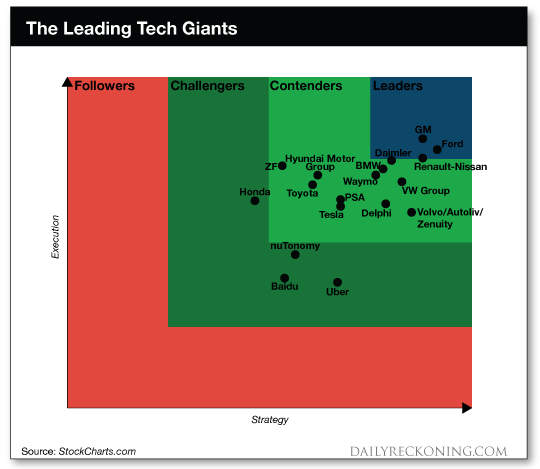 But the thing about the data is that they were released in April… Any investment opportunity has been priced into the market. However, a more recent development has caught my attention, which led me to connect some dots.
And today, I'm finally willing to come forward with my bold prediction…
Did you notice a major Silicon Valley company that is absent on the chart above?
Hint: They've got a cash hoard of $257 billion just waiting to be put to use, and they've previously experimented with a highly secretive automotive project labeled Project Titan.2
That's right. I'm talking about Apple.
Recently, their CEO, Tim Cook, sat down for an interview on Bloomberg TV to discuss Apple's plans in the autonomous car market.
Cook had a couple interesting comments regarding Apple's plans:
I think there is a major disruption looming…
What we're focusing on, or at least what we've talked about focusing on publicly, is we're focusing on autonomous systems…
We see it as the mother of all AI projects…
We'll see where it takes us. We're not really saying from a product point of view, but we are being straightforward in saying it's a core technology that we view as very important.
Here's the thing…
Apple is going to be in the electric car market one way or another. Whether it's by providing software or by physically producing their own car is the question on which the stock price hinges.
Look at these specific phrases — "Or at least what we've talked about focusing on publicly" and "We're not really saying from a product point of view…"
Seems to me like Cook is hiding something… Sure, he could just be leading on the markets —pretending that Apple has something up its sleeve when really it doesn't. But this time, I think it's different.
Apple has been trying to dodge the "one-trick pony" arguments for years. The iPhone is obviously a great product but investors are wondering what's next — and have been for some time.
That gave them plenty of time to think of their next move — one that I predict will cause a big shakeup in the auto market…
One Great American Company Buys Another
That's right. I'm predicting that Apple will buy Ford in a move that could happen sooner than anyone expects. Frankly, it would be a noble ending to one of the most innovative companies of the last 100 years.
Think about it. Tim Cook just admitted that Apple sees the market as ripe for disruption, and a "core technology." But I'm supposed to believe that Apple is content being a service provider?
No way! Just look at the top chart I showed you. There are plenty of companies that are already well on their way toward creating an autonomous vehicle for the masses. But I'm supposed to believe that Tim Cook expects Apple to come out of nowhere to create its own technology and compete immediately?
Once again — no way!
Cash Hoard
Apple didn't become the world's largest tech company by mistake.
Steve Jobs built a dynamic company that now sits on a mountain of cash.
And now is the time when Apple can finally put the "one-trick pony" arguments to rest — by buying its way to the top of the new technological revolution.
Just think, with Ford's current market value near $50 billion, the total cost should come out to around $60 billion. (Companies usually pay a premium when acquiring other companies.) Which amounts to less than 25% of Apple's total cash hoard…
There's just one thing stopping Apple from pulling the trigger…
The single piece of legislation that investors and corporations alike have been waiting for… tax reform.
Apple currently has the bulk of their cash hoard overseas. Which means to repatriate that money now under the current tax system would bring a whopping 35% tax bill.
Any other year this wouldn't be an issue. But with the Trump tax plan on the horizon it could be beneficial for Apple to wait until a plan is announced.
Let's just do the math.
If Congress passes a tax bill with a repatriation rate at, say, 10% and the cost of Ford is about $60 billion, Apple only needs to effectively spend $66 billion.
But without a repatriation tax bill and at the same $60 billion cost, the cost of Ford spikes to $92 billion!
Do you see my point?
It's only a matter of time before Apple firmly steps into the autonomous driving market. The question is how big a toll are they going to have to pay…
Here's to keeping your edge,
Davis Ruzicka
Managing editor, The Daily Edge
EdgeFeedback@AgoraFinancial.com
Facebook: @TheDailyEdgeUSA
Editor's note: Stay tuned for more updates from AV17! Over the next few days, I'll be laying out the autonomous vehicle landscape, as well as bringing you a list of lesser-known companies that could play a big part in this technological revolution.
1 Detroit Is Stomping Silicon Valley in the Self-Driving Car Race, Wired, Alex Davies
2 The 50 Largest Stashes of Cash Companies Keep Overseas, Bloomberg, Laurie Meisler