[CHART] A Huge Breakout In Gold — Plus, 5 Must Knows For Monday, August 21
This week is set to be one that you'll remember for decades to come.
No, I'm not talking about the solar eclipse that will move across the U.S. today.
The event occurring this week is one that could have a huge impact on your family's wealth. I'm talking about the kind of wealth that you can pass on from one generation to the next. The kind of wealth that can make a difference in your life, and in the lives of the ones you love.
That is, of course, if you act before it's too late.
Today, I want to show you one of the most powerful charts that I've seen in years, and explain how this chart is proof of a wealth building opportunity that we've been covering here at The Daily Edge for some time.
Let me explain…
The Truth Behind Charts, Patterns, and Breakouts
The human nature is a very interesting phenomenon. Despite the diverse personalities in the world, there are a few characteristics that are common to most all of us. And those characteristics can predict how individuals will react to certain situations.
I enjoy learning about the way our brains are wired, because understanding people and our natural reactions makes me a better dad, a more empathetic friend, a stronger co-worker…. and a more successful investor.
You see, markets (the stock market, real estate markets, commodities market and more) are made from the buy and sell decisions of individuals. And individuals act in predictable patterns at key points in history.
This week is one of those key points. And the chart below proves it.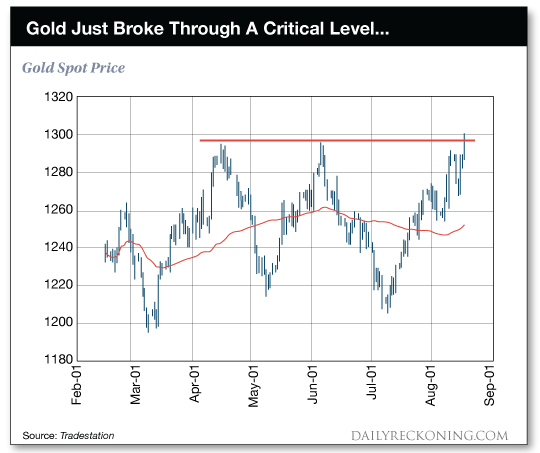 The chart shows the spot price for an ounce of gold.
So far this year, gold has been trading back and forth in a wide range. When gold moves down to about $1,200 per ounce, buyers have stepped in and pushed the price higher. And when gold has approached $1,290 per ounce, sellers have taken profits and pushed the price lower.
But Friday, this pattern was broken. And if you know anything about markets and trends, you know this is a big deal.
Gold pushed above its April and June highs on Friday, briefly crossing the key $1,300 per ounce price point. That "breakout" above two previous highs proves that demand for gold is picking up. It proves that buyers are becoming more aggressive, as they're willing to pay a higher price for gold.
And best of all, this breakout should catch the attention of momentum investors, causing more traders and investors to buy ounces of gold this week.
I'm expecting the price of gold to start moving higher this week, and to continue to move higher throughout the year.
The Time to Invest in Gold is NOW
Hopefully, you've been paying attention to The Daily Edge and our recommendation to buy gold. If so, your investment is already starting to grow. Gold continues to be an excellent way to grow and protect your wealth. After all, gold is a precious metal whose value cannot be manipulated like the world's fiat currencies.
There are a number of "fundamental" reasons why gold should continue to move higher:
The U.S. dollar has been losing value all year. And as the dollar trades lower, the price of gold naturally rises.
The U.S. stock market is exceptionally high. Investors are buying gold as an alternative (in case stocks trade lower).
Geopolitical risks (think N. Korea, Russia, China, the Middle East and more) threaten to destabilize our financial system — gold is a good insurance policy for this scenario.
Gold production has not kept up with demand. Miners have not invested in new resources so there is less gold available for investors.
You can think about these (and more) fundamental drivers for gold as "dry kindling" for a fire. Once the match is lit, the intensity of the fire grows, the more fuel is added…
On Friday, we saw the match lit for the gold market. Traders pushed the price of gold above the key $1,300 mark, adding the spark needed to set off the next big trend.
This week, investors who were waiting to see if gold would really move higher will have concrete proof that the bull market has begun.
As more buyers push the price of gold higher, human nature will take over. The fear of missing out on the next gold rally will cause investors to buy more. And this will become a self-reinforcing pattern.
The stage is set for a huge gold rally. And now that gold looks to be breaking out above $1,300 my short-term profit target is a quick move to $1,500.
Historically speaking, September is the best month for gold (over the past few decades no other months compare). In other words, the fireworks in the metals market could start very soon.
So if you're not yet invested in gold — or if you could use more exposure to the coming bull market for gold, you'll want to act now, before the price moves any higher.
Here's to growing and protecting your wealth!
Zach Scheidt
Editor, The Daily Edge
EdgeFeedback@AgoraFinancial.com
Twitter: @ZachScheidt
Facebook: @TheDailyEdgeUSA
URGENT: Gold Opportunity (Act Before Tuesday Morning)
In addition to owning physical ounces of gold, my favorite way to play the breakout in gold is a special transaction I call my "cash from gold" strategy.
But, listen up because this is a very time-sensitive opportunity.
See, this investment strategy literally pulls cash from gold stocks and deposits that cash in your account — instantly!
That cash can then be used to buy physical ounces of gold, to invest in gold mining companies, or even for regular day-to-day expenses. It's your cash and you can do whatever you want to with it.
But here's why this is so urgent…
Simply put, this gold strategy works best in a market environment where gold is trading higher. (Like the market that we're in this week). That's why I'm so excited about showing you this money making opportunity now — as gold breaks out.
And because this opportunity is so urgent, I'm asking all of my readers to watch my publisher's "how to" video right now.
Because of the personal nature of this video, my publisher is taking the video offline tonight at midnight. So you just have a few hours to take advantage of this opportunity before it's too late.
>>>Click Here to watch now!<<<
---
5 Must Knows For Monday, August 21
Solar Eclipse Time– On Monday, August 21st, the United States will experience its first solar eclipse since 1979. The "time of totality" begins around 10am PST on the west coast and just before 3pm EST here on the east coast.
The Future of Afghanistan– On Monday, August 21st, President Trump is expected to release details about the future of the war in Afghanistan. In what is now the 16th year of the conflict, Trump is expected to increase troops by a small percentage. Trump's speech is scheduled to be broadcasted live on primetime TV.
The Fed Goes To Wyoming– This Thursday, August 24th, through Saturday, August 26th, members of the Federal Reserve as well as central bankers from around the world will meet in Jackson Hole, Wyoming for the annual symposium hosted by the Kansas City Fed Bank. Expect insights into global financial stability, as well as possible clues into future central bank moves.
White House Still In Focus– Between the Charlottesville controversy and Steve Bannon resigning, last week was the most tumultuous week of Trump's presidency. This week, expect investors to still be fixated on the White House to see how Trump's administration recovers. Expect Trump to get back to what he knows best — economic reforms and America-first policies.
Housing Data On Deck– It's no secret that we here at The Daily Edge are bullish on the housing sector — and this week we expect to add onto our gains. On Wednesday, August 23rd, new home sales data will be released by the National Association of Realtors. While on Thursday, August 24th, existing home data will be released.