Gold Alert! — Plus, 5 Must-Knows For Monday…
"Gold is our way of saying that we don't trust the man."
That's what Peter Grosskoph, CEO of Sprott Inc. told a packed room of gold investors recently. And based on my research, and the conversations I've been having with industry experts, I think Peter's views are spot on.
As the CEO of one of the world's most respected gold investment companies, Peter's take on the market is extremely valuable. The audience was hanging on every word he spoke.
Peter's presentation followed a speech by Rick Rule, the Founder of Sprott. I've crossed paths with Rick quite a few times over the years, and every time I see him, I come away with new clarity on the market and the forces driving gold and silver prices.
Today, I want to pass on what I learned from these two heavyweight precious metal titans…
"This has been a particularly vicious bear market for gold" said Rick Rule. "The average gold mining stock is down about 88 percent."
Of course that makes sense if you've watched the price of gold for the last few years. Which for one ounce of gold has dropped from a high near $2,000 to a low in December of 2015 below $1,100.
Sure, that's less than an 88% decline. But think about all of the miners who have to pay for equipment, labor, and land. Many of those miners can no longer turn a profit now that gold prices have pulled back.
Stock prices for those miners have plummeted, and many less profitable companies have gone out of business. It takes a lot of discipline for gold companies to stay profitable through such a long-term bear market for gold.
Of course, this is bad news if you invested near the peak in late 2011.
But if you've got cash to invest today, it's a totally different story!
The Gold Cycle Turns
"If price is below the cost of production, one of two things will happen. Either a commodity will become unavailable, or the price will rise."
Rick Rule went on to explain how long-term cycles affect the gold market, and how investors can see these trends coming from a mile away.
When prices are high (as they were in 2011), gold miners spend money to develop and optimize their operations. If a particular mine is turning a profit producing 50 million ounces at a certain cost, it's only natural to spend more on equipment and labor so the mine can produce 100 million ounces!
Of course if you have hundreds of mining companies doing everything they can to produce more gold, the market will be flooded with too much gold. Too much supply and not enough buyers will send prices lower. And that's exactly what happened.
From late 2011 through the end of 2015, gold prices steadily dropped. For a while, miners continued to produce as much gold as possible, hoping to sell enough gold and silver to pay for their ballooning costs.
Eventually, the low price of gold took its toll. And the weakest miners went out of business.
But today, we have a very different scenario. One in which demand for gold is growing, while the weakest gold mining operations are under pressure.
This sets up an incredible opportunity for investors who have the foresight to see this trend shifting…
A New Bull Market for Gold is Underway!
Since bottoming in late 2015, the price of gold has bounced. Today, an ounce of gold fetches about $1,260. Of course, that's well below the peak from 2011, which I believe we will see again very soon.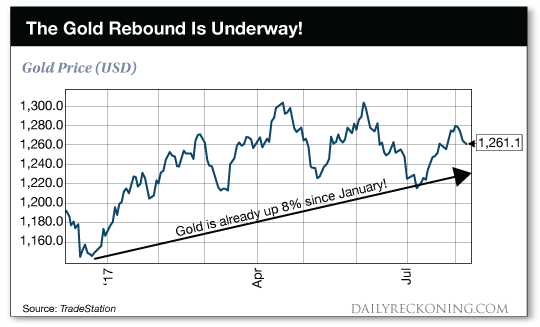 You see, demand for gold is picking up as investors look for safe places to store their wealth. The U.S. stock market has become inflated and very risky. Treasury bonds and bank savings accounts hardly give you any yield (and don't come close to matching higher life expenses). And as chaos picks up in Washington, more investors are losing faith in the government's ability to competently manage the country.
All of this uncertainty naturally drives investors towards gold. Which is why we're already seeing the price of gold move higher.
Imagine what will happen when things really start to get dicey!
If the stock market pulls back…
If U.S. borrowers default on car or student loans…
If the U.S. government has a budget shutdown…
If North Korea launches a nuke…
There are any number of scenarios that could drive the market and the U.S. economy toward chaos. And these scenarios will naturally drive investors to buy gold and silver in massive amounts.
If you act ahead of these investors — building positions in gold and silver, and precious metal stocks — then you'll be able to profit from the knee-jerk reaction once investors start to panic.
Now is the time to buy gold.
Now is the time to buy gold miner stocks.
Now is the time to protect your family's wealth, to take advantage of low precious metal prices, and to plan for the future.
I'm investing my family's money to profit from a rise in gold and silver. I hope you are as well!
Here's to growing and protecting your wealth!
Zach Scheidt
Editor, The Daily Edge
EdgeFeedback@AgoraFinancial.com
Twitter: @ZachScheidt
Facebook: @TheDailyEdgeUSA
P.S. Gold prices are headed higher, which means you need to take advantage of this trend right away! Today, you can use a special transaction to pull cash directly from the gold market. You can use this cash to buy physical ounces of gold or silver, or even to cover day-to-day expenses.
>>> Click here to learn how to get your instant cash from gold <<<
---
5 Must Knows For Monday, August 7th, 2017
Is China Still Growing?– China is set to announce their most recent trade figures on Tuesday, August 8th. This comes at a time where tensions between China and the U.S. are starting to elevate over dealings with North Korea. Economists predict July exports grew 10.5% and imports grew 16.4% from the previous year.
Is the U.S. Still Growing?– This looks to be a busy week for the U.S. Labor Department. On Wednesday, August 9th, they are expected to release the preliminary second quarter productivity report. For those wondering why wages have been stagnant since the financial crisis, this number could be your answer.
Are Prices Going Up or Down?– On Friday, August 11th, the U.S. Labor Department will release the U.S. consumer price index for July. One thing to remember — the Fed will be more likely to raise rates come September if inflation is high.
Earnings Continues– Is this the longest earnings season ever? It certainly feels like it. Although there are no Daily Edge favorites reporting this week, there are still plenty of interesting reports to watch. For example, Amazon's newest victim Blue Apron (NYSE:APRN) reports on Thursday, August 10th, while retailers Macy's (NYSE:M), JC Penney (NYSE:JCP), and Nordstrom (NYSE:JWN) also report this week.
Crypto-Alert– The price of Bitcoin hit a new all-time high today, August 7th, after undergoing the much-talked about "fork." As I understand it, there are now two currencies where there used to be one — Bitcoin (BTC) and Bitcoin Cash (BCH). This is a topic that we'll have more on this week.