Nukes For Retirement
The fallout from the Japanese Fukushima nuclear meltdown has been nothing short of disastrous.
Fukushima was a nuclear power plant, damaged by an earthquake and subsequent tsunami in 2011. The accident has led to radioactive material potentially spilled into the area's groundwater leaving an environmental nightmare.
Perhaps more devastating than the accident itself was the effect Fukushima had on the global electricity market.
Today, the fallout from this event has left well over 21 million people in horrible conditions… breathing poisonous air… with contaminated clouds blocking out the sun.
So you might find it surprising that today I'm advocating a program I'm going to call "Nukes for Retirement."
"I find it odd that our reaction to the Fukushima disaster was to stop the building of new reactors with better safeguards, and to continue generating power with older less compliant facilities."
That's a paraphrased quote from legendary resource investor Rick Rule as he introduced a speaker at last week's Sprott Natural Resource Symposium in Vancouver.
The speaker was the CEO of a small uranium company. And I have to say, his presentation was one of the most thought provoking sessions of the entire week.
Take a look at the picture below. It's one of many that you can easily find by searching the web for "Beijing air quality."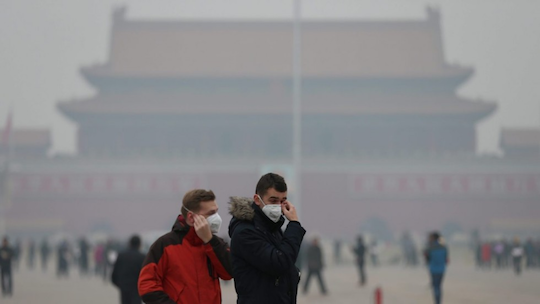 Source: South China Morning Post
The smog you see above covers not only the city of Beijing, but numerous other cities in emerging countries like China and India.
The problem, is that these growing cities have a desperate need for electricity. But up until now, the majority of power is being produced by coal-fired power plants.
Some would argue that these are "safer" than the nuclear power plants at Fukushima. But is it really better to have populations in the tens of millions that are drowning in air contaminated by dirty coal electric plants?
The World Needs a Balanced Energy Plan
Now, more than ever, the world needs a more balanced energy plan. One that uses renewable sources such as solar and wind — along with natural gas and nuclear energy — to meet the growing demand for electricity.
Today, technology has advanced to the point where nuclear power plants have much better safeguards built in to avert disaster. And these plants are producing power much more efficiently and with essentially zero air pollution.
If you ask me, it makes absolutely zero sense to take lessons learned from the Fukushima disaster, and do absolutely nothing with them. Instead of burying our heads in the sand and writing off nuclear energy as an option, we should be working to build stronger and more robust reactors that can safely meet our power needs.
Apparently, I'm not the only one that thinks this way.
After a six-year winter of moving away from nuclear power, new plants are finally being built and coming back on the market.
According to Amir Adnani — the speaker who gave the presentation at last week's natural resource conference — there are 26 nuclear reactors under construction in China and India right now. Behind those projects are another 279 reactors that are planned or proposed.
To give you a bit of perspective, that compares to just 58 reactors currently operating in these two countries.1
The resurgence in nuclear energy is also picking up steam (pardon the pun) in developed countries like the U.S. and Japan. But emerging markets like India and China are likely to be the biggest contributors to a growing nuclear presence in the world's power market…
Demand for Uranium Will Outstrip Supply
Over the next few years, these nuclear reactors will be brought online one by one. And each time a new reactor is fired up, the use of uranium — the actual fuel for generating power – will rise.
According to former Energy Secretary Spencer Abraham — who also spoke at last week's conference — demand for raw materials to fuel nuclear reactors will rise. And that's good news for companies who are in the business of producing uranium.
One of the biggest beneficiaries of this trend is resource miner Cameco Corp. (NYSE:CCJ).
Cameco is a one-stop-shop for investors wanting exposure to the uranium market. That's because Cameco mines uranium at its various mines in Canada, the U.S. and Kazakhstan. The company also refines uranium into usable fuel. And finally, the company has a trading segment that facilitates the buying and selling of uranium fuel and related products.
The stock has naturally had a hard time since the Fukushima disaster. In early 2011, CCJ hit a multi-year high of $44.81 per share. Since then, shares have steadily lost value as demand for uranium dried up. Last year, CCJ hit a low of $7.41, down 83% over about 5 and a half years.
But since then, shares have been rebounding thanks to renewed development in the nuclear space.
As more reactors come online in China and India, demand for uranium — or, the "other yellow metal" — will continue to pick up. That's great news for Cameco, as the company is one of the few pure-play uranium producers in the market.
CCJ currently pays a quarterly dividend of $0.10 per share, giving the stock an attractive 3.9% dividend yield. I should note that the company recently boosted its dividend by 25% from its previous level of 8 cents per share. That's a good sign that CCJ's management team is confident that cash flow will continue to grow in the years ahead.
If you believe (as I do) that nuclear energy will gain global popularity over the next few years, CCJ is an excellent way to profit from the trend. With a hefty dividend and rebounding stock price, this Vancouver takeaway is an excellent opportunity to pad your retirement account.
Here's to growing and protecting your wealth!
Zach Scheidt
Editor, The Daily Edge
EdgeFeedback@AgoraFinancial.com
Twitter: @ZachScheidt
Facebook: @TheDailyEdgeUSA
1 Uranium Energy Corp., Low Cost Fuel For Emission Free Energy Presentation