My #1 Takeaway From Vancouver — This "Gold & Silver Streamer" Is A Buy
"Our company has never gone over budget developing a gold mine."
My ears perked up as the next speaker got started on his presentation.
"Not only that, I can tell you our exact cost of production for the next five years. Within a few pennies per ounce."
"Don't believe me? It's on the slide in front of you!"
Now we were getting somewhere!
After a full week of hearing miners and economists talk about uncertainty and volatility, this CEO was showing me a business model that was reliable, very profitable, and one that would work in ANY market environment.
Today, I want to show you the secret behind this man's incredible gold and silver business…
My Biggest Takeaway From Vancouver
Last week I attended the Sprott Natural Resource Symposium in Vancouver, British Columbia.
The event was great opportunity for me to get up close and personal with many of the top minds in the natural resource space. This year, there was a particular emphasis on gold, silver and other precious metals.
I had conversations with some of the world's most respected economists and market strategists… Lunches with a handful of gold mining entrepreneurs… And I spoke with dozens of investors — running the full spectrum from individuals with an IRA or 401(k) account, all the way up to fund managers with billions in assets under management.
There were numerous presentations on many different opportunities. Everything from specific mining and other resource companies, to strategies for how to grow and protect your wealth in today's uncertain environment.
Over the next few weeks, I'll be going through my notes, researching the ideas, and sharing the very best investment opportunities with you.
But today, I wanted to get started by showing you my number one takeaway from this weeklong conference.
Finding Certainty in a Chaotic Industry
One thing that caught me a bit off guard at this conference, was the level of uncertainty and risk that so many natural resource companies and investors deal with. I found this a bit ironic, because gold and silver (two of the most important resources covered at this conference) are supposed to help protect and stabilize your wealth — not add more chaos.
But throughout the week, I heard stories of miners who dug holes that turned out to be duds… I heard about companies that ran out of money just before they hit the mother lode… Or about investors who placed a big bet on a "sure thing" and then watched their investment evaporate.
In some ways, the natural resource market still resembles the Wild-Wild West with high stakes and risks around every corner.
That's why when Randy Smallwood took the stage and started explaining his reliable business model, it was like a breath of fresh air came into the room.
Randy is the CEO of Wheaton Precious Metals (WPM), a company with a very unique business model.
Wheaton is a "streaming" metals company which actually profits from mines managed by other companies. This niche business model is designed to reduce risk and uncertainty and to help investors generate reliable profits from precious metals.
Here's how the model works:
Wheaton makes an initial investment in a resource miner in exchange for specific rights to that company's gold or silver production.
The initial investment is often used by the miner to develop a new mine and start production.
Once production is up and running, Wheaton then has the rights to buy a portion of the mines silver or gold at a very low price.
Wheaton can then sell the ounces of gold or silver in the open market for a substantial profit.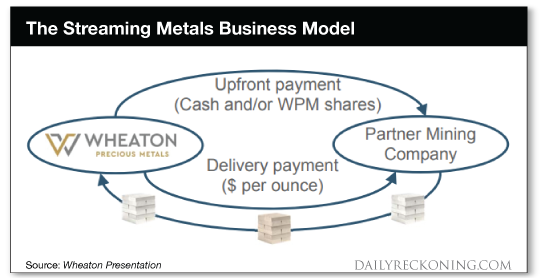 This business model is beneficial for both the mining company and for Wheaton. Individual mining companies can raise capital from Wheaton. Capital that is sorely needed to help production get started. And since there is no interest expense, this capital is very attractive to miners.
At the same time, Wheaton is an extremely profitable company because of their low cost for gold and silver. Wheaton's contracts with these miners allows Wheaton to purchase gold and silver at a fraction of the current market price.
Not only are these prices stable (giving Wheaton the ability to know its costs for years in advance), these prices are also dirt cheap (allowing Wheaton to sell its ounces in the market for a lucrative profit).
That's why Wheaton is my number one takeaway from this conference full of exciting precious metal opportunities.
Protecting Your Capital: What if Gold Trades Lower?
In today's gold and silver market, there is a tremendous amount of uncertainty. Just this morning, as I walked into Starbucks to pick up my coffee, one of my friends pulled me aside to ask what I think about the gold market.
Clearly, precious metals are top of mind in today's chaotic political and economic environment.
My expectation is that gold and silver will trade higher this year. Over the next few weeks, we'll talk more about how resource markets are cyclical, and how we are currently near the low of a long-term cycle — and starting a multi-year growth period.
But the thing that I love about Wheaton Precious Metals is that the company doesn't need gold and silver to trade higher.
Sure, it would be nice if precious metal prices moved up. That would help WPM generate higher profits.
But even with gold and silver prices at current prices, Wheaton is poised to generate reliable profits. Just take a look at the company's cost structure below:
The green bars in the chart above represent how much WPM has paid for gold and silver ounces in the past. And at the right, you can see that for the next 5 years, WPM has contracts to continue to buy gold and silver at dirt cheap prices.
Over the next few years, Wheaton will be able to buy gold at a cost of just $401 per ounce. Keep in mind, gold is currently trading near $1,250 per ounce. So for every ounce WPM purchases, the company should be able to turn a profit near $850.
The situation for silver is similar…
Wheaton is contractually allowed to buy silver at $4.71 per ounce for the next five years. Compare that to today's market price near $16.84 and you've got more than $12 in profit for every ounce of silver WPM purchases!
I'm sure you can see that this company has plenty of room to continue generating profits — even if gold and silver pull back. That makes WPM an excellent way to protect your wealth, despite the uncertainty in the gold and silver market.
What Happens if Gold and Silver Trade Higher?
Now that we understand how WPM can help protect your wealth, let's look at the potential for WPM to help grow your investments.
The vast majority of WPM's contracts are set up with fixed prices for silver and gold. That's why Randy could say that he knew — down to within a few cents — how much he will pay for silver ounces over the next five years.
So think for a minute what happens if Randy pays $401 per gold ounce, and $4.71 per silver ounce… and if both of these metals trade higher.
Every dollar that gold or silver trades higher over the next five years, equates to bigger profits for WPM. And those profits are multiplied by millions of ounces that Wheaton will acquire over the next few years.
It doesn't take too much imagination to figure out what happens to WPM's share price if gold and silver take off this year.
As gold and silver trade higher, investors will flock to WPM's profitable business model, pushing shares sharply higher.
At the same time, WPM's flexible dividend policy will generate more cash for you as an investor. (The more profit WPM generates, the higher the company's dividend). So you can expect WPM's dividend to cover a bigger slice of your living expenses, even while your wealth grows thanks to a rising stock price.
There were a number of excellent resource investment opportunities that I learned about in Vancouver. But by far, the very best opportunity that you can invest in today was Wheaton Precious Metals.
Make sure you add some shares to your portfolio today, before the price moves higher and you're forced to pay a premium to own shares of this unique business.
Here's to growing and protecting your wealth!
Zach Scheidt
Editor, The Daily Edge
EdgeFeedback@AgoraFinancial.com
Twitter: @ZachScheidt
Facebook: @TheDailyEdgeUSA