Breakout Alert: $1,500 Gold By September?
Don't look now, but gold is on the move!
Just over the last week, the futures price for an ounce of gold rose from a low of $1,204 to a high near $1,244 during yesterday's trading session.
A 3% gain may not seem like much. But keep in mind this move happened in just over a week's time.
More importantly, today I want to show you why this recent pickup in gold is actually just the start of a much larger — and more explosive — advance.
You'll want to be sure to take action right away so you can protect and grow your wealth when the gold rally takes off in earnest!
The Summer Doldrums for Gold are Coming to an End
It's been a long and frustrating summer for short-term gold bugs.
That's because after starting 2017 on a positive note, gold prices have been stuck in a wide trading range for the last four months. Most recently, gold hit the bottom of this range, and then began to rebound over the last week.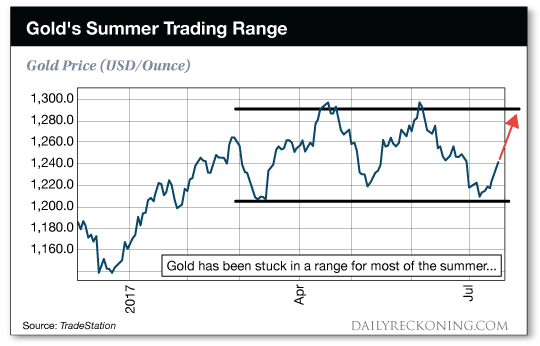 Impatient traders may be tempted to use this bounce to sell their gold positions. After all, gold hasn't been giving investors positive returns for the last few months. While the stock market has been hitting new highs. What gives??
If you find yourself second guessing your decision to invest part of your wealth in precious metals like gold or silver — or if you're on the fence about whether gold or silver makes sense for you, today's alert is for you.
Because my research shows that the time to own gold is now. And I expect the summer doldrums for gold prices to end in a dramatic breakout higher.
You'll definitely want to have a material amount of your money invested in gold before this breakout occurs.
Gold Breakout Part I: The U.S. Dollar Demise
Gold's 3% bounce over the last week has a lot to do with U.S. economic data that has come out over the past few days.
Now, please stick with me as I connect the dots. I know economics isn't the most riveting of subjects. But the returns you can generate as gold prices move higher should be exciting to any investor.
Last Friday, the Labor Department reported that the Core Consumer Price Index (or CPI) increased by just 1.7% in June.1
The Core CPI is the Fed's primary measure for inflation. And the reading shows that inflation is still below the Fed's 2% target level. Moreover, the core CPI has been trending lower over the last few months, which means according to this measure, U.S. consumers are facing less pressure from inflation.
Now you and I both know that inflation is important for things like health care, housing, and other life expenses that are moving higher. But we're talking about the Fed right now. And the Fed believes inflation is low.
With low inflation expectations, the Fed is less likely to raise rates later this year.
In fact, traders are now expecting just a 43% chance that the Fed hikes rates one more time this year.2 Too bad for retirees who continue to be disappointed by low returns on savings accounts.
Since U.S. interest rates are expected to remain low, the U.S. dollar has been falling. After all, international investors are less likely to want dollars, when they're getting paid next to nothing to hold our currency.
Check out the chart of the falling U.S. dollar below: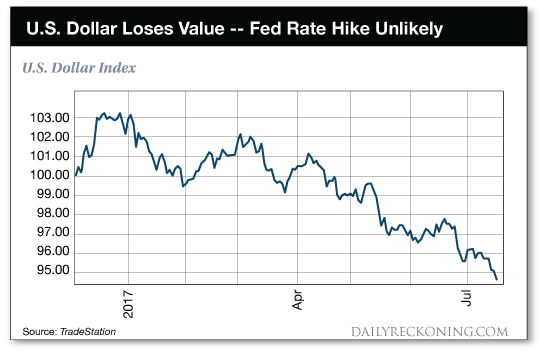 And here's where the dots connect back to gold…
When the U.S. dollar is weak, it takes more of these dollars to buy an ounce of gold. More dollars per ounce of gold simply leads to a higher price for precious metals.
So this low inflation / low U.S. dollar is the first part of what is driving gold prices higher.
But it's going to get much better for gold investors when part II occurs…
Gold Breakout Part II: A Pullback in the Stock Market
Right now, traditional investors are very happy with the broad stock market.
Workers who automatically have a portion of their paycheck invested in a mutual fund are making money. Novice stock pickers are seeing the value of their accounts moving higher. Volatility is very low. It's the perfect scenario for laid back complacent investors.
Unfortunately, this easy going market environment won't last.
It never does.
Invariably, calm market environments give way to more volatile trading. And crazy market environments ultimately settle down and draw skittish investors back in. It's simply the cycle of market action.
Today, stocks are hitting all-time highs.
And valuations (the price that investors pay compared to the earnings that companies generate) are at extremely high levels I expect this excess to lead to a pullback in the market. Especially for popular stocks that have moved sharply higher over the last few months.
When this happens, traditional investors will start to panic. And they'll look for ways to protect their wealth.
Naturally, these investors will start to buy gold as a hedge. The appeal of gold will be even stronger during this pullback because gold is already moving higher based on a weak U.S. dollar (remember part I of this argument?)
Panicking retail investors can move markets very quickly.
And in this case, I expect those investors to buy gold and silver hand over fist — driving prices for these assets sharply higher — possibly to $1,500 by September.
This breakout for gold could happen very quickly. And if you're stuck on the sidelines watching, you'll likely miss the biggest part of the move. That's why I encourage you to act today.
There's no time like the present to start building your investment in gold.
Whether you're buying physical gold to keep in a safe, investing in gold through ETFs, or buying gold miner shares, the important thing is to get started before gold prices really take off.
If you wait until the writing's on the wall, you'll be competing with every other panicking investor to buy gold. And you'll be paying a much higher price for protecting your wealth.
So please, go ahead and take preventative steps today to protect your wealth and to profit from the upcoming spike in gold.
Here's to growing and protecting your wealth!
Zach Scheidt
Editor, The Daily Edge
EdgeFeedback@AgoraFinancial.com
Twitter: @ZachScheidt
Facebook: @TheDailyEdgeUSA
P.S. Next week, I'm traveling to Vancouver to take part in the Sprott Natural Resource Symposium. The event will give me a chance to visit a working gold mine in person, to hear presentations from the world's most notorious precious metal investors, and to trade investment ideas with colleagues such as Jim Rickards, Byron King and other investment leaders.
I'll be passing along what I learn through my Twitter Feed and our Facebook Page — and of course here at The Daily Edge. I look forward to keeping you posted on all of the action!
1 US Consumer Price Index unchanged in June vs 0.2% increase expected, CNBC
2 Wall Street Daily Shot, WSJ