Revealed: Trump's Un-American Bloodline
In the middle of a peaceful summer day, Donald Trump Jr. dropped a political bomb.
The son and namesake of President Trump released an email thread showing communication between himself and a Russian lawyer regarding information helpful for the 2016 presidential campaign
Instantly, the Dow dropped 130 points as investors hit the "sell" button in reaction to the news.
And the question we are now left with is whether this news is just another "blip on the radar" for the markets and for the Trump Administration — or something much more important…
Trump's 130 Point Market Bomb
As I was working through my morning research on Tuesday, I looked up to see my quote monitor flashing red and the market suddenly taking on water.
Of course, I scrambled to see what was causing the the drop and started reading about the Trump email exchange.
As I'm sure you've heard by now, Donald Trump Jr. used his twitter feed to release a handful of emails between himself and a British publicist who was arranging a meeting between a Russian lawyer and Donald Trump Jr.
The topic of discussion appeared to be evidence this lawyer had that could incriminate Hillary Clinton.
Naturally, investors quickly began to speculate on the fallout from this disclosure and began selling shares right away. Within just minutes of the release, the Dow had dropped 130 points.
Now I'll tell you right away, that it is unclear what (if any) effect these emails will have on Trump's Presidency, his political or economic agenda, or on legislation currently passing through congress.
What is clear, however, is that investors are starting to feel skittish about their positions, and are willing to sell quickly on any indication of bad news. In other words, the calm market that we have enjoyed for the last 18 months, is about to get a lot more exciting.
For traditional investors who have been lulled to sleep by the forgiving nature of the current market environment, this is bad news. I imagine many of your friends and neighbors will be caught off-guard by an active market over the next few months.
But for those of us who are paying attention and looking for opportunities, this change in the market will be very profitable!
Let me explain…
Welcome Back, Volatility!
Take a look at the S&P 500 chart below.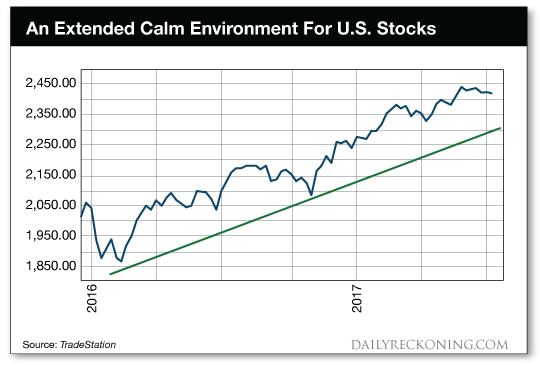 As you can see, we've been in a steady uptrend since the start of 2016. (If you look back even further, you'll see that U.S. stocks have been in a bull market since early 2009).
Sure, there has been a bit of back and forth along the way. But in the last 18 months, we haven't experienced any type of major pullback.
Volatility — or the measure of how fast stocks move up and down — has been extremely low during this period. And that's made it very easy for investors to take bigger positions than normal, to use more and more leverage (borrowing money to buy shares of stock), and to invest in more speculative positions.
The longer nothing goes wrong, the more traditional investors trust that things will continue to be very calm.
Unfortunately for them, this type of environment can only last so long. Historically, volatility has been cyclical, which means periods of very low volatility are naturally followed by periods of high volatility.
Just like summer is followed by fall and winter, calm market periods are followed by more active windows of sharp stock movements.
Maybe those movements are triggered by scandal from the Trump election. Maybe they're triggered by the Fed starting to reduce its accumulated debt. Or maybe the movements are triggered by an event we haven't anticipated yet.
The point is, that at a point in time, some catalyst is going to disrupt the calm market period.
Yesterday's action was a good reminder of how quickly market environments can change.
When the news of Donald Jr.'s email thread hit the wires, stocks immediately traded lower, and volatility spiked.
Below is a chart of the CBOE Volatility Index (VIX) — pronounced "Vick's" — which measures implied volatility in the market. You can see that the measure spiked 12% over a period of just 20 minutes. Imagine what would have happened if stocks had continued to fall!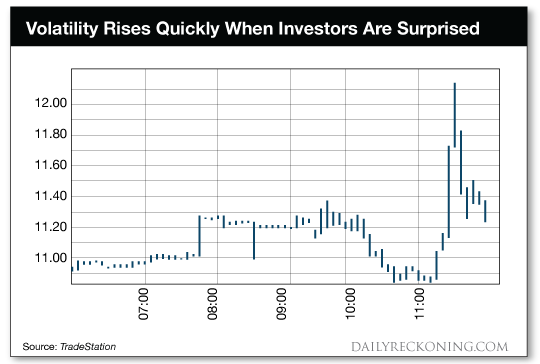 Believe it or not, the spike in volatility is great news for us!
That's because there are two ways savvy investors can use spikes in volatility like this to quickly generate high-probability profits…
Two Great Ways to Turn a Pullback Into a Profit
The first way that smart investors can profit from market pullbacks is by purchasing great stocks at attractive discounts.
You see, when investors start to panic, they always throw out the baby with the bathwater.
What do I mean by that?
Well, when fear hits the markets, traditional investors sell all types of investments.
They sell mutual funds, individual stocks, bonds and so forth. They simply want to hold cash and maybe some gold or silver to protect their wealth.
With all of this selling, the price of many different stocks will trade lower. That's why I always keep a list of strong companies with reliable profits that pay healthy dividends. So whenever these stocks go on sale, I can recommend them to you, and you can buy them at a steep discount.
This way, you'll collect dividends from stocks you bought at a discount, and when these stocks return to "fair" prices, you'll have gains already built into your positions!
A second way to profit from an increase in volatility is to sell put contracts on shares of stock you want to own.
This is the income strategy that readers of my Income on Demand service use to capture instant cash payments from the market.
By selling a put contract, you're agreeing to buy shares of stock that you want to own — at a discount price.
More importantly, you're getting paid instantly for entering this agreement.
And the best part is, when volatility spikes, those payments actually get bigger. In many cases you can collect two or three times as much instant income as normal, simply because traditional investors are more fearful.
Keep Watching for Volatility to Pick Up – And Be Ready to Act!
I can't tell you whether the Trump email issues will lead to more drama, or if it will blow over.
But I can tell you that we're overdue for a period of high volatility. And that means you should be expecting stocks to move more actively — and not let this type of market catch you off guard.
It's a good idea to keep some cash on-hand in your account so that you can take advantage of lower stock prices for very attractive companies.
And if you're not yet using my instant income strategy to collect cash payments from the best stocks on Wall Street, you really should check out this lucrative strategy. You don't want to miss out on these reliable cash payments. You can find out more about our Income on Demand strategy here. And as you'll see, it's so easy an 8 year old can do it!
Here's to growing and protecting your wealth!
Zach Scheidt
Editor, The Daily Edge
EdgeFeedback@AgoraFinancial.com
Twitter: @ZachScheidt
Facebook: @TheDailyEdgeUSA