The Housing Bubble Hangover Cure
"Zach, I lost everything… My income, my savings… In fact, I almost lost my wife and kids!"
I could see the pain in Brandon's eyes as he told me the story.
Brandon is a friend who goes to my church. He has two children who are the same age as a couple of my kids. And he's an entrepreneur with an eye for new opportunities.
A week ago, we met for lunch to chat about a few of his business ideas. And that's when I heard Brandon's story about losing everything during the Financial Crisis.
As sad as Brandon's story was, my conversation helped confirm my suspicions about a new investment opportunity. One that can dramatically boost your investment account over the next three months…
"It was horrible, Zach. I couldn't sleep at night. With stress levels so high, I often snapped at my kids and constantly argued with my wife. By the time it was over, she had taken the family to live with my in-laws. I thought our family life was over."
While tragic, Brandon's story wasn't unique.
In fact, I'll bet there are 100 families within a 10 mile radius of my home that had a similar plight.
You see, Brandon got swept up in the housing boom at the beginning of this century. He quit his full-time job to buy tracts of land, build a luxury home, and then sell to a host of eager buyers.
Back in 2005, the profit margins on this type of business were enormous!
And the more success Brandon had, the more opportunities he found.
Eventually, Brandon took on a business partner, bought multiple land plots at a time, and had as many as five houses under development simultaneously.
Thanks to his previous success and high credit score, the banks were more than happy to lend Brandon all the capital he wanted to buy land, pay for construction, and cover all the landscaping and other costs.
Of course you already know how the story turned out.
When the housing crisis hit, Brandon had too much debt and not enough cash. The houses that he owned weren't selling. The banks foreclosed not only on Brandon's business properties, but also on his personal house. His family had no choice but to move in with the in-laws, a few hundred miles away.
Fortunately, Brandon was one of the lucky ones…
After working out an arrangement with the bank (leaving him with no savings and no income), Brandon found a job. He reconciled with his wife. And his family is in a stable and happy home. Brandon even has some spare time now to build a few new businesses on the side.
But he'll never touch a real estate opportunity again. He swore that off the day his family was evicted from their own home.
An Overlooked Opportunity Emerges From the Rubble
It's hard to believe that it's been 10 years since the financial crisis began.
In 2007 and 2008, a myriad of small homebuilding companies went belly up. Most of these were sole proprietor companies or small LLC's owned by a few friends going into business together.
Large homebuilders also felt the sting of the crisis. Avalon Homes, Centex, Choice Homes, MDC Inc. and T.H. Properties are just a few of the many large home builders that imploded during that time.1
Even the builders that were able to stay in business dramatically cut back on new construction. After all, they had hundreds (if not thousands) of completed homes for sale that no one could afford to buy. It made sense to cut back on expenses and simply try to survive by selling the existing homes that were complete.
Too many investors, business owners, and would-be entrepreneurs had the same perspective as Brandon… "I won't ever make a speculative bet on real estate again."
But today, the market is very different than it was in 2007.
A dearth of home builders has left the market in short supply of homes for sale. You can see that in the chart below which shows the number of new homes for sale, compared to the U.S. population.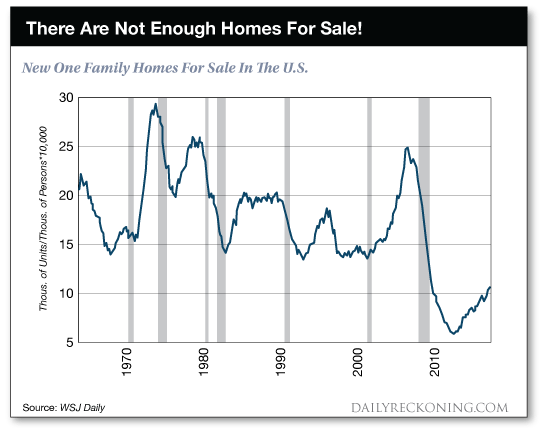 With so few homes for sale, prices for new homes across America are moving steadily higher. In fact, last month, the median price for a new home hit a record $346,000.2
The financial media has started catching on to rising home prices, prompting questions about whether we're entering a new housing crisis. In fact, as I was researching this Daily Edge alert yesterday, I looked over to find this caption on CNBC: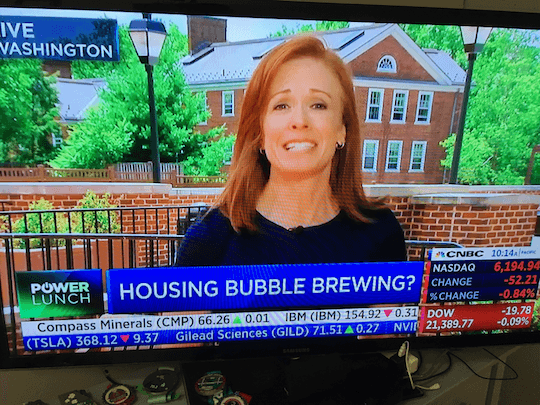 Unfortunately, the media is only looking at half of the story.
They're focusing on higher home prices, without realizing why home prices have been rising.
The reason is that there are simply not enough homes for sale to meet demand. And demand will continue to rise over the next decade as the millennial generation enters the market for new homes.
Keep in mind that interest rates are still extremely low and will continue to be extremely low. This makes mortgages much more affordable, which allows new home buyers to afford more house for the same level of income.
This summer, I expect to see home prices continue to march higher. That's because summer is the prime time for families to move into new homes. After all, many new home purchases involve families with kids who are in school. What better time to settle into a new neighborhood — and potentially a new school district — than during the summer school holiday?
Today, I want to make sure you are ready to cash in on this home price surge, by making an investment that many will never have the guts to try again…
Here's How to Profit From a Rebounding Home Market
Just like my friend Brandon swore off ever making another real estate deal, many investors have sworn off home construction stocks.
It makes sense if you saw the carnage in 2007 and 2008.
Many of these companies were completely wiped out, leaving investors with nothing but losses. That's because the home builder companies spent too much money buying plots of land and building luxury homes, when there were already too many homes on the market
But that's NOT what is happening today.
Look at that chart above.
I mean it… Scroll up and take another look at the chart of homes for sale.
Now, notice how the number of homes for sale is not just low… It's below the lowest point seen over the last 50 years, until the lean years after the financial crisis.
This tells us that there are far too few homes available for buyers to choose from. And whenever you have a low amount of supply and strong demand, prices will naturally move higher. It's Economics 101 and that's exactly what we're seeing in the housing market right now.
Higher home prices will naturally benefit companies that are building and selling homes. Companies like D.R. Horton (DHI), Lennar Corp. (LEN), and PulteGroup (PHM). These stocks (and a handful of others) will trade higher as demand for new homes continues to be strong, and as prices rise.
Many investors will never again buy shares of a home builder. They're too scarred by the fallout from irresponsible building a decade ago.
But you don't have to miss this opportunity.
Home builders are not in an irresponsible place. They're poised to trade higher. And it looks like this summer will be one of the best times to be invested in these attractive — and overlooked — stocks.
Here's to growing and protecting your wealth!
Zach Scheidt
Editor, The Daily Edge
EdgeFeedback@AgoraFinancial.com
1 The Home Builder Implode-O-Meter – tracking the home building industry implosion
2 Federal Reserve Economic Data, Median Sales Price for New Houses Sold in the United States