Saudi Strikes Back Against U.S. Shale
Here we go again…
The price of oil is plunging.
For the first quarter of 2017 West Texas Intermediate (WTI) held a pretty stable range between $54–58 per barrel. Now it is back to the roller coaster that we have been on since mid-2014.
As I write this, WTI is struggling to hold $43 per barrel and is sinking like a rock.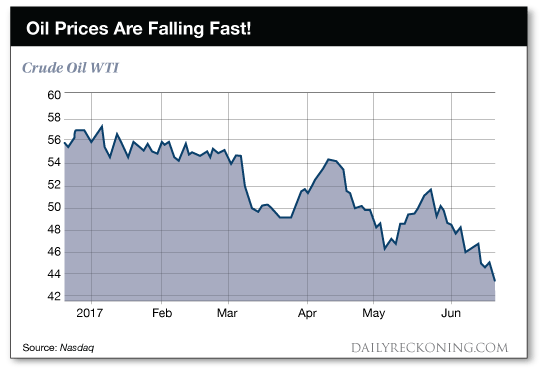 This time though, I think the market is acting on some bad information. If not bad, then at the very least I think the information is incomplete.
I believe that this most recent drop in oil prices is not being caused by the actual fundamentals of supply and demand. Those fundamentals are actually improving the bullish case for oil — slowly, but steadily.
This recent oil price decline is more likely being caused by the market focusing not on the full picture, but rather on one stubbornly bearish detail:
The amount of oil held in storage in the United States…
Oil Is a Global Commodity
Every week traders, investors and oil industry participants heavily scrutinize one set of data. That data set involves the weekly movements in United States oil inventory levels.
Inventory levels going up suggest an oversupplied market. Inventory levels going down suggest that the market is undersupplied.
It has been a long time since this particular piece of data provided much for oil bulls to be optimistic about. U.S. oil inventory (storage) levels continue to remain stubbornly high, and that is weighing heavily on the price of oil.
It isn't wrong to look to U.S. inventory levels to try to understand the supply-and-demand fundamentals in the oil market. I even understand why these U.S. figures get so much attention.
This is the most transparent source of data that is available to oil traders. Further, these data belong to the country that consumes by itself roughly one-fifth of global oil supply on a daily basis.
What I think the market gets wrong is that it focuses almost exclusively on these U.S. oil inventory levels and ignores what is going on globally. The U.S. is a big piece, but there is a whole world out there, and it represents the other 80% of the global oil market.
Today if someone would take the time to look, the information on oil inventories that is coming from sources outside of the United States is much more bullish.
Over the past couple of months there have been multiple indications that floating oil storage has been coming down rather quickly.
ClipperData reported that floating oil in storage off Singapore has dropped from 64 million barrels to 50 million barrels.1 Additionally, OPEC sources have indicated that total floating storage globally has dropped by one-third in 2017, a decline of 50 million barrels in total.2
We can also see that total OECD oil inventory levels have been declining. The graphic below tells that story.
The blue bars represent the amount by which OECD storage exceeds the five-year average. In January OECD inventory levels were 339 million barrels above the five-year average.
As of April that number had shrunk to 251 million barrels.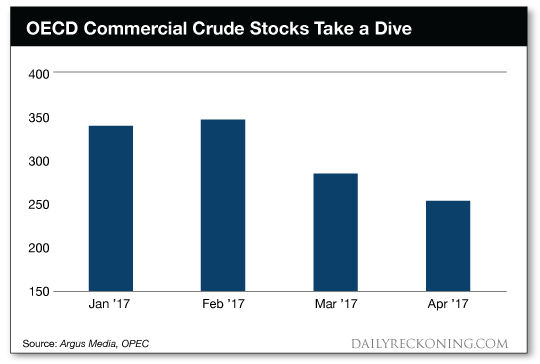 There is still a lot of oil in storage, but the excess over the five-year average has shrunk by 88 million barrels over just the last three months.
That provides pretty compelling evidence that daily oil demand has been exceeding supply by a good amount, almost 1 million barrels per day.
It won't happen overnight, but that excess inventory is being worked down.
Why U.S. Inventories Have Been Slow to Show This Rebalancing
Honestly, I don't think it should really be a surprise to anyone that the oil market is tightening.
OPEC and non-OPEC producers agreed last fall to reduce production by 1.8 million barrels per day starting on Jan. 1, 2017. Compliance with those agreed cuts has actually been very high, almost 90%.
You can't take almost 1.8 million barrels per day of production out of global oil supply and not have the market tighten significantly.
The problem is that global oil market data are notoriously unreliable and the information passed on by the media is often contradicting.
That is why everyone focuses so much on U.S. inventory levels. It is the one piece of data that traders believe to be accurate. Nothing else gets much attention.
Not seeing these U.S. inventory levels declining significantly has undermined the market's confidence that OPEC cuts are actually achieving the tightening that they were expected to generate.
Which begs the obvious question: Why, with OPEC's strong compliance to production cuts, aren't U.S. inventory levels declining?
The answer, I believe, was recently revealed by Saudi Arabian Energy Minister Khalid al-Falih at a meeting with reporters late in May.3
Al-Falih noted that despite cutting production, OPEC nations have not been reducing the amount of oil that they ship to the United States. Instead, they have been drawing down their own inventory levels.
That makes sense. This allows them to sell the same amount of oil despite producing less. The result of this is shrinking inventory levels within OPEC and steady inventory levels in the United States.
In fact, late in May the Saudi energy minister acknowledged this to be the case. For the first five months of 2017 Saudi shipments of oil to the United States have actually risen to 1.21 million barrels per day despite lower production.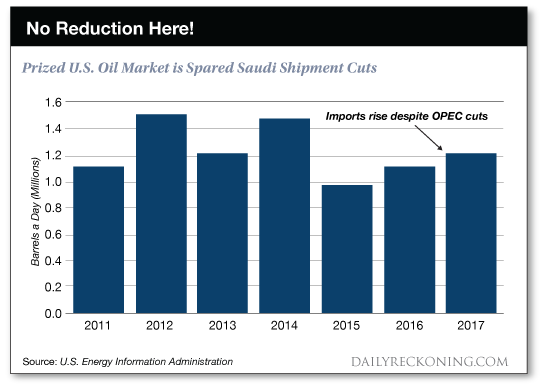 Saudi Arabia has intentionally reduced oil shipments to other countries while actually increasing shipments to the United States.
No wonder U.S. inventories haven't yet felt the impact of the OPEC production cuts.
Starting in July, that is going to change. The Saudi plans revealed by al-Falih now involve reducing shipments to the United States by over 200,000 barrels per day.
It seems that the Saudis may have finally figured out that the key to improving the price of oil isn't just to cut production, but to make sure those cuts show up here in the United States.
Once that happens we should start to see a more bullish (and accurate) view of the global oil supply-and-demand fundamentals hit the mainstream. This would mean that now is a great time to be once again looking at bonds of oil producing companies.
Keep looking through the windshield,
Jody Chudley
Credit analyst, The Daily Edge
EdgeFeedback@AgoraFinancial.com
1 Brimming U.S. oil storage tanks to feel OPEC cuts last, Julia Simon, Devika Krishna Kumar, Reuters
2 Saudis Take Aim at Swollen U.S. Oil Stockpiles in Strategy Shift, Javier Blas, Wael Mahdi, Bloomberg
3 Saudis See Oil Market Balance Despite Added Libyan Barrels, Wael Mahdi, Bloomberg