Oil Alert: The Middle East Powder Keg Is On The Brink…
On June 11, 2017, an IED (improvised explosive device) was detonated in the Qatif region of Saudi Arabia's Eastern Province.
The price of oil did nothing.
It was the second such attack in the past three weeks.
Keep in mind that the Eastern Province is the source of virtually all of Saudi Arabia's nearly 10 million barrels of production. To put this into perspective, consider that daily production from this region alone covers the daily demand from Japan, India, and Brazil… combined.
Ten years ago if a bomb went off in the Eastern Province the reaction in the oil markets would have been instant and very noticeable…
Today, there seems to be no news that can rile the oil market. Everyone is very comfortable with the idea that there is no risk to the world's supply of oil — the lifeblood of our global economy.
In reality, the Middle East has never been closer to the brink, and all of the major OPEC producing nations involved.
In case you haven't been following the region, the chart below should clear up what is happening for you. It depicts all of the parties with a seat at the table.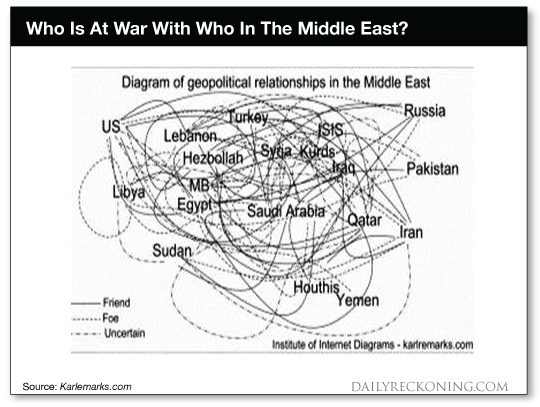 What? That didn't make everything crystal clear?
Actually it probably did. The region is a mess (a pressure cooker…a ticking time bomb…etc.) and that chart is the same. That mess is only getting more complicated and closer to disaster.
Since early last week specifically the Gulf region has been in one of the most precarious political crises of recent memory.
Saudi Arabia, along with the United Arab Emirates and Bahrain, officially cut ties with the tiny (but rich and influential) country of Qatar. Also piling on against Qatar were Egypt, Libya, Yemen, Jordan, and Mauritania.
Rushing to the side of Qatar were the militarily strong Turkey and Iran, with Turkey sending troops to the country. In response to that, Saudi Arabia pledged support for the Kurds who are Turkey's longtime rival.
Meanwhile, ISIS officially announced that their next focus of attack will be Saudi Arabia (hence the IED attacks). And I should also mention that the Saudis are also actively engaged in a war in Yemen.
Got that?
I could go on and on but you get the point.  The region is on the brink.  And these aren't little players who are involved.
Saudi Arabia, Turkey, Iran are all major military powers.
In the middle of all of this is a huge percentage of the world's oil production, nearly a third of it.
The oil market has assigned no risk premium for the potential of major geopolitical disruption despite the fact that we are closer to one than ever before…
If The Middle East Powder Keg Ignites…
Will cooler heads prevail in the Middle East?
I don't know. What I do believe though is that we have a bit of an asymmetric opportunity here.
The chances of oil prices going down a lot are relatively minor.  The chances of oil prices going up either quickly through a Middle Eastern meltdown is much more likely.
If we see any major disruption in Saudi supply, or another round of Arab Spring violence, we could see a sharp, short-term opportunity in oil. This could happen overnight, too.
Because of that, I do think it is a good time to be looking at safe, non-OPEC oil producers.  Not all of them mind you, just the very best of them.
Commodity production is a tough business and the only producers you should ever want to own are those that are well capitalized and own the lowest cost production.
With that in mind, I really like Callon Petroleum (CPE:NYSE), a company that has just about everything going for it including:
Prime Permian Basin assets
Very reasonable valuation
Is a clear takeover target of larger players
Callon is a pure play on the Permian Basin and is one of a handful of companies that can self-finance production growth at current oil prices.  The fact that all of its assets are located in the Permian also make the company a highly desirable acquisition target for larger suitors.
If oil prices stay low, Callon's assets can still generate cash flow and allow for growth.  If a Middle Eastern shock drives oil prices higher, that's all the better.
With Callon, I believe you can win either way.
Here's to looking through the windshield,
Jody Chudley,
Chief Credit Analyst, The Daily Edge
EdgeFeedback@AgoraFinancial.com