Government Jobs Numbers Fudged Again? Here's the Real Story…
The Bureau of Labor Statistics is about to release its monthly report on new U.S. jobs from last month.
But while economists, analysts, and those annoying talking head reporters on CNBC debate the numbers, I want to urge you to tune them out.
That's because the government data is inefficient, inaccurate, and highly suspect. What government agency do you know of that really operates cleanly and efficiently? So why would the jobs data gathered by the government be any better?
Fortunately, there's a much better measure of job growth in our country. And that measure is highlighting some tremendous opportunities…
Private ADP Report Shows U.S. Hiring is Strong
Yesterday, the ADP Research Institute released its monthly private payroll report for May.
The data showed that private companies created 253,000 new jobs last month. This was well ahead of the 185,000 jobs that analysts were expecting, and significantly better than the 174,000 jobs added during the month of April.1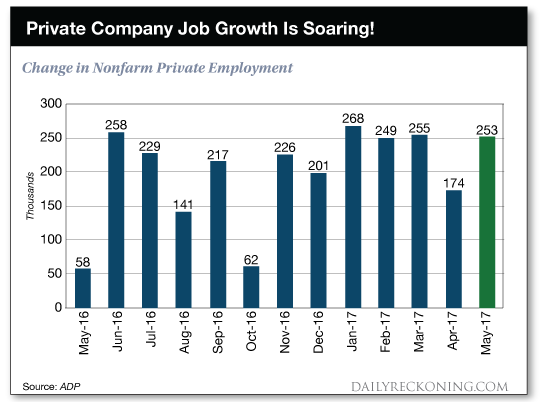 In short, the report showed that U.S. companies are hiring at a very healthy clip. And that's a sign that the U.S. economy is steadily growing.
Now Wall Street often overlooks the ADP report in favor of the government report — which is being released right now. But there are two reasons why you should pay much more attention to this "secondary" report, than you do to the government statistics.
First, ADP is a private research company with excellent data. If ADP as a company is familiar to you, it's probably because at some point in your career, you've received a pay stub from ADP. After all, the company processes payrolls for more than 10 million employees in the U.S.
As a private (not government-sponsored) company with its finger on the pulse of American industry, I trust ADP's reports to be much more comprehensive and accurate than the jobs reports issued by the government.
After all, we know that government data can be manipulated, or simply fraught with error. ADP on the other hand has a strong incentive to issue accurate reports. If the company's accuracy is in question, the company will no longer be able to sell its analytic reports and stay in business. (I wish I could say the same for the Bureau of Labor Statistics.)
A second reason to consider the ADP report is because the company reports on private — or non-government — job statistics. In other words, the ADP report tells us what is really happening in the U.S. economy, without taking into account all of the government hiring and firings.
Economists might argue that government jobs are just as important as private jobs. Government employees spend money that they're paid, they buy houses and cars. And they pay taxes.
But I still prefer to look specifically at how many private industry jobs are being created. Because these jobs are based on whether the economy is growing. After all, businesses will only hire when they believe that new employees will help to grow profits. (Governments will hire for many reasons. Not many of which are tied directly to economic growth.)
So regardless of what the Bureau of Labor Statistics is reporting as you read this alert, I encourage you to consider the strong ADP report for the month of May — and what it means for your investment opportunities…
A Strong Job Market Supports Key Investment Opportunities.
Whenever I see a surprising economic report like the strong ADP payroll report from yesterday, I ask myself one simple question:
Who does this help?
In other words, which sectors, companies and specific stocks will benefit from this information?
Today, I've got a few areas in mind that should do very well as the job market picks up.
Earlier this week, we talked about home construction companies and how the millennial generation is finally starting to buy houses. This creates a very exciting opportunity because there is a lot of demand for homes, and not enough supply.
Just this week, the National Association of Realtors announced that pending home sales dropped in April.2 And while this may sound bearish for home construction companies, it's actually quite the opposite. Sales were low because inventories are tight. Demand for homes is still very strong which means home builders can quickly sell newly built homes and turn a nice profit on each transaction.
Another investment area benefiting from the strong job market is retail. But you need to be careful where you invest in this industry.
It's true that Amazon is creating stiff competition for many traditional retailers. And I wouldn't suggest buying AMZN at today's inflated prices. But there are still retail companies that are largely immune to Amazon's empire.
Think about retail locations you visit that simply can't be replaced by online commerce. Convenience stores, fitness gyms, auto repair shops, and casual dining restaurants come to mind. Many of these retail companies are trading at low valuations because investors are so afraid of Amazon. But the truth is that these companies are still in great shape. So investors who buy today are getting a great deal.
One final group to consider is auto manufacturers. Again, I wouldn't go with the "sexy" name in the industry. Tesla shares are too expensive and the company has some serious risks. But Ford and GM should do very well in this environment.
That's because as more Americans are employed, the number of potential car buyers goes up. These employees will need transportation to and from work. And their paystubs make them much more likely to receive financing. Interest rates are still very low (and projected to stay that way), making car buying even more affordable.
The strong jobs market will continue to drive economic growth in the U.S. And that means there will be plenty of opportunities for investors who know how to take advantage of this trend.
We'll stay on top of the job stats as we move through the summer, and keep you posted on the ripple effects these jobs have for the U.S. economy.
Here's to growing and protecting your wealth!
Zach Scheidt
Editor, The Daily Edge
EdgeFeedback@AgoraFinancial.com
1 U.S. factory activity edges up; private payrolls surge, Reuters, Lucia Mutikani
2 The Daily Shot, Wall Street Journal, Lev Borodovsky