Huge Gains From Little Grains — A New Opportunity In U.S. Oil
U.S. oil production is surging again.
The oil price collapse stopped the momentum for a while, but not for long. Incredibly this time, the growth is taking place with just $50 per barrel oil.
The driver of this growth is shale oil, and more specifically, shale oil from the Permian Basin in Texas. The Permian is the 800 pound gorilla that keeps OPEC awake at night.
This is not a short-term phenomenon. Shale oil will be changing the balance of power in the global oil market for decades to come.
I'm very bullish about rising shale oil production.  But that does not necessarily mean I'm bullish on oil prices.
You can understand why since rising production and rising prices don't really go together.  Declining production would be better for oil prices.
There are however, other ways to profit from surging Permian shale oil production…
Sand, Sand, And More Sand – The Tiny Grains Behind The Shale Boom
To understand the Shale industry, you need to understand the process.
Before I get to the stunning trend I've been seeing, let me explain why sand is important for shale oil production.
The process of fracking involves using horizontal wells — wells that are turned horizontally at depth. Think of a well in an "L" shape where the base of the "L" is very long.
After a horizontal oil well is drilled, the producers pump water down the well at incredibly high pressures.  That high pressure water fractures or "fracks" the oil bearing shale rocks that are in contact with the horizontal section of the well.
Once the rocks are fractured, water rushes into those fractures (cracks really), inflates them, and deepens the cracks in the rock. Sand that is pumped in with the water is carried into these cracks and "props" those fractures open to let oil (or gas) flow out.
In the image below, the yellow circles represent sand particles.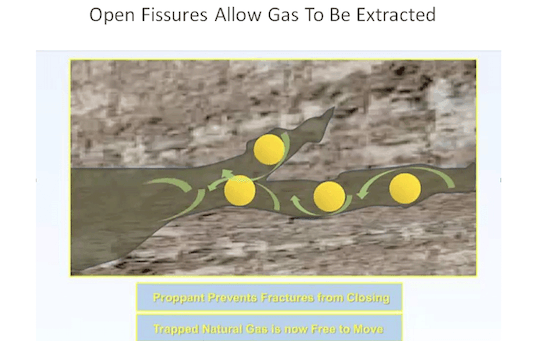 Source: Drilling Info
Without the sand to "prop" the fractures open, the fractures would close once the water pressure subsides which would reduce the amount of oil or gas that can escape.
Therefore, this frac sand is a crucial part of the shale oil production process, and is getting more important every day.
What the industry has found through constant trial and error, is that more proppant (more frac sand) means better shale oil wells.
Check the chart below which shows how much sand the industry has been using per horizontal well over time.  The increase never ends, in fact it is still accelerating.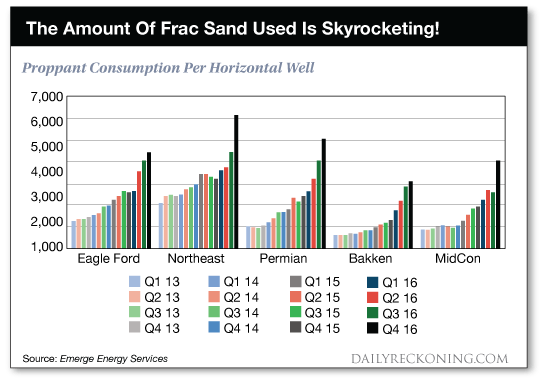 The chart shows the amount of frac sand being used per well in each major shale oil region.  I want to focus in on the Permian since that is where the majority of shale oil drilling is now taking place.
Here is the amount of frac sand being used per well in the Permian in the fourth quarter of each year:
Q4 2013 – 1,000 tons
Q4 2014 – 1,800 tons (an 80% increase from Q4 2013)
Q4 2015 – 2,300 tons (a 28% increase from Q4 2014)
Q4 2016 – 5,000 tons (a 117% increase from Q4 2015)
The increase from Q4 2013 is incredible. From 1,000 tons of sand per well the industry is now using 5,000 tons.
What has really shocked me is the increase in just the last couple of quarters.  The industry went from 4,000 tons in Q3 2016 to 5,000 tons in Q4 2016, a 1,000 ton increase in just the last quarter alone!
It is very clear that more sand equals more profitable wells.
Demand for this stuff is still skyrocketing after years of trial and error. I can't wait to see how much sand will be used per horizontal well by the end of 2017…
Frac Sand Miners The Logical Choice – But Be Careful
Earlier this year, I kicked the tires on most of the publicly traded companies that supply frac sand to the oil and gas industry.
What I found were some incredibly expensive stocks, as well as some heavily leveraged ones.
Meaning there was an awful lot of growth baked into prices back then.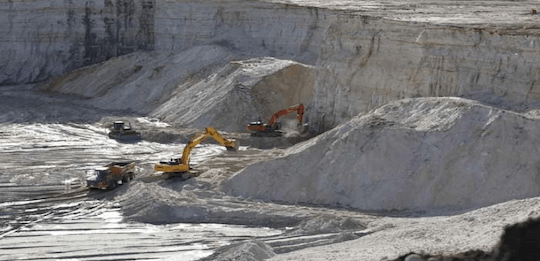 Source: northernminer.com
Since then, share prices have come back to much more reasonable levels and I think that the sector is worth another very close look.
My current favorite is U.S. Silica Holdings (NYSE:SLCA) for one major reason.  The company has zero net debt on its balance sheet. As we are reminded on a regular basis, the commodity business is a painfully cyclical one — and in my opinion, not well suited for a lot of leverage.
And commodity companies like this with pristine balance sheets don't just survive unexpected bumps in the road, they take advantage of them by picking of weaker competitors. Which is exactly what we saw U.S. Silica do in 2016.
If you're looking to add a quality frac sand company to your portfolio, U.S. Silica is where to look first.
Here's to looking through the windshield,
Jody Chudley,
Chief Credit Analyst, The Daily Edge
EdgeFeedback@AgoraFinancial.com