The Next Big Housing Boom — Courtesy Of The "Renter Generation"
I received the following group text from my little brother this week:
"Hey guys – just a reminder that we are planning to move next Saturday and any help folks can give will be much appreciated and rewarded with various culinary delights."
Guess what I'll be doing this Memorial Day weekend?
You guessed it. I'll be loading dressers into U-Haul trucks, painting walls, and listening to my sister-in-law demand "a little left, now right," as I try to hang pictures to her exact specifications — all while you're flipping burgers on the grill, and telling your neighbor about this latest investment opportunity…
My little brother Nathan and I are very close. As my roommate growing up, we had our share of fights, but we always seemed to get past them. And now in our "old age," we've become very close friends, so I'm looking forward to helping Nathan, his wife, and his newborn son move out of their apartment.
He and his wife finally decided that now is right time to buy their first home. Both of them are architects, both are successful in their fields, and they're tired of leapfrogging the country — going apartment to apartment from places like upstate New York, to Brooklyn, to Atlanta.
There's something about starting a family that makes you want to settle down into your own home… Which means calling me to help them move this weekend.
But what makes this experience interesting for us is the fact that Nathan is a millennial.
Because I thought his generation didn't buy homes?
Millennials are supposed to be the "renter generation." The generation that's too buried in student loan debts to purchase a home. Not to mention the generation that wants to stay as flexible as possible, something the burden of a mortgage payment doesn't help with…
But Nathan isn't the only millennial bucking this trend.
My other millennial brother Dennis in a similar situation (yes, I come from a big family — you should see our holiday get togethers!).
Anyway, Dennis (or DJ as we call him) also had his first son, and he and his wife bought their first house in last year. And I've spent hours helping him move furniture and painting walls too!
So why bring up these family stories?
Because a whole generation is starting to shift gears. Millennials are buying houses. And that sets up some very powerful investment trends for us…
There are two macro-trends I want to look at today. First is the number of entry-level homes sold: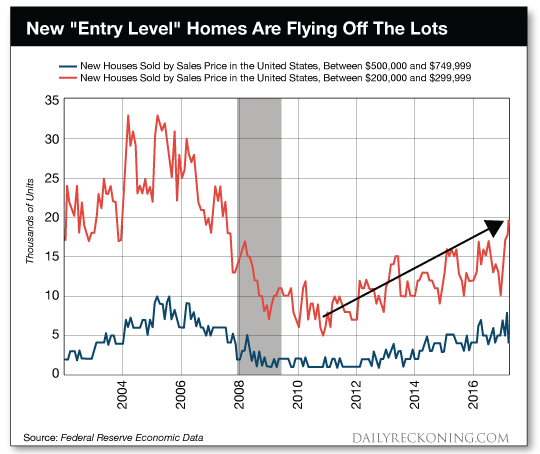 Just look at that spike in the last year! It's not just my brothers that are buying up these entry-level homes! The entire generation is on board!
After nearly a decade being tied down to a home because of the financial crisis, millennials are finally starting to embrace the homeownership American Dream. And now there isn't enough inventory to keep up with demand!
And there's more where that came from…
The second trend I want to look at explains why millennials are choosing now to become homeowners.
Think about some of the worst consequences from the financial crisis — thousands of people lost their jobs, crippling the housing market because there were so few people with the available funds to purchase a new home.
But times are changing! The unemployment rate is at the lowest level since 1988 — that means millennials can finally afford to own a home.2
Just take a look how household income has rebounded since 2010: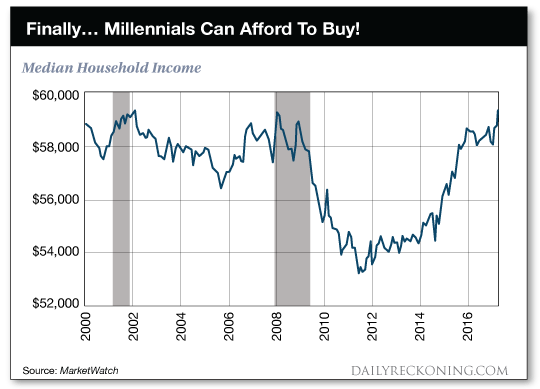 This is a "perfect storm" type scenario for the housing market. And because this trend is just getting started, there are multiple ways to invest. Here are a few of my favorites…
Buy home builders– As millennials flock towards entry-level housing, home builders stand to benefit greatly. A favorite of mine is D.R. Horton (NYSE:DHI) — the largest home builder in America. Recently, the company has launched Express Homes, which specializes in truly entry-level homes geared directly towards price-conscious millennials. Until now, Express Homes has exceeded expectations, which is a trend that I see continuing.3
Buy home furnishings– The growing number of houses means more furniture and fixtures are required to outfit them. A leader in this industry is Restoration Hardware (NYSE:RH). This California-based company sells a variety of home-furnishings via retail, online, and by catalog. The stock is up over 100% in the last 6 months, but I believe there is still room to grow.
Buy DIY home repair– Loyal followers of The Daily Edge know that I'm a big fan of Home Depot (NYSE:HD). This is one of the few Amazon-proof companies out there, and one that should definitely benefit from a rise in homeownership. After all, buying the house is just the start of the expenses. Whether it's light bulbs, landscaping, or even major repairs, trips to Home Depot are a necessity. Shares of this company now trade off their $160 highs.
As millennials settle down and household income continues to grow, I expect these trends to continue. But make sure you get in sooner rather than later!
Here's to growing and protecting your wealth!
Zach Scheidt
Editor, The Daily Edge
EdgeFeedback@AgoraFinancial.com
1 Are Millennials the Renter Generation? US News, Maryalene LaPonsie
2 Americans on unemployment hits lowest since 1988, MarketWatch, Jeffry Bartash
3 D.R. Horton Inc, Morningstar, Brian Bernard