An Unholy Oil Alliance (Set To Buoy Oil Prices)
Russia and Saudi Arabia back extending oil output cuts -Financial Times

The drillers of West Texas are ready to undermine any OPEC Cuts -CNBC

Oil price surges after Russia adds to cuts extension call
-The Week
These headlines littered financial websites recently. And rightfully so.
Over the weekend, both Saudi Arabia and Russia publicly announced that both countries would endorse a plan to extend OPEC's current production cut for another nine months.1
And today, I want to show you three great ways to profit from this situation — after all, there's more than meets the eye with this OPEC deal…
Oil prices jumped on the news, and crude futures are now flirting with the symbolic $50 per barrel mark.
And keep in mind, this rally in oil is taking place before the "official" OPEC decision which will be announced at the cartel's meeting scheduled for May 25th.2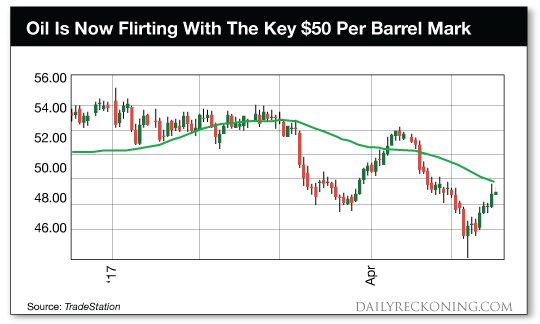 And while I don't expect this OPEC/Russia agreement to be a game-changer for the energy markets (after all, remember U.S. oil production is back), in the short-term, oil prices could remain strong.
OPEC's High Stakes Game of Chicken
The current oil market situation reminds me of the game of "chicken." You know, the dangerous game where two drivers accelerate towards each other, hoping to stay on the road and make the other driver swerve at the last minute.
That's exactly the game that the Organization of Petroleum Exporting Countries (OPEC) has been playing with U.S. producers.
As you probably know, in 2014, OPEC decided to ramp up oil production in a deliberate attempt to depress oil prices and put U.S. drillers out of business. The thought was that if oil prices were too low, U.S. drillers would not be profitable enough to continue operating.
But boy were they wrong…
Higher OPEC production did flood the market with extra oil. And it did send oil prices tumbling.
But all of this only forced U.S. producers to become more efficient.
In other words, our free market forced U.S. oil producers to cut costs, become more inventive, and ultimately turn a profit even while selling oil at a fraction of the previous price.
Meanwhile, overseas oil producers, who have relied on anti-competitive practices like quotas and production restrictions, couldn't keep up.
Essentially, the U.S. oil industry took on OPEC…. And won!
Now, OPEC is swerving from their original plan, since they can't run U.S. producers off the road. The group has agreed to temporarily cut back on production, and so far it's sent oil prices higher. That way, countries who rely heavily on selling oil, will actually be able to generate enough revenue to stop bleeding cash and feed their government coffers.
Three Ways to Play OPEC's "Flinch"
This week's statement from Russia and Saudi Arabia could pave the way for another nine months of lower OPEC oil production. And I believe this will continue to support short-term oil prices.
Great news for American producers!
So here's how to play this…
Common sense economics tells us that less supply naturally leads to higher prices. So in the short-term, OPEC's agreement to limit production for another nine months will boost prices. We're already seeing it with oil prices around $50 a barrel.
And keep in mind, we're heading into the summer months which typically feature more demand for gasoline (and therefore more demand for oil).
Investors can take advantage of this situation by buying the best U.S. companies poised to benefit from higher oil prices and higher U.S. oil production…
OPEC Flinch Play #1: Chevron (CVX)
Chevron is one of the top major U.S. oil producers, with a domestic headquarters and assets around the world. The company has been focusing on reducing costs and boosting cash flow. This effort has allowed CVX to continue to grow its dividend. Investors can now collect a 4.1% yield from this U.S. energy powerhouse.
OPEC Flinch Play #2: Enbridge Energy Partners (EEP)
As U.S. drillers continue to pump more crude, the oil will need to be transported and stored. That's where Enbridge Energy Partners (EEP) comes in. The company has a diverse portfolio of North American pipelines and storage facilities. These facilities continue to generate income regardless of the price of oil. As a Master Limited Partnership (or MLP), Enbridge is required to pay the majority of its operating income to investors. EEP's current yield is an attractive 7.9%.
OPEC Flinch Play #3: Alon USA Energy (ALJ)
U.S. refiners also benefit from strong U.S. oil production. As more oil is produced, refiners convert the crude oil into gasoline, jet fuel, and other products. I like Alon USA (ALJ) because the company also uses crude oil to produce asphalt. This gives us an extra back-door way to benefit from new Trump infrastructure plays. Shares of ALJ have been moving higher, and the stock pays a lucrative 4.8% dividend yield.
OPEC's official meeting is less than two weeks away, on May 25th. I expect this meeting to be a formality as Russia and Saudi Arabia have already backed the plan to extend the production cut for another 9 months.
Still, the official announcement could send oil (and these OPEC investment plays) higher. So make sure you buy your shares before May 25th!
Here's to growing and protecting your wealth!
Zach Scheidt
Editor, The Daily Edge
EdgeFeedback@AgoraFinancial.com
1 Oil Jumps as Saudis, Russia Favor Extending Output Deal to 2018, Bloomberg, Mark Shenk
2 2017 Organization of the Petroleum Exporting Countries, Meeting Schedule