Zach Scheidt, Travel Agent? Plus, Your 5 Must-Knows For Monday!
Do you want to enjoy the finest bottle of Chianti under a Mediterranean sunset?
What about play 18 holes at St. Andrews in the foothills of Scotland?
Or maybe you're one for history, and a luxury tour through the side streets of Rome is on your bucket list.
Today I'm going to show you how to get there…
Personally, I'd like to take the family island hopping through the Greek islands — where the turquoise water accents the colorful homes that blanket the cliffs.
Sources Left to Right: Taste Tours, Golf Scotland, We Heart It
Whatever your dream European vacation may entail, I'm suggesting you book now.
Because, according to Money Magazine, the flights to these once incredibly expensive European vacations are now more affordable than ever!
Seriously. Right now you can save up to $603 on an all-inclusive Paris vacation.1 And you can spend 4 nights in Rome, including airfare, hotels, transfers, and breakfast for $861.2
Year over year the discounts are nothing short of fantastic.
But have you thought about WHY these European vacations are so cheap? They haven't always been like this. I remember not too long ago when these same trips would have cost hundreds, if not thousands of dollars more.
It all comes back to Wall Street.
The REAL Reason Your Vacation Is Cheaper
The Euro has been under attack recently.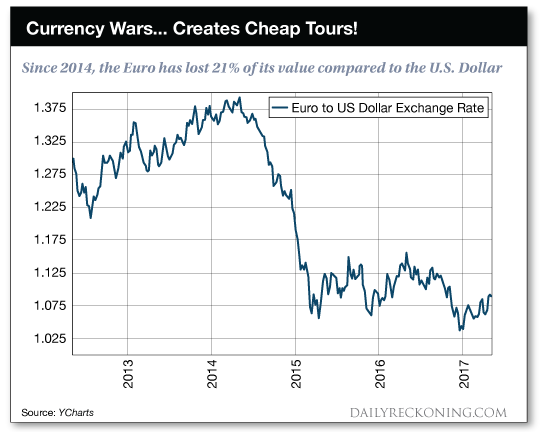 The downtrend started in 2014 with a "perfect storm" type scenario:
The U.S. dollar surged on the heels of strong GDP growth and increasing jobs data. This prompted the Fed to forecast interest rate hikes — a bullish scenario for the USD.
In contrast, the EU economy has been stagnant and unemployment has remained high since the 2008 financial crisis. And at the same time the U.S. Fed was debating raising rates, the European Central Bank is still trying to spur growth.
Throw on top the whole Greek Bailout scenario and this was a nightmare case for the Euro, hence the 21% decline against the dollar. (And in case you're wondering, the British Pound is also down some 20% against the dollar since 2015!)
So what does this mean for your dream European vacation?
Let me explain.
In April 2014, if you went on a European vacation and a one-night hotel stay cost €200. At the time, that means you spent $276 (with Euro/USD rate at 1.38.)
But today, with the Euro/USD rate at 1.09, that same €200 hotel room would only cost $218 (200 x 1.09).
Same hotel. Same location. At a 21% discount!
Bottle of wine? 1-day boat cruise to the Isle of Capri? A tour of the Vatican? A trip to the top of the Eiffel Tower?
For Americans it's all 21% off! Now do you understand why your vacation is now all of a sudden so inexpensive?
That's the beauty of finance. Everything that happens in the world, no matter how big or small will impact the markets in some way. In this case it's like the butterfly effect… for currencies!
And as an informed investor, understanding these correlations will help you to better take advantage of these cost-saving opportunities.
But you know that I'm not here to sell vacation packages…
I'm here to give you the tools to grow and protect your wealth. And while saving $58 on a hotel room is great, there's a better way to benefit from this low exchange rate environment — no passport required!
Europe Is On Sale — But Not Forever…
There are a select group of companies that benefit most from this strong dollar/weak euro environment.
I'm talking about the European companies that also sell goods in the United States.
These companies benefit just like the hotel situation above, but in reverse.
Here's an example:
Let's take Volkswagen, a European-based company, and say they sell cars in the U.S. for $10,000 — unlikely, but let's keep a round number.
Back in April 2014, that $10,000 in revenue would be converted back to 7,200 Euros.
Now fast-forward to today. That same $10,000 in revenue, converted back to Euros now earns Volkswagen €9,200 — that's a 27% jump in revenue!
Keep in mind here, nothing has changed about the car. These companies are simply benefiting from selling in the right place at the right time.
And to take advantage of this opportunity, here are a few European-based companies that sell in the U.S., who are major beneficiaries of this low exchange rate environment.
Fiat Chrysler Automobiles (NYSE:FCAU)– This is the seventh largest auto-manufacturer in the world. Headquartered in Italy and incorporated in the Netherlands, this company sells a huge amount of cars in the U.S. Fiat, Chrysler, Dodge and Maserati are all operated by FCAU. And have you seen the new Alfa Romeo commercials on TV? I personally remember them blanketing this year's Super Bowl. This is another FCAU operated company. Can you see why they chose now to start selling in the U.S.?
Nestle (OTC:NSRGY)– Gerber, Purina, Nestea, Nespresso, Kit Kat bars, and Hot Pockets — the list goes on! This Switzerland-based company sells an enormous amount of food and beverages that you can find in any U.S. grocery store. And although Switzerland uses Swiss Francs, the trend is the same. Since 2014, the Swiss Franc is down 15% against the dollar, which gives Nestle a similar advantage as Eurozone companies.
Unilever (NYSE:UL)– The Dutch-British consumer goods company that owns brands like Dove, Axe, Vaseline, and Dollar Shave Club had 20% of 2016 revenue come from the U.S.3 And since the beginning of the year, UL is up 30% — mostly because of a Kraft Heinz acquisition attempt — with a 3% dividend.
I'll be keeping a close eye on exchange rates and the fundamentals shaping up in the U.S. and Europe. There are many moving parts to consider including politics, employment levels, and the GDP growth.
For now, the environment looks very strong for these three European-based companies.
And in the meantime, "bon voyage," if you're heading to Europe this summer.
Here's to growing and protecting your wealth!
Zach Scheidt
Editor, The Daily Edge
EdgeFeedback@AgoraFinancial.com
1 Expedia, Build Your Flight + Hotel Bundle and Save Up To $603 On Your Trip
2 Great Value Vacations, All-Inclusive Vacations – Rome
3 Statista, Revenue of the Unilever Group from 2011 to 2016, by region
---
5 Must Knows For Monday, May 15th, 2017
Oil Cuts- Oil prices surged 3% after Russia and Saudi Arabia agreed to cut oil production over the weekend. But remember Friday's article? Every time OPEC looks to cut production, they're undermined by booming U.S. production. We'll keep an eye out to see if this price surge is here to stay.
Worldwide Cyberattacks- On Friday, May 12th, a global cyberattack was launched using a weapon developed by the U.S. government. According to CNBC, the attack hit over 200,000 computers in 150 countries. Some notable organizations impacted include FedEx, French automaker Renault, and the British public health system.
Earnings, Earnings, Earnings- Is retail really dead? Or do you just have to know where to look? This is a topic that we'll have more on this week, as heavy-hitters Home Depot (NYSE:HD), Target (NYSE:TGT), and Wal-Mart (NYSE:WMT) all report earnings.
U.S. Economic Indicators- On Tuesday, May 16th, April home construction and industrial production data will be released. Look for the market to go whichever way these numbers go, as both are seen as indicators to the overall economy. The stronger the numbers, the stronger the U.S. economy.
Europe Reports- On Friday, May 19th, the European Commission will release consumer confidence figures. This is seen as an early indication of the Eurozone's response to Emmanuel Macron's French presidential victory. And if you've bought into the stocks talked about above, this is a figure you want to watch.