America Is Back! And President Trump Loves It…
They thought American oil was dead. Dried up. Tapped out.
And in 2005, who could disagree? American oil production was plummeting. Since 1970, the peak of U.S. oil production, we'd only seen a depressing downward slope of production.
Worse yet…
Oil prices were rising fast. And OPEC's monopoly was gaining power like Superman walking away from kryptonite.
Well, today I want to share with you a 12-year update on that "sad" story for American energy.
I think you're going to want to hear this! Plus, I'll show you two new ways to embrace this huge American opportunity…
But before we get to that update on American oil, you'd have to agree… It's a great day to be American.
The U.S. economy is gaining steam… Housing prices are steady…. Social Security is still solvent…. U.S. technology is booming…. Manufacturing is coming back onshore… We've got a pro-business White House administration… And the financial markets have recovered so quickly from the fallout of 2008 that many are in disbelief… That's fantastic!
So let's get back to that U.S. oil tale above.
Simply put, America isn't down and out any more when it comes to energy.
U.S. oil – and America — is back.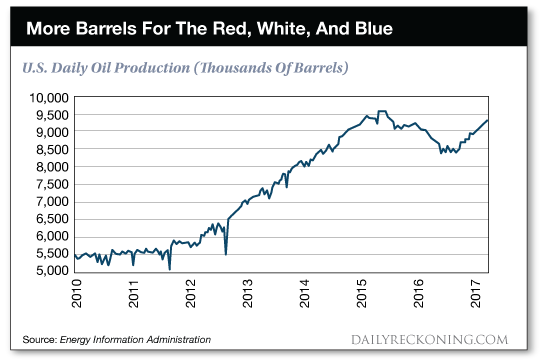 Since a low point around five million barrels per day of production, the U.S has ramped up to over nine million barrels per day.
The current rate of growth in U.S. production is 100,000 barrels per day per month.  And frankly, that's an astounding rate considering our "low" oil price environment. There's no end in sight, either.
And if you think I'm pounding the table right now, you'd be right.
This oil story is a game-changer for America. And it's no small piece of the pie, either.
Look, I know folks can do a lot with facts these days – trying to manipulate the data to support their cause. But there's no "false facts" or fake news here.
To put this oil move in perspective, take a look at it compared to the past 97 years of oil production…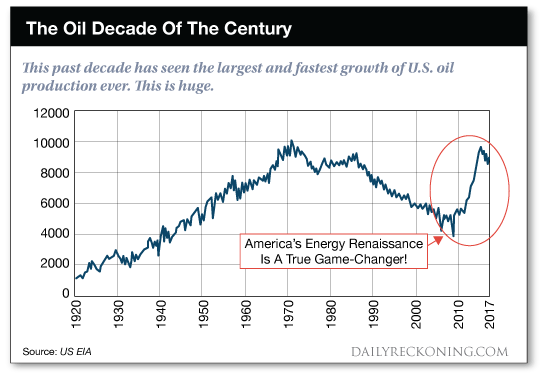 The gain in oil production over the past decade, compared to nearly a century of U.S. oil production, is nothing short of astounding.
The past decade – although you won't hear this on the mainstream media – will go down as America's oil renaissance. Simply put, it's the highest, fastest growth of U.S. oil production in history.
And again, while you won't hear this story anywhere else, this SINGLE "x-factor" put a stiff wind at America's back.
So if you're wondering why it feels so good to be an American today…
Sure, it has to do with our booming tech industry… It has to do with our talented labor pool… and also the strongest military in the world…
But it also has to do with a game-changing amount of oil that's recently come out of American soil.
Cheap fuel. Abundant resources. Secure energy.  These are the things that great countries are built on.
And while we're still waiting to see how Trump's time in the oval office plays out, I'm 100% certain that the oil abundance that we're seeing in the charts above is already "Making America Great Again."
Just line that resurgence of oil production up with a 10 year chart of the S&P, and you'll start to see what I mean. Abundant energy is changing the game for America.
Luckily, you and I have a front row seat to the action.
OPEC has a front row seat, too. Except I don't think they're enjoying their popcorn as much these days.
The "Kryptonite" Is Back – Watch Out OPEC
Remember, in late November 2014 over the Thanksgiving weekend, OPEC shocked the oil markets by announcing that it would not be cutting oil production despite falling oil prices…
By doing so, OPEC abandoned its long held role of supporting the price of oil. And started an all out supply war in the oil markets. This is the whole "Sheiks vs. Shale" I've talked about lately.
To be clear, over the past five years, this was no "idle threat" from OPEC. Middle East production ramped up over the years…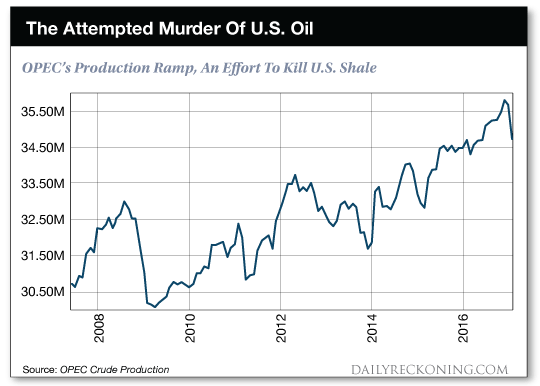 Initially, the OPEC strategy seemed to work. Oil prices collapsed and U.S. production pulled back.
Exactly what OPEC was hoping to see.
But it didn't work for long. You see, the truth (or in this case the oil production) isn't easy to hide. Even with oil prices at $40-50 per barrel, U.S. oil is profitable.
The first chart I showed you today proves it. Even in the face of "low" oil prices, US production is surging.
From a bottom of 8.5 million barrels per day in mid-2016, U.S. oil production has now hit 9.3 million barrels per day as of the last Energy Information Administration Report dated May 5, 2017.
This is a HUGE story that no one is covering.
OPEC is dying a slow death. And the U.S. shale oil "experiment" over the past two decades is proving to be the Real McCoy.
And right now, today, there are two major wins for you and me…
OPEC Is In The Rearview — America Is Full Steam Ahead!
Ultimately, this higher production environment is a great situation for America.
For starters, higher U.S. (and global) oil production will keep a ceiling on the price of oil.
That equates to lower gas prices at the pump – just in time for summer!
So go ahead and take that road trip you've always wanted. Or heck, hop on a plane to Hawaii. Because after all, airlines benefit from lower oil prices too.
That's the first "win." Here's the second…
As investors, there's another way that we can take advantage of this oil opportunity.
And the best part, this opportunity doesn't rely on the price of oil for gains.
I'm talking about investing in the U.S. pipeline companies that transport millions of barrels every day.
These companies charge set fees for transportation and storage of energy products from one place to another. It's a pretty simple business model — more oil transported equals more revenues.
Which means in today's high production environment, more revenues are on the way.
And with the Trump Administration in the White House, we're already seeing support for the U.S. oil and gas industry, which will also help these pipeline plays continue to churn a profit.
So with millions of barrels of oil surging out of American oil fields, U.S. pipeline plays will be printing cash (and dividends) for decades to come. That's not a typo.
America's energy renaissance isn't a flash in the pan. It's just getting started.
That's it from me today. Tune in next time to get your Daily Edge.
Here's to growing and protecting your wealth!
Zach Scheidt
Editor, The Daily Edge
EdgeFeedback@AgoraFinancial.com